The Reason Stevie Nicks Chose Not To Have Children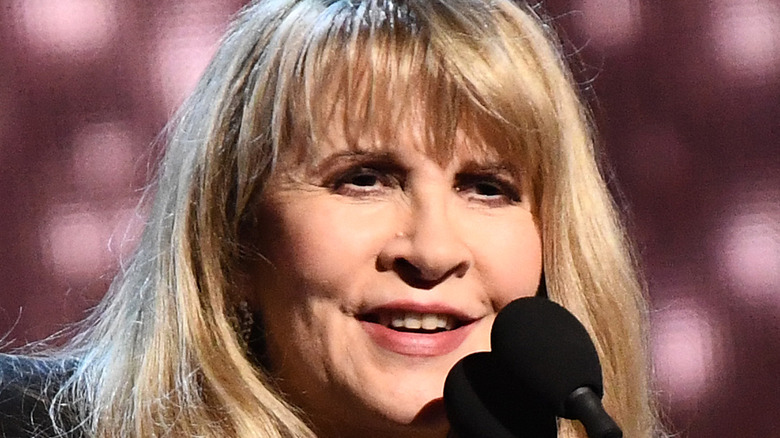 Dimitrios Kambouris/Getty Images
Stevie Nicks may not be a mother in the literal sense, but her friend Natalie Maines, the lead singer of the Dixie Chicks, told InStyle in 2002 (posted at Rock A Little) that Nicks "calls herself the rock and roll Mama," adding, "She's a mom to all women in music." Nicks was very close to her own mother, Barbara, who died in 2012. "She said to me, 'You will never stand in a room full of men and feel like you can't keep up with them. And you will never depend upon a man to support you,'" Nicks recalled during a 2020 interview for The Guardian. "She drummed that into me, and I'm so glad she did."
Nicks' father, Jess, instilled similar values in Nicks. Speaking to The Guardian, the singer-songwriter recalled a conversation she had with her father when she was 35, shortly after the release of her solo LP "Bella Donna." "Just out of nowhere, my dad goes, 'Stevie, you'll never get married,'" she recalled. But Nicks ended up getting married just a year later, in 1982. When her high school best friend, Robin Anderson, died of leukemia shortly after giving birth to her first child, Nicks and Robin's widower, Kim, bonded through their shared grief. They were married for three months, with Nicks intending to take on a maternal role, but once the initial grief had softened, they realized they'd made a mistake.
Stevie Nicks chose her career over having children
Michael Putland/Getty Images
In 1979, while she was dating Eagles frontman and lead singer Don Henley and she was at the height of success herself, Stevie Nicks terminated a pregnancy. Speaking to The Guardian shortly after the death of United States Supreme Court Justice Ruth Bader Ginsberg in 2020, Nicks said, "Abortion rights, that was really my generation's fight."
"If I had not had that abortion, I'm pretty sure there would have been no Fleetwood Mac," Nicks told the outlet. "There's just no way that I could have had a child then, working as hard as we worked constantly. And there were a lot of drugs, I was doing a lot of drugs ... I would have had to walk away."
Nicks suggests that her eight-year addiction to the tranquilizer Klonopin was a major factor in her decision not to have kids. "I always look back and think: What could I have done during that time?" she said. "I could have gotten married or had a baby or adopted one."
Still, Nicks added that she believed she could make a bigger difference as a musician than as a mother. "I knew that the music we were going to bring to the world was going to heal so many people's hearts and make people so happy," she said. "And I thought: You know what? That's really important. There's not another band in the world that has two lead women singers, two lead women writers. That was my world's mission."
Stevie Nicks' independence is a feminist statement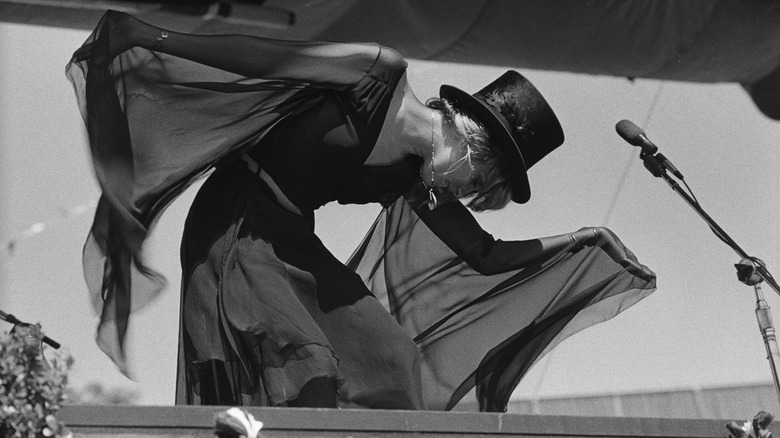 Richard Mccaffrey/Getty Images
Stevie Nicks has suggested that, as well as a career choice, her decision not to have children was a feminist statement. "I'm an independent woman and am able to take care of myself," she told The Guardian, "and that is not attractive to men."
The singer-songwriter also pointed to the fact that so many older men couple with younger women, which often leads them to have children late in life, whereas women don't quite have the same option. "Men are not having families with younger women because they want to have families," she said. "They're doing it because they need to have a younger wife so they can feel that rush of romance again."
In the same interview, Nicks described one of her many feminist anthems, the 1979 Fleetwood Mac song "Storms." "I sat at my piano, a feminist woman, and I wrote it, to say that nothing you or anybody else can do to me can change the fact that, as the opening line goes, 'Every night that goes between / I feel a little less,'" Nicks said. "[It's about] freedom. I am a totally free woman, and I am independent, and that's exactly what I always wanted to be."