The Sad Truth About Paul McCartney's First Marriage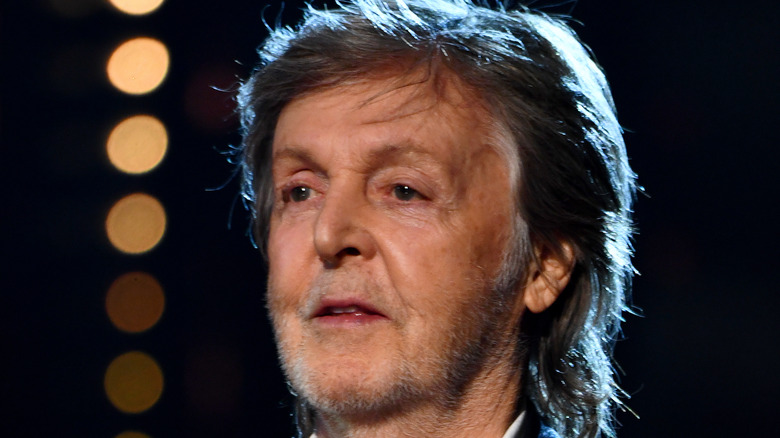 Kevin Mazur/Getty Images
In the world of the stereotypical debaucherous, womanizing, sex, drugs, and rock 'n' roll lifestyle followed by so many in the music industry past and present, Paul and Linda McCartney were rarities. They were married for nearly 30 years from 1969 until 1998 and had three children together: Mary, Stella, and James, along with Linda's daughter Heather from her first marriage which ended in 1963, according to The New York Times. After meeting in 1967, the two quickly became inseparable.
Born Linda Eastman, Rolling Stone explains that Linda McCartney gained access to the inner circles of multiple celebrities working as a photographer in the 1960s. Early on in her career, she was persistent enough to get into a promotional event for the Rolling Stones wherein she was the only photographer present. By 1968, she became the first female photographer to shoot a Rolling Stone magazine cover.
In 1967, a few days before the launch party for the Beatles' "Sgt. Pepper's Lonely Hearts Club Band," Eastman and Paul McCartney crossed paths. After leaving her photography portfolio with Beatle manager Brian Epstein, Epstein invited her to the launch party where she was able to connect with Paul again (via the Beatles Bible). After a couple of years of dating, their marriage in 1969 was met with tears from heartbroken Beatles fans, who waited outside of the registry office in London. It was Paul's first marriage and Linda's second, but according to Express, it almost didn't happen. In the book "Paul McCartney: Many Years From Now" Paul said, "We were crazy. We had a big argument the night before we got married and it was nearly called off."
Paul wrote much of his solo music about Linda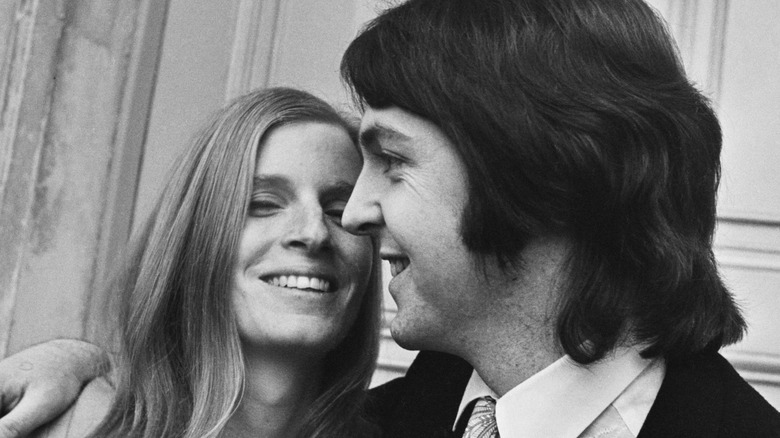 C. Maher/Getty Images
Much of Paul McCartney's solo music following the break up of the Beatles was written about Linda, including "Maybe I'm Amazed" from his first solo album "McCartney" in 1970. Other songs like "Eat at Home" and "The Lovely Linda" reference her and the life that they shared together in the British countryside. The couple raised their tight-knit family on a farm while Paul embarked on solo projects that often included Linda. She sang harmonies and played keyboards for his early 1970s band Wings (via Farout Magazine).
As Paul continued to top the music charts, Linda founded a vegetarian food company and released vegetarian cookbooks as part of her passion for animal activism. Then in 1995, she was diagnosed with breast cancer. She dealt with multiple sessions of chemotherapy in the following years, to no avail. When speaking to The Sunday Times, Paul said he chose not to tell her how advanced the cancer was so as to allow her to go on without a burden. 
Paul said, "I'm not actually sure she ever knew she was dying. You have a decision to make as a family as to whether you tell someone and the doctors leave it to you, the immediate family. I talked it over with the doctor and he said: 'I don't think she would want to know. She is such a strong, forward-thinking lady and such a positive girl that I don't think it would do any good.'"
Linda McCartney died of cancer in 1998
Brenda Chase/Getty Images
Linda McCartney passed away at the age of 56 in 1998. Paul McCartney dealt with her passing in private before speaking to family friend — The Pretender's Chrissie Hynde – for USA Weekend. When Hynde mentioned that Paul and Linda had never spent a night apart (save for Paul's week in jail after being arrested for marijuana), he responded, "I liked being with her, quite frankly. I think that's the most difficult thing about losing her."
In the year following her death, McCartney stated that he "cried a lot. It was almost embarrassing except it seemed the only thing to do." He also stated that his mother died of breast cancer as well, but he did not know that it was from cancer at the time. His father grieved privately, without his kids seeing him cry (via NME). 
Paul McCartney infamously went on to marry activist and model Heather Mills. When they divorced after six years, Mills said in an interview with Matt Lauer that "he was a broken man when I met him." The divorce was highly-publicized and Mills urged him to reveal the truth, claiming that he was responsible for the divorce.
The BBC reported that McCartney married Nancy Shevell in 2011 and was again greeted by fans outside the British register office. However, given how fondly he speaks of his first wife, it is clear that if it weren't for her untimely death, Paul and Linda would still be married today.