What Does It Mean To Be A Foreign Fighter In Ukraine?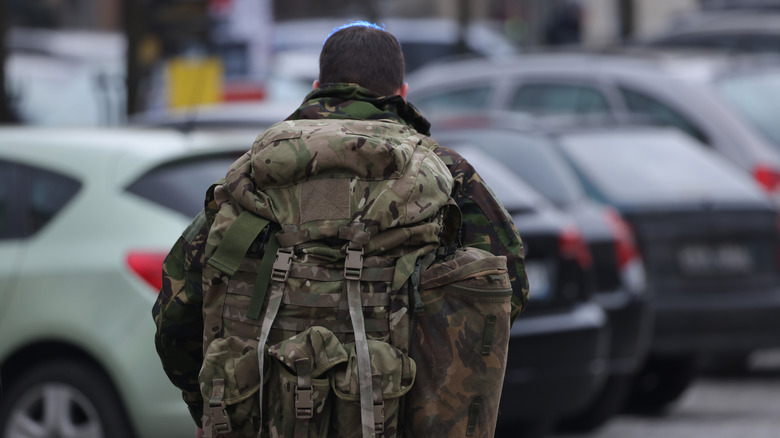 Sean Gallup/Getty Images
When Russia invaded Ukraine in early 2022, Ukraine seemed to find itself at a significant disadvantage in terms of numbers. According to Firstpost, this prompted Ukraine to form what they called an International Legion of Territorial Defence. The idea was to call on volunteers from around the world to help in the fight against Russia. "I invite you to contact foreign diplomatic missions of Ukraine in your respective countries. Together we defeated Hitler, and we will defeat Putin, too," said Dmytro Kuleba, Ukraine's Minister of Foreign Affairs.
Just a few days after the call for volunteers, the first wave of them arrived in Ukraine. "Ukraine is already greeting foreign volunteers. The first 16,000 are already on their way to protect freedom and life for us and for all," Ukrainian President Volodymyr Zelensky said upon their arrival. While hired soldiers and mercenaries are nothing new to warfare, the announcement left many wondering who was willing to help fight and how they went about doing it.
Volunteers from around the world volunteered to become foreign fighters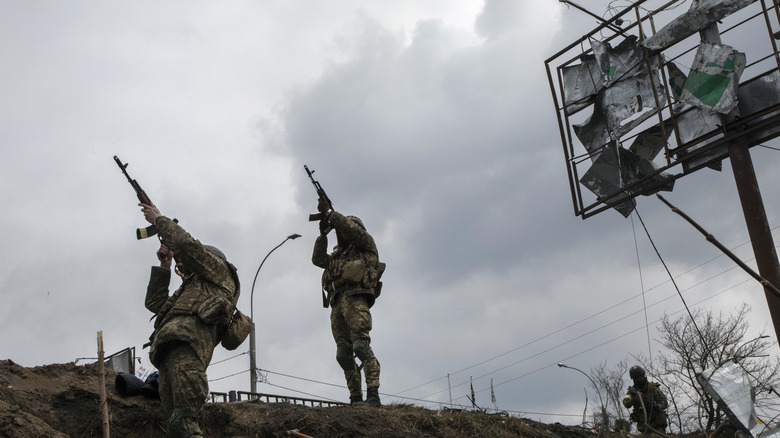 Laurent Van Der Stockt/Getty Images
Due to the potential nuclear implications of getting involved, many Western countries have had to withhold direct involvement in the war in Ukraine. However, that doesn't mean their citizens can't get involved, and some politicians were even fully supportive of the idea. The United Kingdom Foreign Secretary Liz Truss told BBC News that if citizens wished to volunteer to help the Ukrainian government, she's all for it. "If people want to support that struggle, I will support them doing that," she said.
Daily Mail reported that 20,000 volunteers from 52 different countries have agreed to join the fight in Ukraine. According to Firstpost, many of the volunteers are ex-service members, but there are also many civilians without any combat experience. One volunteer, Vasyk Didyk, who was originally from Ukraine but had since moved to New York, told CNN why he felt it was important to return to Ukraine and help with the fight. "This is our motherland," he said. "We couldn't stay in our comfortable lives in America and watch what is happening here. I haven't been back to Ukraine in four years — but it wasn't even a choice. I had to come and help my country."
How do people become foreign fighters?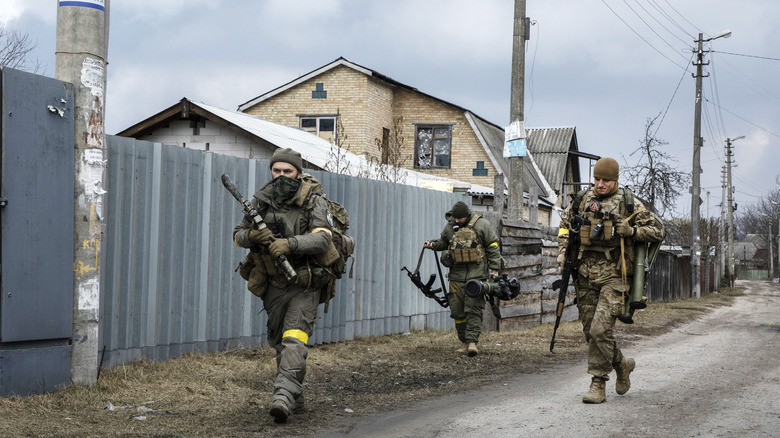 Laurent Van Der Stockt/Getty Images
According to The Kyiv Independent, serving in the International Legion is completely legal, and anyone who isn't a Russian national is allowed to volunteer in the war effort. For potential volunteers, the first step toward becoming enlisted is getting in touch with their respective country's Ukrainian embassy or consulate. That can be done by email, phone, or in-person; the Ukrainian Embassy in the United States even tweeted out a QR code to expedite the process of getting an application form even further.
After the application, volunteers are told what kind of equipment they'll need. President Volodymyr Zelensky's office stated what this includes (per The Kyiv Independent): "It is recommended that legionnaires obtain combat gear, such as fatigues ... or equipment, or a helmet, armored vests, and so on." Potential volunteers are also interviewed, and after that, visas must be obtained and an application for voluntary contracted service with Ukrainian armed forces completed. As far as getting to Ukraine, CNN reported that one British volunteer planned to enter the country through Poland, but the presidential office said (via The Kyiv Independent), "If necessary, embassy and consular service members will render assistance in terms of transportation."
Volunteer international service members only sign their contracts to serve alongside Ukrainian forces once they arrive in the country.