The Untold Truth Of Buddy Holly And The Crickets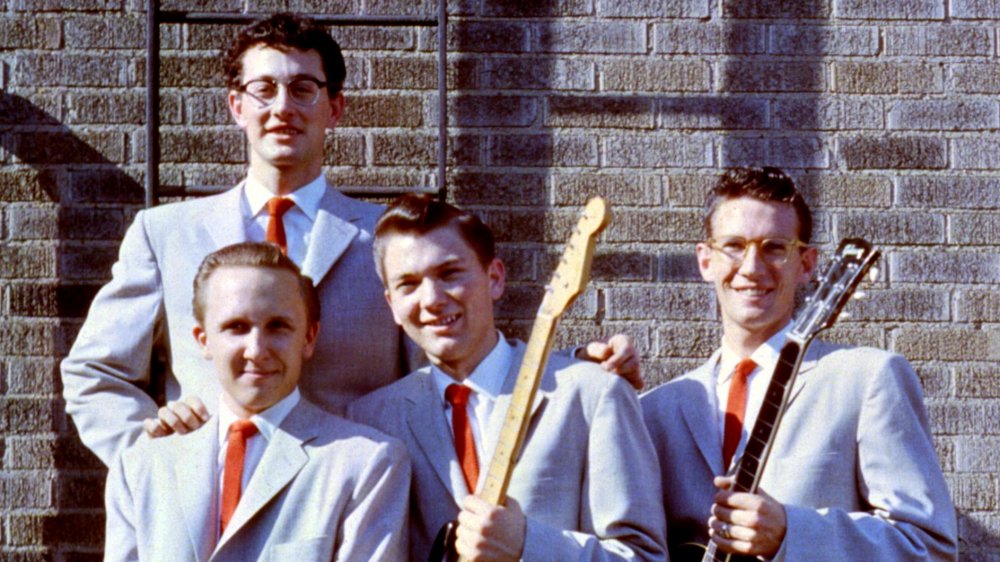 Michael Ochs Archives/Getty Images
It's said that one of the inspirations for The Beatles was Buddy Holly and the Crickets. The Fab Four's first single was a Holly tune, a cover of "That'll Be the Day," as was the first single for another British band you might have heard of, the Rolling Stones — "Not Fade Away." As for the Stones, Keith Richards called Holly and company "the world's first self-contained rock and roll band." Texas Monthly said in 1995, "it is difficult to find a modern-day rocker whose look or sound does not ultimately amount to a celebration of Buddy Holly." And that's undeniably true.
Holly was born Charles Hardin Holley in 1936 in Lubbock, Texas. He was nicknamed "Buddy" as a child — he was the youngest, says Biography — and the name stuck. He was a music kid, learning piano and fiddle first, then taking up guitar with lessons from his older brothers. Those brothers eventually had their own tile business, and Buddy worked with/for them — sort of; mostly he took his guitar with him to work and played. One of those brothers, Larry, told Texas Monthly, "Nah, Buddy didn't do a whole lot of work, but I didn't mind. I just loved to hear him play."
They started local, in Lubbock, Texas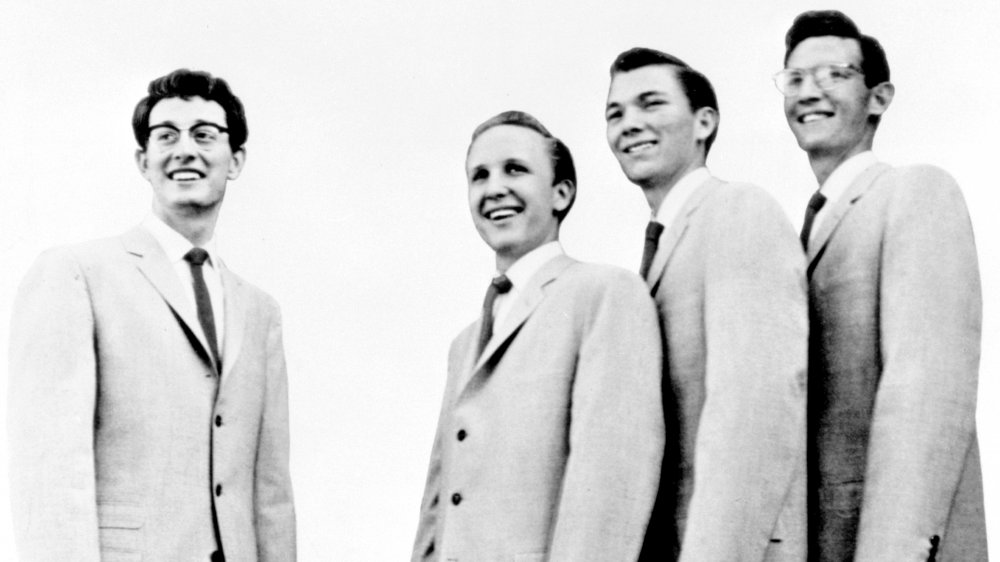 Michael Ochs Archives/Getty Images
As did many others. He put together his band — mostly country-oriented — after high school and played on the local radio station, as well as around the area. They opened for Elvis in 1955 and Buddy was well and truly smitten, making an artistic pivot to rock and roll and never looking back. The next year they were cutting demos in Nashville and, after a personnel change, became The Crickets, while he became Holly, because of a misspelling on his first recording contract. "That'll Be the Day" started the popularity avalanche, and in one year's time — August 1957 to August 1958 — Buddy and the band scored seven different Top 40 singles.
Holly also married in 1958, to Maria Elena Santiago — he proposed on their first date making that quite a year, because later that year, in a dispute with band members over management, he split from the Crickets. Money issues forced him to tour, however, so he assembled a new band, including Waylon Jennings on bass, for what Rolling Stone refers to as "rock & roll's Tour From Hell," the Midwest Dance Party tour of 1959.
He switched from country to rock after opening for Elvis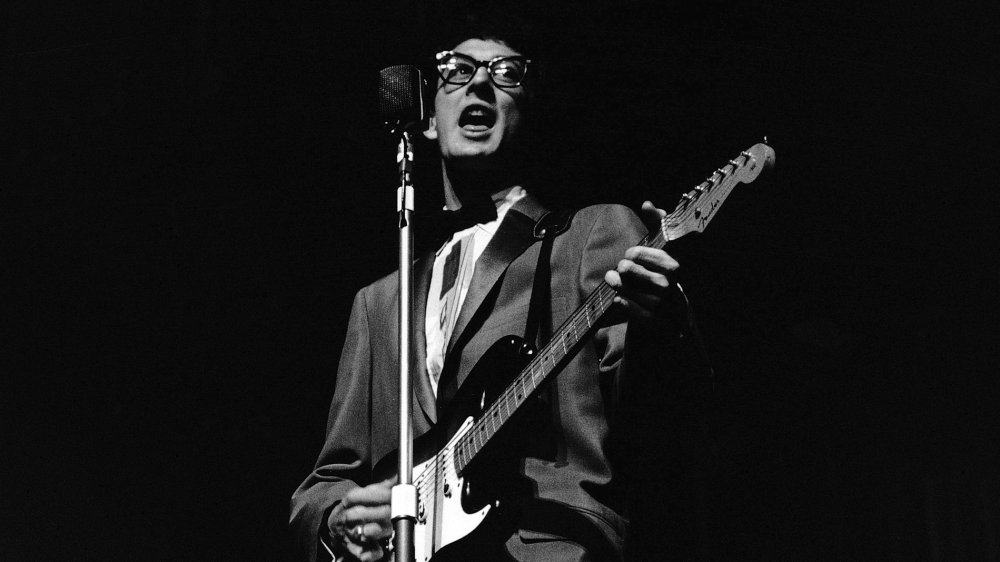 V&a Images/Getty Images
The story's been told, immortalized by Don McLean's "American Pie" as "The Day the Music Died." Chronic bus problems (resulting in at least one case of frostbite) compelled Holly, Richie Valens, and J.P. Richardson — "The Big Bopper" — to board a charter plane in Clear Lake, Iowa for their next gig in Moorhead, Minnesota. They never arrived. The wreckage was found in a field, and everyone aboard, including Holly, was dead. He was just 22 years old. His widow was pregnant, and when she heard the news, she miscarried.
Lubbock now boasts the Buddy Holly Center ("Where art and music collide," in an interesting choice of words), the Buddy and Maria Elena Holly Plaza, and Crickets Avenue, per True West Magazine. A musical celebrates his life and music, and Gary Busey was nominated for an academy award for his performance in The Buddy Holly Story in 1978. And the music lives on through all of the artists who've drawn from Holly's inspiration, including Paul McCartney. "Listening to and singing Buddy's songs puts you in a good place," he told Rolling Stone. "It hits that era, and you're a teenager again. It takes you right back...."