Whatever Happened To The Paintings Bob Ross Made On His Show?
Between 1983 and 1994, one of the biggest things on PBS in the United States was Bob Ross and his show, "The Joy of Painting," (per Britannica). The former Air Force drill instructor would, via his half-hour shows, instruct viewers on how to create magnificent paintings using a technique he had mastered that was hundreds of years old, according to Military.com. His soothing voice and ever-present afro helped elevate him from just another PBS host to something of a cultural touchstone.
As Mental Floss notes, Ross himself estimates that he made over 30,000 paintings in his life, although the vast majority of them were done on his own time and in no way connected to his show. In terms of paintings made on the show, Ross made three for each episode, and he shot 403 episodes of "The Joy of Painting," although a small number of them had a guest instructor. Simple math reveals that there are somewhere in the neighborhood of 1,200 Bob Ross paintings that were used for the show.
A few are in the Smithsonian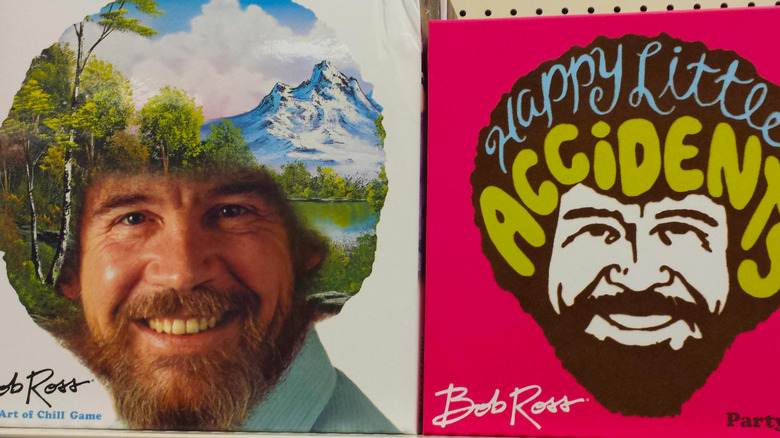 Zoe Cappello/Shutterstock
It takes a lot to get honored by the Smithsonian – arguably the nation's most prestigious museum — but Bob Ross was up to the challenge. As The Seattle Times writes, Ross made three paintings for each episode of his show: one painting made before the show, to be used as a reference; one made during the filming of the episode; and a third, for use in his instructional books. In 2019, the Smithsonian received a book version of a painting called "Blue Ridge Falls," and all three iterations of "On a Clear Day," as well as some props from the show and planning notebooks. Oddly enough, Ross joked to Phil Donahue, back in 1994, that his work was unlikely to ever wind up in the Smithsonian.
As for the rest, it seems that they've entered into the world of mystery and rumor. Ross himself said that some of his paintings were given to local PBS affiliates and that, in at least some cases, they were auctioned off, according to Mental Floss. However, according to The Seattle Times, a reporter tried valiantly (and failed) to find even a single, authentic Ross for sale or auction anywhere on the internet. And, it appears that there's a reason for that.
The rest are in a Virginia warehouse
As mentioned previously, Bob Ross was more than just a man: He was, and still is, a brand. Not only does his name appear on branded paints, supplies, and instructional materials, but his entire name was incorporated into Bob Ross, Inc., according to the O'Reilly Rancilio P.C. The ownership of Ross' brand has changed hands since his death, and all Bob Ross Inc. assets are currently owned by the family of Bob's former business partners, Walt and Anne Kowalski.
In 2019, The New York Times sent a reporter to the headquarters of Bob Ross Inc., located in Herndon, Virginia, and there they found hundreds of his paintings stored in boxes. "I was terrified of touching these paintings," said executive assistant Sarah Strohl. "These are worth more than me," she joked.
The company — and more specifically, the family that owns it — has no intention of ever selling any of the paintings. "It actually has never occurred to us," said owner Joan Kowalski.