The Grim Truth About The Woman Who Raised Saddam Hussein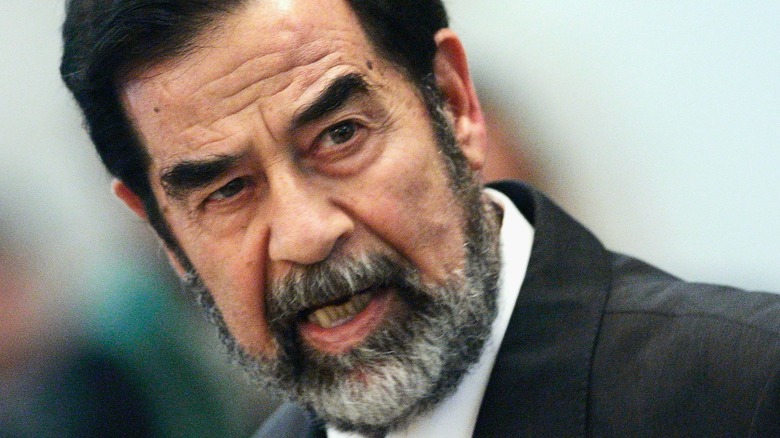 Chris Hondros/Getty Images
From 1979 until 2003, Saddam Hussein was the dictator of Iraq. Also known as "The Butcher of Baghdad," his long reign was vicious and barbaric. According to Biography, Hussein's interest in politics began when he was young. At the age of 20, he joined the Ba'ath Party. He and others subsequently attempted to assassinate Iraq's then-president Abd al-Karim Qasim. When that effort failed, a wounded Hussein fled to Syria and then Egypt. However, this was just the beginning for the soon-to-be tyrant. Hussein returned to Iraq and was jailed for several years until he escaped (via Britannica).
History writes that Hussein rose to power and made his cousin, Ahmed Hassan al-Bakr, president in 1968. This ultimately gave Hussein the influence he needed and within 11 years, he replaced al-Bakr. Already known for his ruthless attitude, Hussein proceeded to arrest and execute most of his inner opponents within a year of his presidency on counts of treason (per History Collection). In 1980, he went to war with Iran. The conflict lasted nearly a decade and resulted in millions of deaths on both sides.
Hussein eventually ordered the development of chemical weapons that were used on Iraq's own people. Human Rights Watch reports that the people lived in fear as he kidnapped, imprisoned, tortured, and executed Iraqi citizens without rhyme or reason. Per PBS, his forces had the authority to murder anyone they believed to be in opposition to his bloody regime. As The New York Times explains, Hussein did evil things, yes, but perhaps his cruel family only added to his brutality.
Saddam Hussein was unwanted by his mother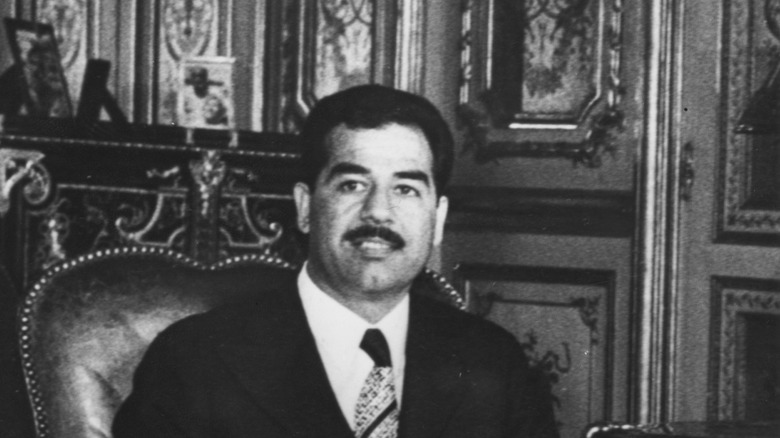 Keystone/Getty Images
According to The New York Times, Hussein's misfortune began before he was born. As Jerrold M. Post from the CIA put it, "his troubles can really be traced back to the womb." His father died months before Saddam was born, or left — reports are conflicting — and shortly after that Hussein's 12-year-old brother died of cancer. Consumed in grief, his mother, Subha Tulfah al-Mussallat, attempted to abort her unborn child and commit suicide. Unsuccessful, Hussein was born on April 28, 1937, in Tikrit, Iraq (via Biography).
The Washington Post reported that al-Mussallat had three sons prior to Hussein, including the one that died, and wrote that she was a "tyrant in her own right." Described as an intimidating presence, the New York Daily News writes al-Musallat did not want to keep her son and sent him to live with an uncle until he was 3.
Subha al-Musallat found another man to marry, but he already had a wife. She refused to become a second wife, and Ibrahim al-Hassan left his first wife for her. When his mother remarried, Hussein returned to live with her and his new stepfather, known in their village as "Hassan the liar."
The Washington Post reports that al-Hassan severely abused the young boy physically and emotionally. He repeatedly beat him and overall made his life agonizing. It's said he made Hussein steal and perhaps even murder someone (per The Washington Post). His mother never intervened. This prompted him to return to his uncle's home by 10 or 11 years old by some accounts, 8 or 9 by others.
Many believe his family is to blame for his depravity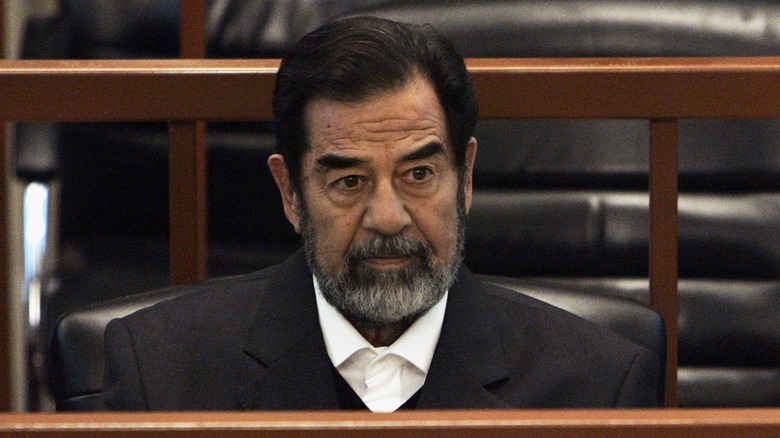 Chris Hondros/Getty Images
Ultimately, Hussein's uncle influenced his politics. History Collection writes that he was a member of the Ba'ath Party–the same party Hussein joined in 1957 and later, gave him power. Many believe this course of history occurred because he was rejected by his mother and relentlessly abused by his stepfather (per the New York Daily News). Early in childhood, he displayed troubling behavior to vent his anger. This included torturing small animals, which A&E describes as a telltale sign that a person will eventually be violent against humans.
As The Washington Post explains, a cold mother and an abusive father figure contributed to creating Hussein, the mass murderer. It also meant it was more than likely he was only going to be stopped with violence, as that is all he's ever known. Despite knowing that Hussein was a brutal killer and a maniac, those who read his CIA psychological profile were taken aback by the devastating details from his early life. Post told The New York Times that "of all the leaders I've profiled, his background is assuredly the most traumatic."
Vocal Media reports that various infamous serial killers throughout history, including Ed Kemper and Charles Manson have had turbulent relationships with their mothers and some even blamed them for their horrific crimes. Hussein eventually paid for his. When the U.S. invaded Iraq, he fled (via History). Hussein was later found hiding in an underground bunker and put on trial. He was executed by hanging on December 30, 2006, after being found guilty of several human rights violations (per ThoughtCo).