The Truth About The Meaning Behind Eric Clapton's Wonderful Tonight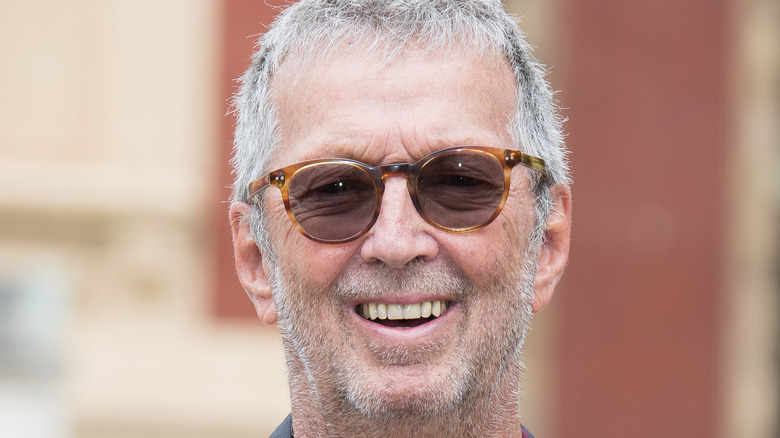 Jeff Spicer/Getty Images
"It's late in the evening/She's wondering what clothes to wear," Eric Clapton sings in his 1977 hit "Wonderful Tonight" (via Genius). "She puts on her makeup and brushes her long blonde hair/And then she asks me, 'Do I look all right?'/And I say, 'Yes, you look wonderful tonight.'"
The ballad seems to be a simple retelling of a typical scene between a typical couple, aside from the fact that the couple in question was one of the most famous in rock 'n' roll history. "Wonderful Tonight" was inspired by English model Pattie Boyd, who married Clapton in 1979. The marriage is particularly notable in the rock 'n' roll history books because Boyd had previously been married to Beatles guitarist George Harrison. Before "Wonderful Tonight," she inspired multiple Beatles songs, including "If I Needed Someone" and "Something," as noted by Mental Floss. She had also inspired Clapton's 1970 album with Derek & the Dominoes, "Layla and Other Love Songs." In other words, Boyd was a major rock 'n' roll muse. 
Eric Clapton wrote 'Wonderful Tonight' while waiting for Pattie Boyd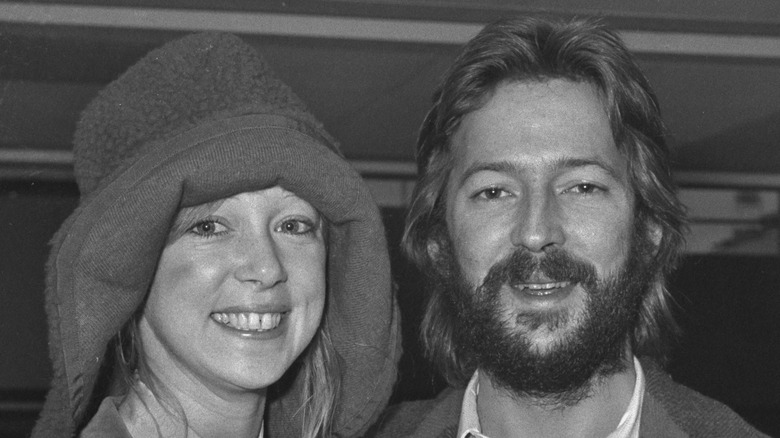 Evening Standard/Getty Images
Eric Clapton's lyrics for "Wonderful Tonight" were very much rooted in reality. "One night, unusually, Eric and I were going out, but I couldn't decide what to wear," Pattie Boyd recalled in her 2007 autobiography, aptly named "Wonderful Tonight," adding, "I was taking a very long time to do my makeup and hair, putting on one dress, then another and another, throwing them all into a pile on the floor. Poor Eric had been ready for hours and was waiting patiently."
At the time, Clapton was a big fan of the country singer Don Williams. "We talked about how beautifully simple his lyrics were, each song telling a story about everyday happenings," Boyd wrote. "Eric had been thinking of writing something similar and had already worked on some music for it. Suddenly, as I was flinging dresses on and off, inspiration struck. When I finally got downstairs and asked the inevitable question, 'Do I look all right?,' he played me what he'd written."
The rest is rock 'n' roll history. Sadly, the relationship was also history less than a decade later, when Boyd left Clapton in 1987. "I think I was a romantic inspiration to Eric and George because I gave as much as I could to them both, to the detriment of myself," Boyd told The Guardian in 2008. "I was always there for them. Which I think is really what a muse is. You are living your life for somebody else."
Pattie Boyd had mixed feelings about the ballad
Michael Putland/Getty Images
So how did Pattie Boyd really feel about "Wonderful Tonight"? Well, her feelings were mixed. "It was such a simple song but so beautiful and for years it tore at me," Boyd wrote in "Wonderful Tonight" (via The New York Times). "To have inspired Eric, and George before him, to write such music was so flattering. Yet I came to believe that although something about me might have made them put pen to paper, it was really all about them."
On one hand, Eric Clapton and George Harrison wrote those songs as a sweet tribute to their beloved Boyd. But Boyd wrote that they were also using their private lives for very public, creative purposes, which could be painful to both parties involved.
"I think the depressions they suffered were due to the creative process, the need that all creative people have to delve deep inside themselves to bring to the surface whatever they are creating," she wrote in the memoir. "'Wonderful Tonight' was the most poignant reminder of all that was good in our relationship, and when things went wrong it was torture to hear it."