How Elizabeth Taylor Bid Richard Burton Farewell After His Death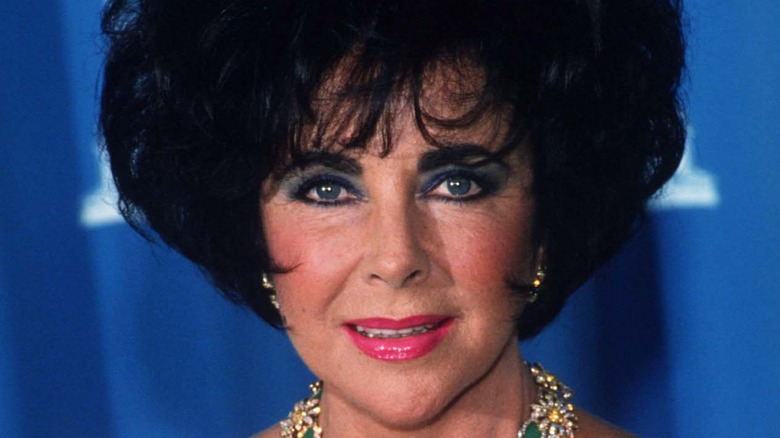 John T. Barr/Getty Images
Elizabeth Taylor is an iconic face of the film industry. Production companies recognized her beauty from a young age, and by the early 1940s she signed a contract with Universal Pictures when she was only 10 years old. She went on to work with MGM, where she solidified herself as a silver screen star with films like "Little Women" and "The Last Time I Saw Paris." She continued to score box office hits and eventually gained more critical acclaim as she won the Academy Award for best actress in the film "BUtterfield 8" in 1961, and won it again for her starring role in "Who's Afraid of Virginia Woolf" in 1967 (via IMDb).
Other than success at the Academy Awards, another major development in Taylor's life occurred in the 1960s. In 1962, Taylor was working on the film "Cleopatra," a three-hour long film with one of the biggest budgets the film industry had ever seen. Her costar was fellow actor Richard Burton. 
Elizabeth Taylor married Richard Burton twice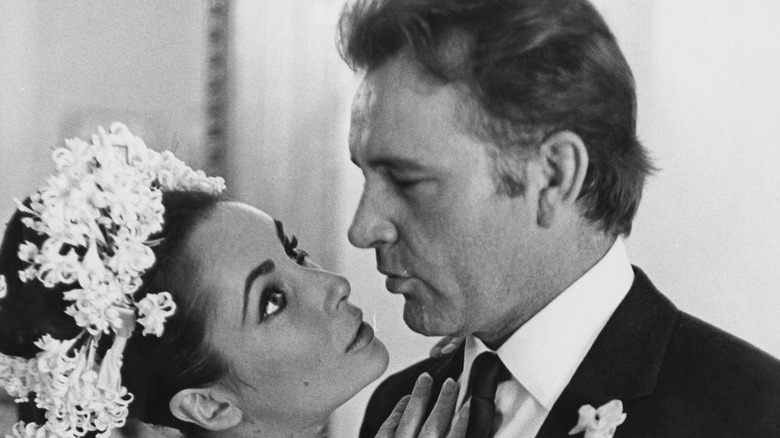 Express/Getty Images
One of the rather infamous details about Elizabeth Taylor is that she had seven different husbands throughout her life. At the time of filming "Cleopatra," Elizabeth Taylor was married to Eddie Fisher, who was her fourth husband and infamously the former husband of Debbie Reynolds. Richard Burton was married as well. Others on set and in the media easily found out that Taylor and Burton were having an affair. It became known as "le scandale." Burton at first said that he did not intend to divorce his wife, but she filed for divorce at the end of 1963 (via Vanity Fair).
Taylor and Fisher divorced as well. By 1964, she married Burton. They were together for a turbulent 10 years, and according to Lifetime, made 11 films together including "Who's Afraid of Virginia Woolf." Even though they divorced in 1974, they didn't leave each other's lives. They secretly remarried in 1975, but divorced again within a year. Taylor and Burton crossed paths a few more times before his death in 1984. They spent her 50th birthday together and starred in a play together in 1983.
Richard Burton died in 1984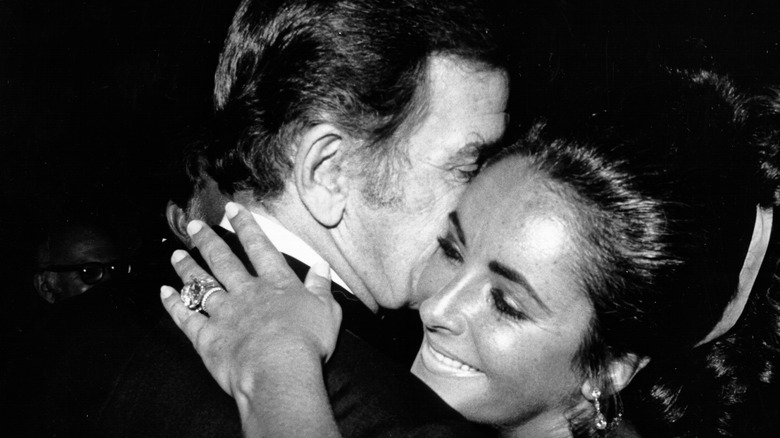 Michael Ochs Archives/Getty Images
When speaking to reporters about his relationship with Elizabeth Taylor in 1982, Richard Burton stated that, "She may marry someone else, and so may I, but we will always be drawn back to each other." Then, just before his death from a brain hemorrhage in 1984, he sent a love letter to Taylor, though his widow Sally Hay denies it. Taylor reciprocated his affections, stating that she was "still madly in love with him the day he died" (via Biography).
Burton died at his home in Switzerland and was buried in a nearby cemetery. The Washington Post explained that press photographers had been waiting for her to arrive since the day of the funeral, which Taylor did not attend so as not to bring inevitable media attention around Burton's widow. Taylor searched for Burton's grave and upon finding it, she reportedly knelt in front of it and put her head into her hands. Security guards and aides shielded Taylor from the photographers, asking them for "decency." One photographer relayed that they could hear her crying behind the umbrellas after bidding farewell to her former love. 
Taylor went on to marry other men, but when speaking to authors of a book written about her romance with Burton, Taylor said, "In my heart, I will always believe we would have been married a third and final time."