Marilyn Monroe's Highest-Rated Movie According To Rotten Tomatoes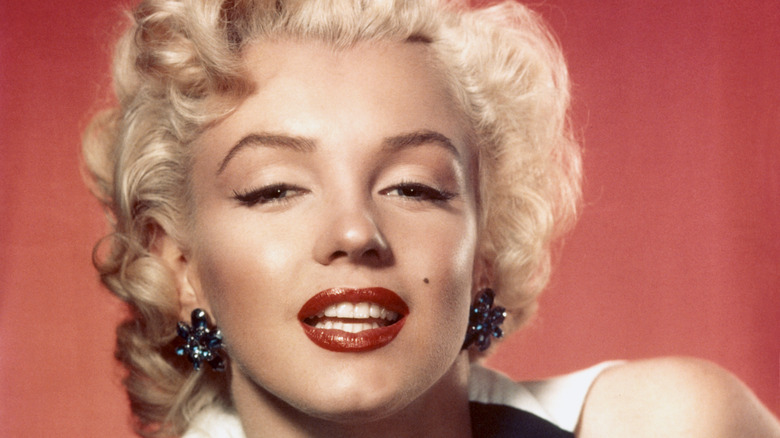 Michael Ochs Archives/Getty Images
Although Marilyn Monroe only lived to be 36 years old, her legacy continues to transcend time (via History). According to Variety, she was a star for nine brief years, but in that short time, she managed to make films that are still beloved and widely watched today. These include "Some like it Hot," "The Seven Year Itch," and more. Biography writes that during her career, Monroe's films raked in more than $200 million. Before the Hollywood icon transformed into a high-demand actress, she was a model that nabbed rather forgettable film roles.
The Culture Trip writes that the tides turned for Monroe's career when she starred in the 1950 film "All About Eve." In 1953 she made "Niagara," "Gentlemen Prefer Blondes," and "How to Marry a Millionaire" in succession. From then on, Monroe became one of the world's most celebrated and desired women. The downside? She was almost always cast as a stereotypical dumb blonde. Film Daddy points out that in reality, this was far from the truth. Despite this, Hollywood never seemed to take her seriously. Perhaps this is the reason Monroe's acclaimed film "Don't Bother to Knock" is widely disregarded.
Marilyn Monroe's forgotten film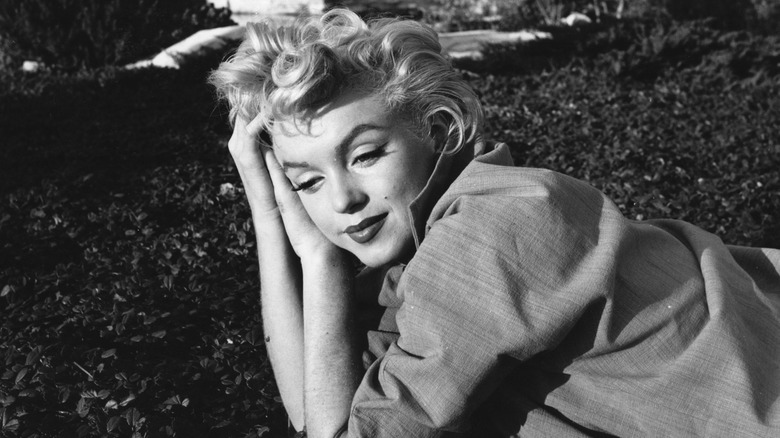 Baron/Getty Images
Released in 1952, "Don't Bother to Knock" is a black & white film that also stars Richard Widmark and Anne Bancroft (via TCM). According to Classic Movie Hub, the film centers on a pilot named Jed Towers (played by Widmark) who is dumped by his girlfriend. He subsequently begins to pursue Nell Forbes (Marilyn Monroe), a babysitter. However, everything is not what it seems with the dazzling blonde. Film Site describes her character as emotionally volatile. She acts strangely and unstable towards the child she is caring for. Eventually, the audience learns that Nell believes Jedd is her dead fiance.
It's also revealed that she was previously in a mental hospital and had attempted suicide. Per Birth.Movies.Death., Monroe's character slowly descends into madness. At first, she is timid and reserved, but her behavior changes with every turn. Directed by Roy Ward Baker, Rotten Tomatoes reports that "Don't Bother to Knock" is Monroe's highest rated film. Filming took only one month and Monroe's first takes were primarily used. Later, a film review from Variety noted that it seemed a bizarre role for Monroe to play. Nevertheless, her performance was praised.
Don't Bother to Knock displayed the actress' talents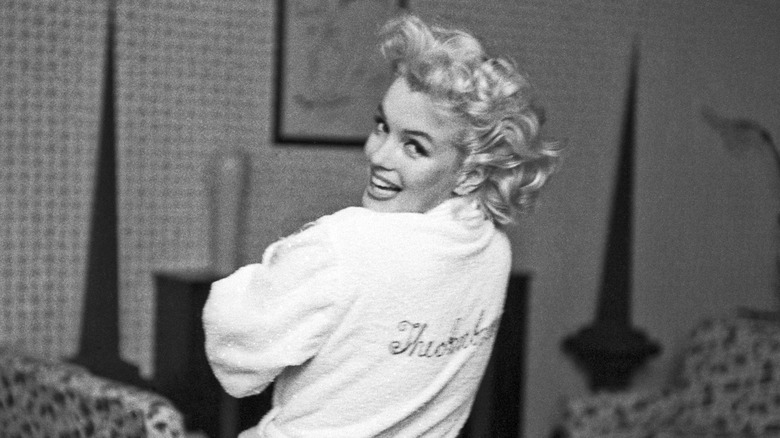 Michael Ochs Archives/Getty Images
Classic Movie Hub writes that it's not widely known that Marilyn Monroe took on mostly dramatic roles before she truly became a star. Now, she's remembered for her comedic and iconic films such as "Some Like it Hot," which prominently displayed her bubbly blonde persona. "Don't Bother to Knock',' however, showed that Monroe was not just a pretty face; she could act and she had range (via Birth.Movies.Death.). This can be seen as the character of Nell begins to lose it. On the outside, Monroe plays her as shy and sweet. What could possibly go wrong? Well, as it turns out, several things. Instead of being a typical damsel in distress, Monroe's psychotic break in the film demonstrates that she is a force to be reckoned with.
According to Film Daddy, she used method acting in her roles. Using this intense process, actors pull from their own emotional experiences to portray a character. Monroe herself suffered from a number of psychological issues that she was never able to recover from. Classic Movie Hub explains that her mother Gladys was schizophrenic and unstable. It's believed that Monroe drew from her own mental illness and her mother's to play Nell. Her co-star Anne Bancroft later said of Monroe that, "The talent inside that girl was unquestionable." Monroe herself stated that her performance in "Don't Bother to Knock" was one of her best.