The Conspiracy Theory That Says Beyoncé And Jay-Z Used A Surrogate To Have Blue Ivy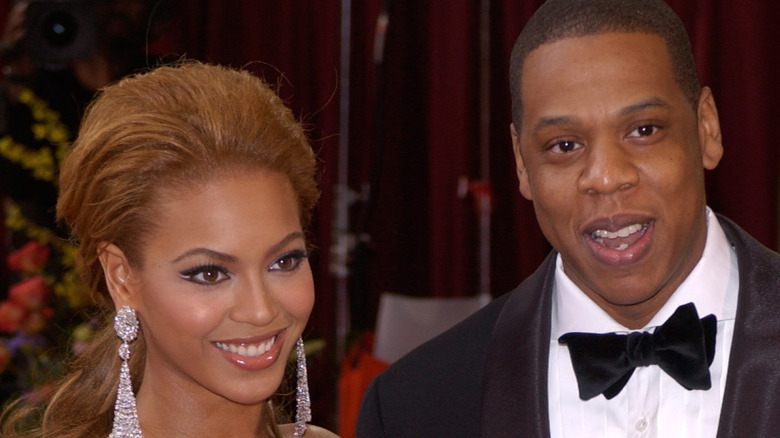 Featureflash Photo Agency/Shutterstock
Think about power couples in the music industry, and the first duo that pops to mind is probably Beyoncé and Jay-Z. The pair are two of the most accomplished artists alive today. Beyoncé first came to the public attention in the 1990s as part of the girl group Destiny's Child, according to Biography. After the dissolution of the group, Beyoncé went on to release her own studio album, "Dangerously in Love," which shot to the top of the charts and made her an overnight solo success. Since, she has released five more studio albums, and has won a whopping 28 Grammys, the most of any female artist. Jay-Z is likewise accomplished, having first become popular for his rapping in the early 1990s (via Biography). He went on to create his own label, as well as his own clothing line and entertainment company.
Jay-Z and Beyoncé married in 2008, and have since had three children together: Blue Ivy Carter in 2012, and twins Sir and Rumi Carter in 2017. But given both Jay-Z and Beyoncé's fame, this development in their family life didn't come without scrutiny, and from that scrutiny came a surprising conspiracy theory. Early in Beyoncé's pregnancy, some people started speculating that she and Jay-Z were secretly using a surrogate to have Blue Ivy, and that Beyoncé was not really pregnant.
Why some people think Beyoncé and Jay-Z used a surrogate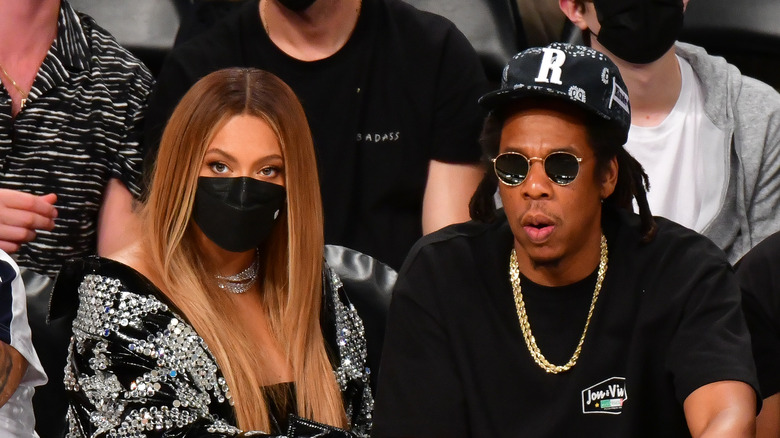 James Devaney/Getty Images
Theories about Beyoncé faking her pregnancy began before Blue Ivy had even been born (according to Black Bag). Proponents of this theory have various pieces of "evidence" which they say suggests Beyoncé was less than truthful regarding her pregnancy. First, believers have pointed out that Beyoncé had previously said that she had a miscarriage, suggesting she may have struggled with some fertility issues in the past. Of course, not everyone who has had a miscarriage is accused of faking a pregnancy, so conspiracy theorists have other reasons for their theories, too.
For one, Beyoncé's reports about the progress of her pregnancy seemed to vary over time. At one point, she said she was four months pregnant in August, while in a separate interview, she indicated she was five months pregnant at that time. Of course, this evidence is far from conclusive. The real evidence that most people point to as "definitive" is a video of Beyoncé bending over in an interview with the Australian show "Sunday Night" (via Black Bag). In a slowed-down version of the interview, Beyoncé's dress appears to bend strangely in such a way that it seems like her stomach itself is also warping — something that, theorists say, would only be possible if Beyoncé had not really been pregnant, and was instead stuffing her dress to appear that way.
Beyoncé's response to the conspiracy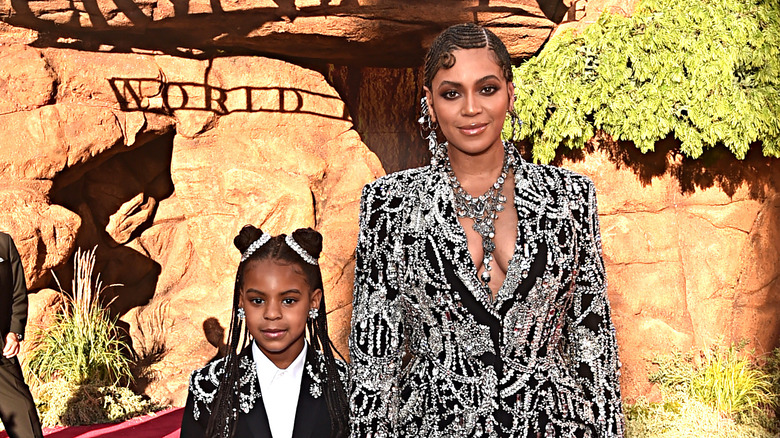 Alberto E. Rodriguez/Getty Images
The conspiracy theory quickly caught fire online, with video footage from "Sunday Night" spreading widely on social media. In addition to online sleuths, some famous figures hopped online to offer their agreement that Beyoncé's behavior seemed suspicious. Wendy Williams said, "Just take a look at the video. She's either giving birth to a Frisbee, or Stewie from 'Family Guy.' What is that, B?" (via Black Bag).
However, Beyoncé has firmly disputed any conspiracy that she was not pregnant with Blue Ivy. A few months after Blue Ivy was born, Beyoncé shared her thoughts on the conspiracy in an interview when she said, "That was crazy. It wasn't hurtful, it was just crazy. Where did they come up with this?" according to Billboard.
Photographic evidence seems to concur with Beyoncé's claims, as various photos of Beyoncé during her pregnancy show a clear, genuine baby bump, including candid photographs of her in Croatia. But no such photographic evidence exists of Blue Ivy's birth, since Beyoncé and Jay-Z reportedly all but closed down a floor at Lenox Hill Hospital in Manhattan during the delivery. While Beyoncé and Jay-Z said this was merely an effort to protect their own privacy, others have claimed Beyoncé and Jay-Z were hiding something. Without definitive photos, many people online persist in believing Beyoncé faked her pregnancy, despite a lack of clear evidence in support of the theory.