Why Doris Day Turned Down A Racy Role In The Graduate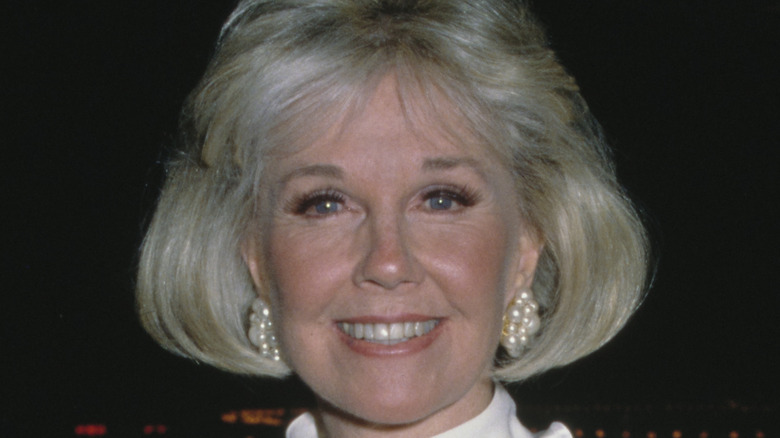 Michael Ochs Archives/Getty Images
Successful singers crossing over to become successful movie stars is a common situation in Hollywood, and Doris Day is a textbook example on how to make this move. Born Doris von Kappelhoff on April 3, 1922 in Cincinnati, Ohio, she began studying tap and ballet dance as a child. In her early teens she won a local dance contest with her partner, Jerry Doherty, per Biography. A 1937 car accident led to a massive leg injury that brought her dreams of professional dancing to an end. While she recovered from the accident, Day began taking voice lessons, later citing jazz icon Ella Fitzgerald as an early inspiration as she developed her own singing style. 
She went on to sing with the legendary bandleader Les Brown and his orchestra, scoring No. 1 hits with signature songs "Sentimental Journey" and "My Dreams Are Getting Better All The Time." Day became associated with and lauded for her accessible, friendly, and perhaps a touch conservative performance style that later carried over into her image as an actor. After going solo in 1946, Day continued singing for the next dozen years as well as crossing over into film stardom, releasing her last hit song in 1958, "Everybody Loves A Lover." Her film debut came in 1948 with the musical "Romance on the High Seas" and she went on to play several dramatic roles featuring women in troubled, often abusive relationships, including "Young Man With a Horn" opposite Kirk Douglas, "Storm Warning" with Ginger Rogers and Ronald Reagan, and "Love Me Or Leave Me" with James Cagney.
From singing to drama to rom-coms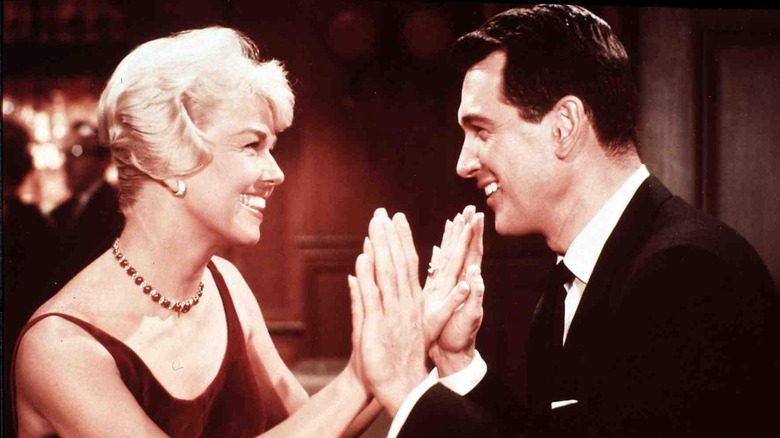 United Archives/Getty Images
After playing a tough, independent cowgirl in 1953's "Calamity Jane" and starring in the 1956 Alfred Hitchcock thriller "The Man Who Knew Too Much," the Doris Day image most people remember her for — as a sweet, chaste, romantic comedy mainstay — came to pass in 1957 with the film adaptation of the Broadway musical "The Pajama Game," as reported by Biography. Two years later, Day earned the only Oscar nomination of her career, for "Pillow Talk." It was her first pairing with Rock Hudson, who per The Hollywood Reporter had been known as a dramatic actor, but like Day, showed a talent for light comedy. Their chemistry and enthusiasm made the film a huge hit. They went on to make two more comedies together, "Lover Come Back" and "Send Me No Flowers." In a Turner Classic Movies tribute to Rock Hudson available on Facebook, Day reminisced about how she and Hudson had "become friends at our very first meeting, and he remained a dear part of my family all his life." 
Writer Aja Romano wrote for Vox about Day's successful rom-com persona of a smart, cheeky, self-possessed, and even sexy woman who is horrified by the idea of casual sex. Her winsome, saucy, yet firmly chaste characters were often rewarded by charming their insouciant, cunning playboy leading man counterparts into giving up their wolfish ways and proposing marriage. Film critic Pauline Kael called this "the Doris Day routine of flirting with the idea of bed but never getting there," as quoted in the 1996 book "Conversations With Pauline Kael."
'I am Miss Chastity Belt, and that's all there is to it'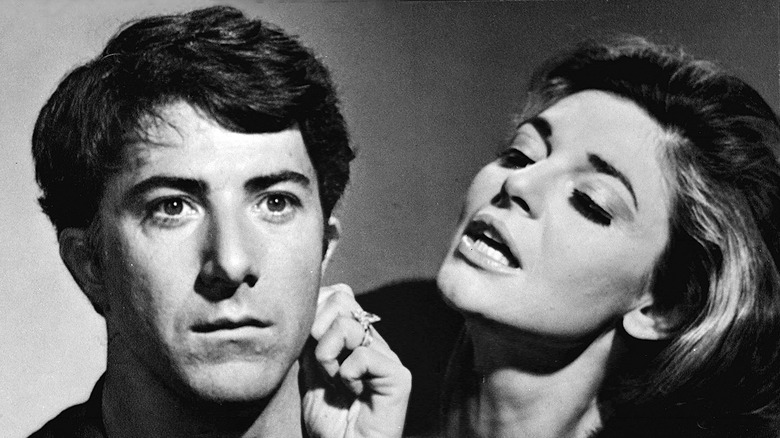 United Archives/Getty Images
Per Vox, Doris Day's persona as a clever, self-aware woman who insists on remaining "pure" in the face of the changing cultural norms of the 1960s became an industry-wide joke. Pianist Oscar Levant was credited with the likely apocryphal quip "I knew Doris Day before she was a virgin," and she was snarkily referred to by others as "The World's Oldest Virgin." Day herself was well aware of her reputation and ruefully discussed it in her 1976 memoir "Doris Day: My Story" (as quoted in her 2019 obituary from The New York Times): "My public image is unshakably that of America's wholesome virgin, the girl next door, carefree and brimming with happiness. An image, I can assure you, more make-believe than any film part I ever played. But I am Miss Chastity Belt, and that's all there is to it."
It makes sense that as film director Mike Nichols began considering actresses to play the role of Mrs. Robinson, the older woman who seduces her daughter's hapless boyfriend in the 1967 breakthrough movie "The Graduate," he'd be tempted to stunt cast the "professionally virginal" Doris Day as the notorious, sexually aggressive Mrs. Robinson. In his 1998 book "Easy Riders, Raging Bulls: How the Sex-Drugs-and-Rock 'N Roll Generation Saved Hollywood," writer Peter Biskind notes that Day turned down the part, saying of the script "It offended my sense of values." The role went to Anne Bancroft (shown above with co-star Dustin Hoffman), who arguable gave the performance of her career and inarguably created a truly memorable and influential character.