Why Paul Newman Once Gave Susan Sarandon A Portion Of His Salary
Getty Images/Getty Images
Susan Sarandon is largely known as a highly regarded Academy-Award-winning performer whose IMDb page boasts 165 acting credits. Made famous with her scene-stealing roles in movies like "Thelma & Louise," "Deadman Walking," and "Stepmom," Susan Sarandon has also developed a reputation that extends beyond Hollywood and into activist and political circles alike.
The "Ray Donovan" actor has done a lot during her 75 years on earth and has never shied away from controversial opinions or conflict. According to a profile by The Guardian, Sarandon is not scared of being disliked; whether it's angering the right with her criticism of aggressive U.S. war tactics or the left, with her distaste for Hillary Clinton. Still, the steadfast actor isn't above making an apology. Earlier in the year, she caused quite the stir on social media after tweeting a photo of thousands of NYPD police officers, gathering to commemorate an officer killed in the line of duty, with the caption, "So, if all these cops weren't needed for CRIME that day, doesn't that mean they aren't needed ANY day?" (per E! News).
Sarandon quickly deleted her tweet and issued a statement in which she said deeply regretted her actions, "I reacted quickly to the picture without connecting it to a police funeral and I realize now how insensitive and deeply disrespectful it was to make that point at that time."
Susan Sarandon's rocky Hollywood start
Getty Images/Getty Images
It's clear that Susan Sarandon's fierce independence and grit have both contributed to her lasting career in Hollywood, but it may surprise some to learn that at one point in time she struggled to get the fair treatment she deserved.
According to an interview Sarandon did with BBC News, charismatic Hollywood golden boy, Paul Newman, once gave a portion of his salary to Susan Sarandon to ensure she got equal pay. "Emma Stone once came forward and said she got equal pay because her male stars insisted upon it and gave up something of theirs," Sarandon told BBC 5 live, "That happened to me with Paul Newman at one point when I did a film with him ages ago."
While Sarandon didn't specify which film it was, it's safe to guess that she's talking about the 1998 neo-crime thriller "Twilight" which is the only movie the two starred in together. Sarandon continued on to explain that Newman stepped up when he found out that Sarandon was actually making less than her two male co-stars, Paul Newman and Gene Hackman. "When they said it was favored nations," a Hollywood term meaning everyone makes the same amount of money "but they only meant the two guys — he stepped forward and said, 'Well, I'll give you part of mine.' "
"He was a gem," Sarandon followed.
Emma Stone reveals gender pay gap still a problem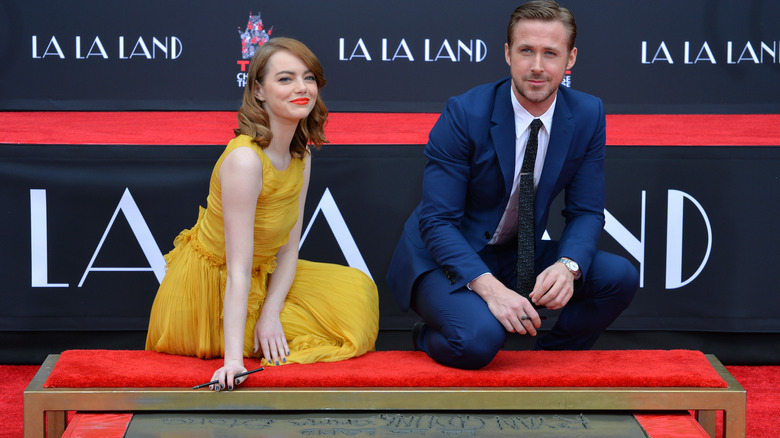 Featureflash Photo Agency/Shutterstock
Unfortunately, Hollywood is known for its secrecy and gatekeeping, often keeping deserving people from earning their worth simply because they don't fit into the status quo. While the story of Paul Newman giving part of his salary to Susan Sarandon in an effort to promote equitable pay sounds uplifting, it actually highlights a broken system — that's still struggling to operate in a fair manner.
Considering the fact that nearly 20 years later, Emma Stone revealed that she had to do the same thing, it's clear that not much has changed since Susan Sarandon's Twilight days. "In my career so far, I've needed my male co-stars to take a pay cut so that I may have parity with them," Stone told Out Magazine in 2017, "And that's something they do for me because they feel it's what's right and fair. That's something that's also not discussed, necessarily—that our getting equal pay is going to require people to selflessly say, 'That's what's fair.' "
While it's touching that men in Hollywood are sacrificing portions of their salaries to make sure women in Hollywood get an equal amount of pay, it's also important to unearth the systems that lead to this inequality in the first place.