What Was Madeleine Albright's Net Worth When She Died?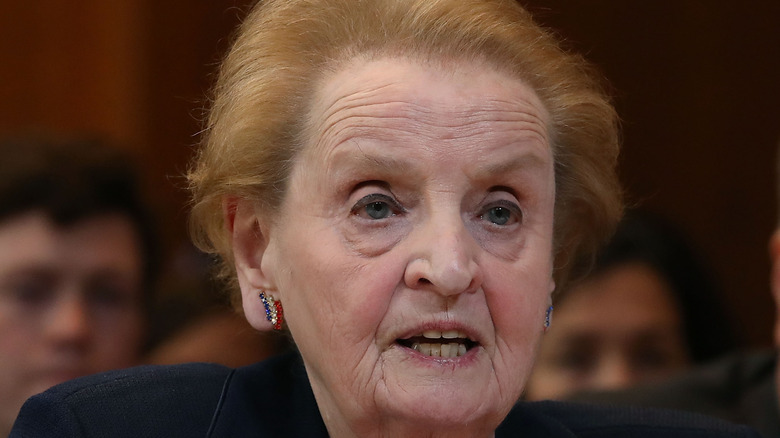 Mark Wilson/Getty Images
On March 23, the first female secretary of state in American history, Madeleine Albright, succumbed to cancer, aged 84. The Czech-born diplomat made a lasting impact on American foreign policy with her "Albright Doctrine," described by POLITICO as a liberal interventionism that encouraged military action "in support of both American strategic interests and moral values."
Albright was born Marie Korbelova in Prague in 1937. Her family was Roman Catholic, but both her parents had Jewish origins, and were wary of Hitler's desire to annex Czechoslovakia. When he did, the family moved to London, where the future diplomat spent her formative childhood years. They would end up in the United States, where she attended Wellesley College, took American citizenship, and began organizing campaign events for the Democratic Party. Gradually she made a name for herself in Democratic Party circles, eventually joining the faculty at Georgetown University and personally advising Zbigniew Brzezinski, Jimmy Carter's pugnacious, anti-Soviet national security advisor.
Later, Bill Clinton would be impressed by the tough-minded Albright. He made her his representative to the United Nations, and then in 1996 secretary of state, America's top diplomatic role. Notably, Albright pushed for military interventions in the former Yugoslavia and an expanded NATO in Eastern Europe.
Jewelry, jobs, and the Albright legacy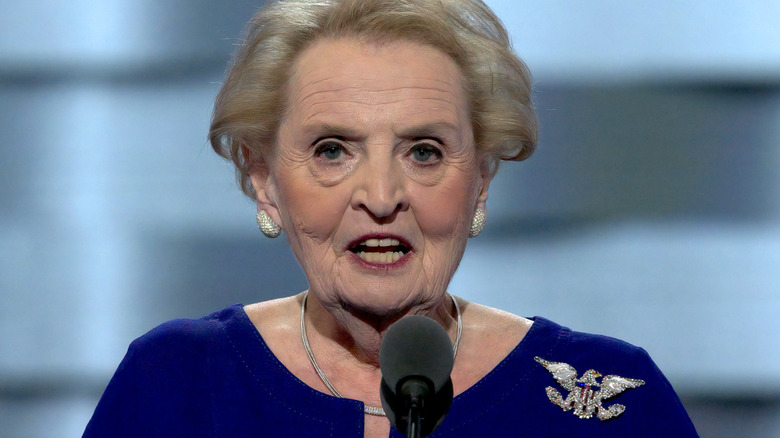 mark reinstein/Shutterstock
After her tenure as secretary of state, Albright returned to her academic life at Georgetown. She also settled comfortably into the world of business, founding and chairing the Albright Stonebridge Group and Albright Capital Management LLC, according to POLITICO.
It was a cushy life, well appreciated by a diplomat who had always had a keen eye for things like jewelry. In 2010, the Smithsonian Institute ran an exhibit of Albright's famous brooches — 200 of them. Like the U.K.'s Queen Elizabeth (via Town & Country), Albright knew how to communicate through brooches. When Saddam Hussein called her "an unparalleled serpent," she wore a jeweled snake pin. Another time, she reprimanded a Russian diplomat who had attempted to "bug" her office by wearing an insect brooch. She even managed to irritate the poker-faced Vladmir Putin with a pin of three monkeys hearing, seeing, and saying no evil; Putin had recently denied committing atrocities at the siege of Grozny.
Albright told Smithsonian that her pins were generally cheap, from flea markets or souvenir shops. But don't take that for an indicator of her wealth. Between her Georgetown salary, her international consulting work, and her positions on various boards, Albright was hardly a pauper.
There's worth, and then there's worth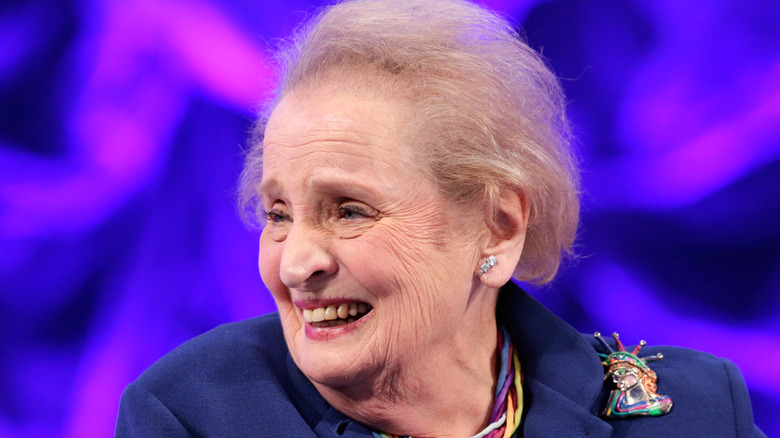 Marla Aufmuth/Getty Images
No exact documentation of Albright's finances exists in the public record — at least, not yet. But a number of sources, from Yahoo! News to Press Informant, have guessed her worth at something around $10 million.
Besides her service in the public sector and education, Albright published several books, including memoirs and political analysis. Still, as celebrity savings go, $10 million isn't all that much. It may be unfair to contrast Albright, a diplomat and refugee, with Donald Trump, a real estate mogul and U.S. president — Trump is worth something between $2 billion and $3 billion. Albright's successor as secretary of state, Hillary Clinton, might be a better comparison. The Clintons, Hillary and Bill, are worth about $120 million together. Theoretically, and perhaps unrealistically, Hillary Clinton by herself is worth about $60 million. In any event, $10 million in the bank is nothing to sneeze at. According to Forbes, the median net worth of Americans over the age of 75 is $254,900.