Why Brian 'Head' Welch Left KoRn And Returned 7 Years Later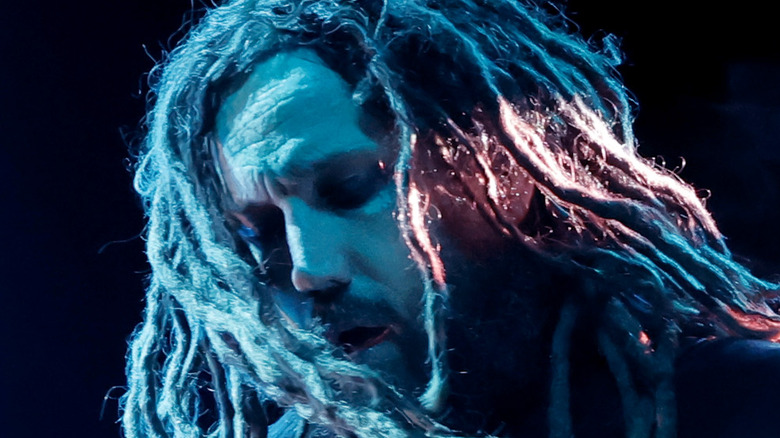 Kevin Winter/Getty Images
KoRn stormed the 1990s with a sound that screeched like a rabid animal and trudged like a giant dripping with radioactive sludge. The forefathers of Nu-Metal tactfully converged barbarity with groove and brought the bastardized genre into the mainstream, and they've been reigning supreme for nearly three decades now. Nonetheless, like any other band, KoRn has endured ebbs and flows that are anything but graceful at times. 
In 2005, guitarist Brian "Head" Welch announced his untimely resignation from the band that left fans heartbroken and flabbergasted. Welch had been a seemingly irreplaceable fixture of KoRn since the release of their self-titled debut album in 1994, so listeners were naturally starved for an explanation. The one they got, however, was far from anything a metalhead would expect. According to Phoenix New Times, Welch's premature departure from the band happened after he found Jesus and resolved to leave his old life behind. 
Brian Welch finds Christianity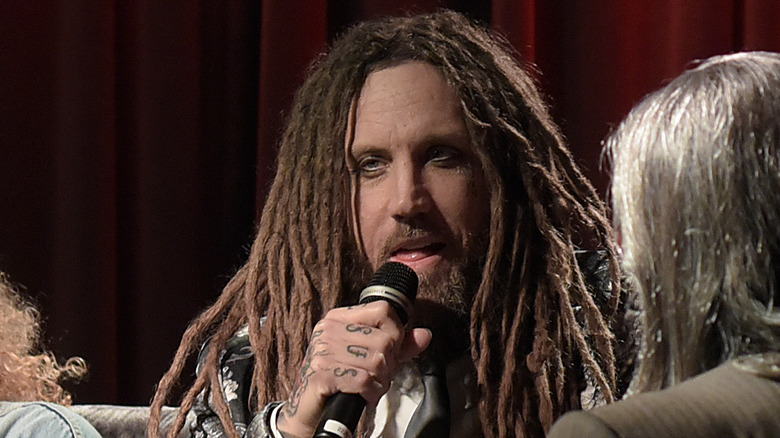 Michael Tullberg/Getty Images
"The crazy thing is I had an experience with something from another dimension," Brian Welch told Metal Hammer while speaking about his spiritual epiphany in hindsight. "And it wasn't the religion — going to church and being a good boy — it was, like, I felt something come into my house, and I can't explain it to this day. But I believe that it was Christ doing something in me." 
In his 2008 autobiography "Save Me from Myself: How I Found God, Quit KoRn, Kicked Drugs, and Lived to Tell My Story," Welch shared in detail his reasons for leaving his band, opting to step away from the fast-paced life of drugs, debauchery, and unpredictability. It also presented a chance to spend more time with his daughter Jennea. However, becoming a born-again Christian wasn't necessarily a death blow to his music career. Welch continued to release tracks on his own, though the themes naturally became more tame and spiritually influenced (via Phoenix New Times). 
"He's more on the straight and narrow with his Christian views and I can respect that," KoRn frontman Jonathan Davis shared shortly after Welch's departure. "I don't necessarily agree with it — I definitely don't agree with it — but if that's working for him ... I don't want to judge anybody because of what they do. I just don't agree with the ideals and the idea of it" (per MTV News).
Welch returns to KoRn in 2012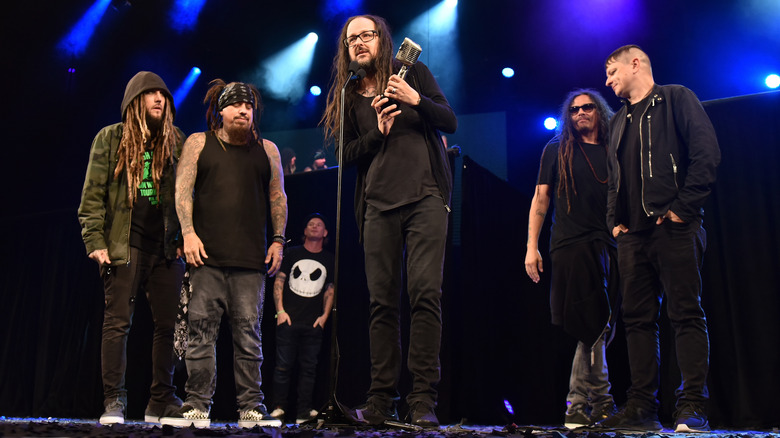 Daniel Boczarski/Getty Images
It was seven years before Brian "Head" Welch stepped back into the KoRn field after his spiritual awakening and the hiatus that followed. "I think I went too far with it," he shared. "And I got obsessed with it, just like I was obsessed with the drugs. I believe I did, for sure. And I had to come out of that and find normalcy, because there's nothing worse than a freakin' irritating religious person just shoving it down your throat — there's nothing worse than that" (per Metal Hammer). 
Fans were overjoyed to see the Korn OG return to the stage with his brothers. In 2015, Welch opened up about the his fabled resurgence in his book, "With My Eyes Wide Open: Miracles and Mistakes on My Way Back to KoRn" (via Yardbarker). Since his return, KoRn has released four studio albums and has carried out several world-wide tours.