Why Elvis Costello Was Banned From SNL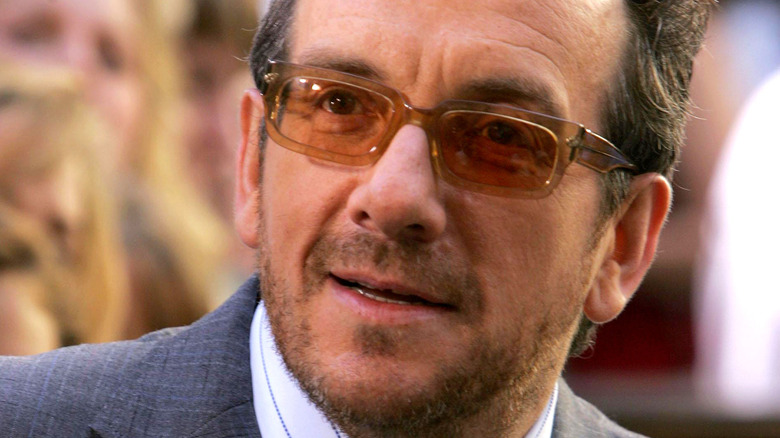 Everett Collection/Shutterstock
Elvis Costello is one of the biggest names in music. Declan Patrick McManus was born in August of 1954 in London, per Biography, to parents who were both familiar with the music industry. His mother managed a record store and his father was a singer himself. Growing up in such an environment, it probably isn't surprising that the young McManus started playing music in local bars in 1970, and by the end of that decade, had adopted his stage name and signed a deal with a studio.
In 2003, Costello was inducted by Elton John into the Rock & Roll Hall of Fame, in the performer's category. This particular category, the prestigious hall of fame's official website explains, is intended to celebrate "bands and solo artists who, in their careers, have created music whose originality, impact, and influence has changed the course of rock 'n' roll."
While this is certainly an apt description of Costello and his career, one specific performance of his did not go down well with "Saturday Night Live," causing him to be banned from the show.
A controversial moment during a U.S. tour
Elvis Costello and his band weren't an immediate hit, as Far Out Magazine reports. Debut record "My Aim Is True" saw him start to gather a dedicated following in the United Kingdom, before Columbia Records decided his talent may have the impetus for an enormous project: a tour of the vast musical market that is the United States.
Elvis Costello and the Attractions, quite by chance, were then given the opportunity of performing on "Saturday Night Live." Per Far Out Magazine, this was largely because the Sex Pistols were unavailable for their own scheduled appearance on the show, but it wasn't a chance that any musicians would want to let slip by.
According to Groovy History, the band's host on the evening of December 17, 1977, was one Miskel Spillman, who had won the honor through a contest held by the show called "Anyone Can Host". Spillman and everybody else watching were due to hear the band's single "Less Than Zero," as arranged by their label, but Costello had other plans.
As seen in the footage (above) the band got a few seconds into the song before Costello abruptly turns to his fellow performers and shouted, "Stop!" Turning back to the cameras, he says, "I'm sorry, ladies and gentlemen, there's no reason to do this song here." The briefest hushed deliberation between the musicians follows, before they launch straight into an energetic rendition of their song "Radio Radio."
Nobody tells Elvis Costello what to play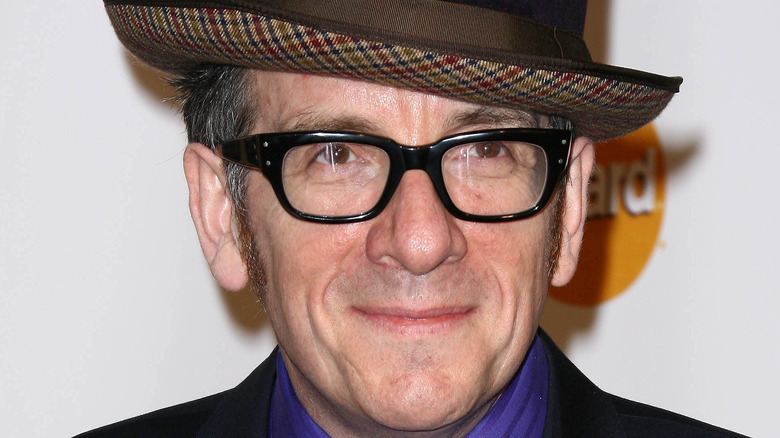 s_bukley/Shutterstock
"Radio Radio," speaks of Elvis Costello's distaste for the nature of television, radio, and broadcasting in general, as Far Out Magazine states. He couldn't have picked a higher-profile stage for lyrics such as, "And the radio is in the hands of such a lot of fools, tryin' to anesthetize the way that you feel," and while the audience enjoyed the performance, Lorne Michaels, "Saturday Night Live" producer, did not. Allegedly the furious Michaels watched while aiming an obscene hand gesture at Costello. And, so Costello received a "Saturday Night Live" ban of over a decade.
Per Billboard, Costello remembered the controversial moment in a January 2021 Apple Music interview with Zane Lowe. Ever the rebellious punk, he explained that he took offense at being told what he could play, and so played something entirely different. "I just wanted them to remember us," he said, "I didn't really have anything against the show."
Judging by the fact that the performance continues to be discussed as one of the most memorable parts of the long history of "Saturday Night Live," it's probably safe to say: Mission accomplished, Elvis Costello.