This Was The First Wedding At The White House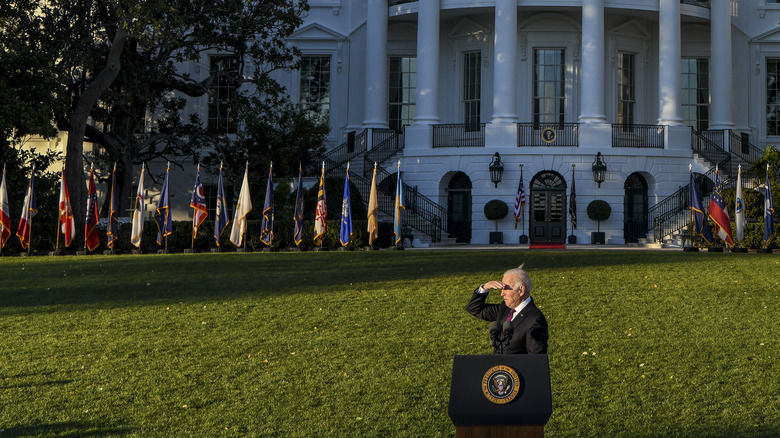 Kenny Holston/Getty Images
In April 2022, President Joe Biden and First Lady Jill Biden announced that their granddaughter, Naomi Biden,  would have her wedding reception at the White House, as The New York Times reported. Naomi, who is the daughter of Mr. and Mrs. Biden's son, Hunter, became engaged to her longtime boyfriend Peter Neal, according to Page Six. Neal, who previously interned for Barack Obama, popped the question in September 2021 after a four-year-long relationship.
Peter and Naomi decided to tie the knot at an undisclosed location, and then retire to 1600 Pennsylvania Avenue for their reception. However, in the 200-year history of the Executive Mansion, four wedding receptions have taken place there following a wedding elsewhere, and 18 couples have exchanged marital vows at the Official Residence, according to White House History. The most recent was during the Obama administration in 2013, while the first dates all the way back to the James Madison administration.
The first White House wedding was in 1812
The White House was first occupied in 1800, according to the White House website, when John Adams moved in. Two administrations later, James and Dolley Madison called it home. Mrs. Madison loved being First Lady, according to the Miller Center, and in particular, loved hosting parties and social events. So when her widowed sister, Lucy Payne Washington (pictured above), accepted a marriage proposal from Supreme Court Associate Justice Thomas Todd, it simply wouldn't do to have the wedding anywhere but the hottest social destination in Washington: the White House.
It seems that the wedding was put together rather quickly, as the Heroes, Heroines & History blog notes, saying that Mrs. Madison wrote to her father to complain about how the event was unexpected and had seemingly upset the White House servants. The blog describes the event as small, in keeping with the custom of the time, but likely "lovely and tasteful." Mr. and Mrs. Todd went on to have three children. Unfortunately, however, after 14 years of marriage, Lucy was widowed a second time.
Other White House weddings and receptions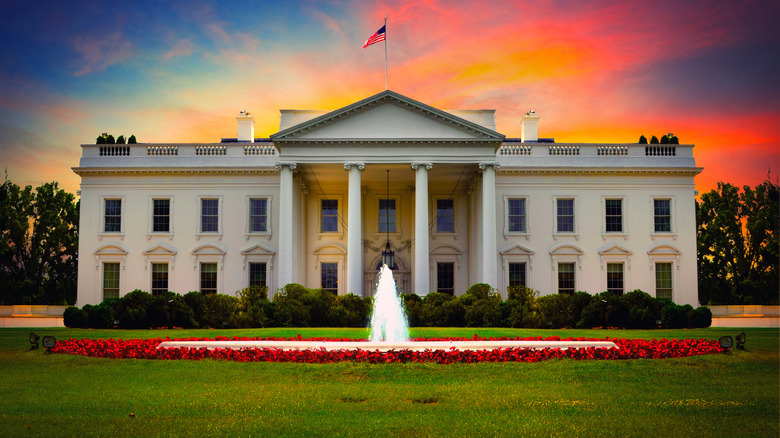 Stefano Garau/Shutterstock
Although the marriage of Lucy Payne Washington and Thomas Todd was the first wedding to take place at the White House, it wasn't the last. According to White House History, 17 other weddings have been held there. The first daughter of a sitting president to be married at the building was Maria Hester Monroe (daughter of President James Monroe and First Lady Elizabeth Monroe), who married Mr. Monroe's private secretary, Samuel L. Gouverneur. John Adams II (son of President John Quincy Adams and First Lady Louisa Catherine Adams) was the first son of a sitting president to be married in the White House (he married his first cousin on his mother's side, according to History Daily).
The most recent child of a sitting president to marry in the White House was Tricia Nixon (daughter of President Richard Nixon and First Lady Patricia Nixon), who married Edward Finch Cox in the Rose Garden. The most recent White House wedding was in 2013, when Official White House Photographer Pete Souza married Patti Lease in the Rose Garden, as NBC News reported.
Naomi Biden and Peter Neal will be the fifth couple to marry off of White House grounds, yet hold their reception there. Most recently in 2008 Jenna Bush, daughter of George W. and Laura Bush, got married in Texas and then attended a reception hosted by her parents at their Washington home the next month.