What Happened To Serial Killer Cary Stayner?
In the 1980s, Steven Stayner made headlines when, after seven years in captivity, the teenage boy escaped his abductor along with 5-year-old Timmy White, who had only recently been taken by the same man. Stayner was 7 years old when he was kidnapped, and he was 14 when he left his abuser. 
The harrowing story gripped California, where it took place, but the media spotlight meant it soon captured national attention. With Stayner and White reunited with their families and their abductor, Keven Parnell, behind bars, there seemed to be a happy ending for all involved. Little did the Stayner family know, though, that their family story was far from over. It would soon turn much darker.
In February 1999, a woman named Carole Sund, age 42, her daughter, Juli, 15, and her daughter's 16-year-old friend, Silvina Pelosso, went missing near Yosemite National Park, as History explains. About a month later their bodies were found; Carole Sund and Pelosso, badly charred in the trunk of a rental car, and Juli Sund elsewhere, her body already decomposed. Each woman was strangled or had her throat cut. These were the first three of four killings that would rock Yosemite that year. In July, the body of 26-year-old Joie Armstrong was also found near the park, decapitated. Working as a handyman at Yosemite was Steven Stayner's older brother, Cary Stayner.
Cary Stayner was traumatized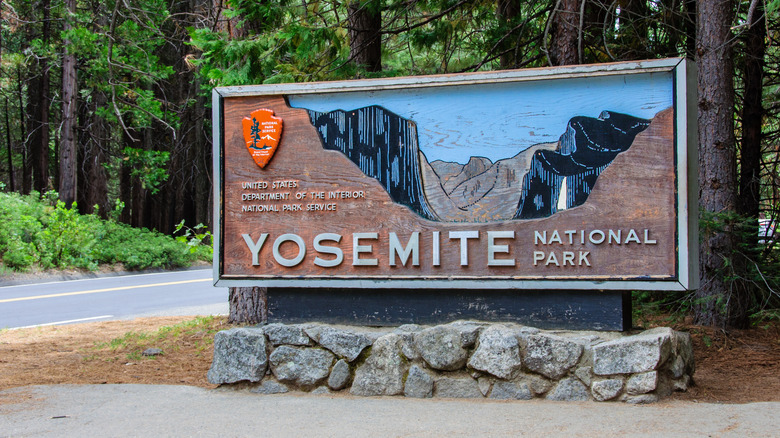 Maks Ershov/Shutterstock
Growing up in the Stayner home was traumatizing in light of Steven's abduction, seven years missing, his subsequent escape, and the media spectacle that followed. As one of the Stayner sisters describes in the aftermath, "A lot of attention went to Steven — we all got a little jealous ... My older brother, Cary, he was off," per Captive Audience: A Real American Horror Story," a Hulu documentary (via People). A childhood friend of the Stayner's said Cary felt he might be responsible for what happened to Steven, and that he should have been with his brother when he was kidnapped.
Layering tragedy upon tragedy, Steven Stayner sadly died in a motorcycle accident at age 24 in 1989, as People Magazine reports. It was the same year a dramatized film based on his abduction story, called "I Know My Name is Steven," enthralled TV audiences (per IMDb). Then, in 1990 Cary Stayner's uncle, Jesse Stayner, was also fatally shot in the home that he shared with Cary, per ABC News.
By the time he was in his late 30s, Stayner was a person of interest in the Yosemite killings but it took authorities some time to narrow their sights on him. Once they did, Cary Stayner quickly confessed to all four killings in detail. 
Cary Stayner is still on death row
According to History, Stayner fantasized about killing women from the time he was a young boy, and after the trauma of his brother's abduction and Steven's later, untimely death, the elder Stayner brother lost control. He also had his own issues with mental illness and even endured sexual abuse of his own as a child at the hands of his uncle. It later emerged that Stayner had tried to kill other women during his time at Yosemite, but had failed to commit the crime (via ABC News). A TV reporter close to the case said, "He was unable to develop any sort of interpersonal relationships with any women."
Once taken into custody, Cary Stayner was soon put on trial. In 2002, he was convicted of all four murders and sentenced to death row, per A&E True Crime. At the time of this writing, Stayner, now 60, remains locked up at San Quentin State Prison in California, alongside another high-profile convicted killer, Scott Peterson. That seems unlikely to change anytime soon. In 2019, California state Governor Gavin Newsom put an end to capital punishment for the foreseeable future.
According to A&E True Crime, prisoners at San Quentin live alone in their cells measuring less than 50 square feet. By law, Stayner and his fellow inmates at San Quentin — the oldest prison in California — are allowed just 10 hours of outdoor exercise per week (per Star News Online). California currently has the largest population of death row inmates in the nation.