The Truth Behind Michelle Carter's Fundraiser
Conrad Roy and Michelle Carter were two Massachusetts teens that met while on vacation in Florida in 2012 (via Investigation Discovery). Although they both were from different cities (Roy lived in Mattapoisett, while Carter lived in Plainville), their relationship blossomed. A&E writes that the pair communicated primarily through texts and phone calls. This relationship, however, would turn fatal. Per NBC Boston, Roy and Carter struggled with their mental health. It's reported that Roy had attempted suicide and Carter had previously received treatment for an eating disorder. Both used their newfound connection to open up about their issues.
E! Online explains that Roy confided in Carter that he was once again feeling suicidal. Although Carter first encouraged him to get help, she quickly changed her tune. A&E states that she sent texts to Roy that enforced his suicidal ideation including one that said, "YOU KEEP PUSHING IT OFF! You just said you were gonna do it tonight and now you're saying eventually." 
Additionally, Carter helped him plan the logistics. On July 13, 2014, 18-year-old Roy took his own life via carbon monoxide poisoning with Carter encouraging him via texts through the entire ordeal. No one knew the role that Carter played in his suicide, in fact, she quickly took on the role of a "grieving girlfriend."
If you or anyone you know is having suicidal thoughts, please call the National Suicide Prevention Lifeline​ at​ 1-800-273-TALK (8255)​.
Michelle Carter raised money for suicide prevention after Conrad died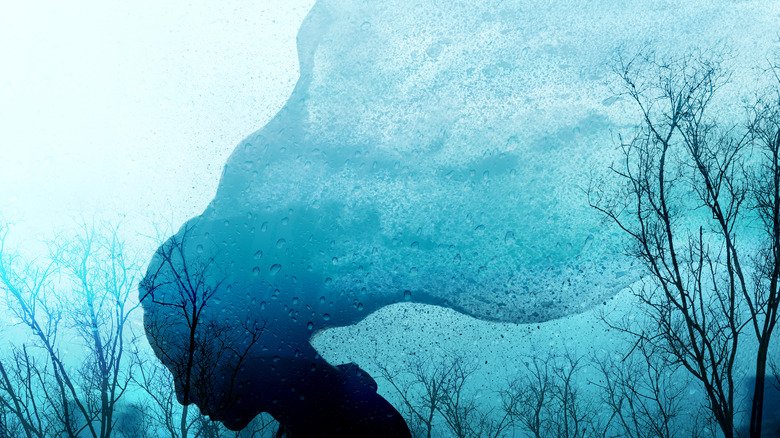 Black Salmon/Shutterstock
According to E! Online, Carter met Roy's family shortly after his death to attend his wake. Moreover, she decided to plan a fundraiser in his honor in September 2014. The U.S. Sun writes that this softball fundraiser was called "Homers for Conrad" and its goal was to raise awareness for suicide prevention and mental health. Per The Daily Mail, Carter stated that the event made $2,300. Interestingly, Carter planned the event in Plainville, away from Roy's hometown of Mattapoisett. She was also active on social media and frequently posted photos of Roy and stated that she missed him.
Meanwhile, Carter had texted a friend two days after the fundraiser and told them that she could have prevented Roy's suicide but instead told him to go through with it. All That's Interesting reported that by October, authorities were interested in speaking to Carter. A warrant was issued for Carter's phone and her appalling texts to Roy came to light (via E! Online). She was subsequently indicted on charges of involuntary manslaughter and was put on trial. Carter attempted to get the charges dismissed but when that failed, she opted for a trial by a judge rather than a jury (per NBC Boston). Furthermore, she decided against testifying.
Michelle Carter spent little time in prison
Carter's defense stated that she was not involved in Roy's death; he had committed suicide on his own volition (via A&E). The prosecution, however, begged to differ. WJAR reports that they not only believed that Carter had influenced Roy — they also added that she was desperate for the attention she would receive as a dutiful mourning girlfriend. As evidence, the prosecution presented the texts she had sent Roy — more than 1,000 in just the week before he took his own life, many encouraging him to go through with it, according to NBC Boston. 
E! Online explains that the text Carter sent to her friend stating that she could have helped Roy but didn't was the message that ultimately sealed her fate. On June 16, 2017, 20-year-old Michelle Carter was found guilty of involuntary manslaughter. Once again, her legal team attempted to fight this conviction to no avail. According to Esquire, Carter was sentenced to two and a half years in prison. She began her sentence in February 2019 but was released in January 2020 due to good behavior.
Roy's family is unhappy that she served such little time for her crimes. His grandfather stated, "I still don't have my grandson back, why should she be out, free to enjoy life, when my grandson doesn't have a life to live?" Carter is now 25 and will remain on probation until August 2022. Roy's family is now pushing for "Conrad's Law," a new law in Massachusetts that would make encouraging suicide as Carter did, a felony.
If you or someone you know is struggling with mental health, please contact the Crisis Text Line by texting HOME to 741741, call the National Alliance on Mental Illness helpline at 1-800-950-NAMI (6264), or visit the National Institute of Mental Health website