The Murderous Origin Of Nike's Just Do It Slogan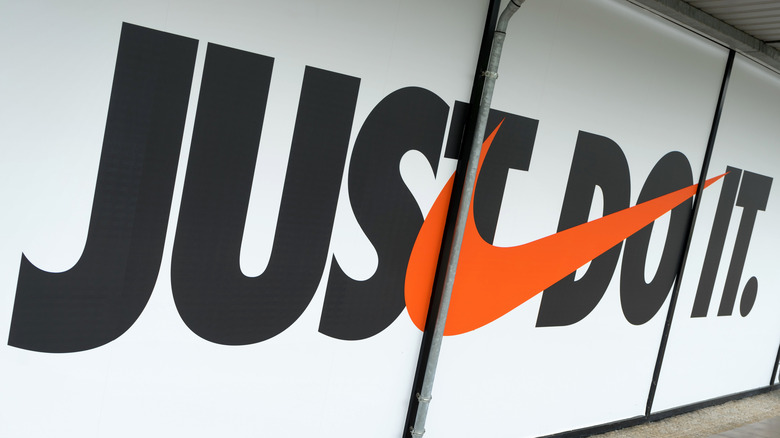 geogif/Shutterstock
Athletes and non-athletes alike wear or have worn Nike athletic wear throughout their lives, or known someone who has. The famous Nike "swoosh" logo is easily recognizable and a part of each item the brand releases. According to Britannica, Nike was founded in 1964 under the original name of Blue Ribbon Sports by two men, Bill Bowerman and Phil Knight. Both were actively involved in track and field at the University of Oregon. Bowerman was a coach, and Knight was, at one point, his student. According to ESPN, the pair had such an influence on the community that a college arena at the University of Oregon, the Matthew Knight Arena, is named for Phil Knight's late son.
It's no secret that these two men would have a remarkable impact on the world of sports and leisure. Nike's slogan "Just Do It" can be seen at nearly every sporting event and numerous retail locations in modern times. One could argue that the motto itself is partially responsible for the brand's impact; according to Insider, when the slogan first appeared in 1988, company sales tripled. But what or who influenced this short yet effective branding?
Ad agency head Dan Wieden was inspired by the final words of a death-row inmate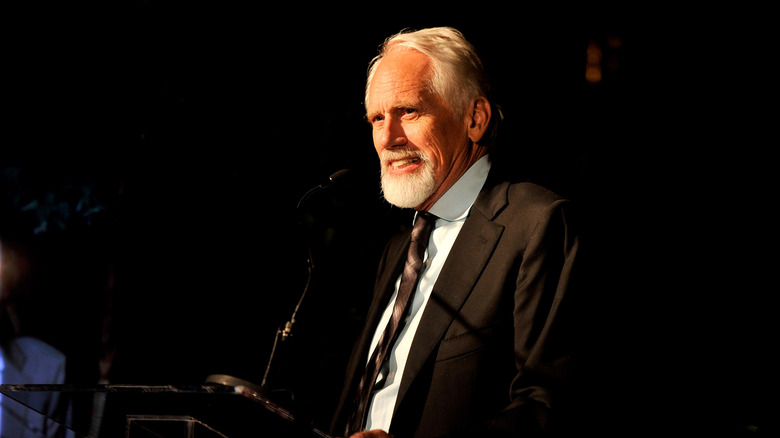 Stephen Lovekin/Getty Images
"Just Do It" is the catchy phrase that comes to the minds of millions whenever Nike is mentioned. However, this wasn't always the brand's motto, and it was over 20 years before it came out of the genius Dan Wieden, head of the Wieden & Kennedy ad agency, according to Insider.
Wieden recalls in an interview for the documentary "Art and Copy" (posted on YouTube) that the slogan was inspired by a man who was being executed by a firing squad in the state of Utah. The condemned man was Gary Gilmore, and according to an Associated Press report in the Daily News, his final words to the firing squad and to anyone else were simple: "Let's do it." Wieden explains in "Art and Copy" that these words stood out to him, specifically the "do it" part, and so "Just Do It" came to be. The slogan was first utilized in a 1988 Nike commercial (also on YouTube) featuring an 80-year-old man, Walt Stack, who said he runs 17 miles every morning. With their rather ominous history, the words "Just Do It" appeared in this well-lit and inspirational advertisement, and continued to be utilized by Nike.
Gary Gilmore chose his own method of execution
Gary Gilmore was a convicted murderer who, according to Britannica, killed two people, Max Jensen and Ben Bushnell, during separate robberies. Gilmore injured himself in the process, and when he went to his cousin for help, she instead turned him in to the police. In October 1976, Gilmore was found guilty and sentenced to death. In January 1977, Gilmore's punishment was carried out, and according to Britannica, he chose to be killed by way of firing squad.
Prior to his life's final chapter in Utah, Gilmore lived a life of petty crime in Oregon. He began his troubled path during adolescence and was moved from one reform center to another before trouble as an adult landed him in jail (via Biography). Wiedman and Nike aren't the only ones who have taken inspiration from Gilmore. Norman Mailer was awarded the Pulitzer Prize in 1980 for his 1979 book "The Executioner's Song," which was inspired by the events surrounding Gary Gilmore's death, according to Britannica. 
There isn't any way anyone could have known that such an individual would one day be responsible for the phrase that inspires millions of people to be the best versions of themselves. Especially when the words he spoke came at a time when he was being punished for being the absolute worst version of himself.