The Violent Crime That Almost Derailed Alanis Morissette's Jagged Little Pill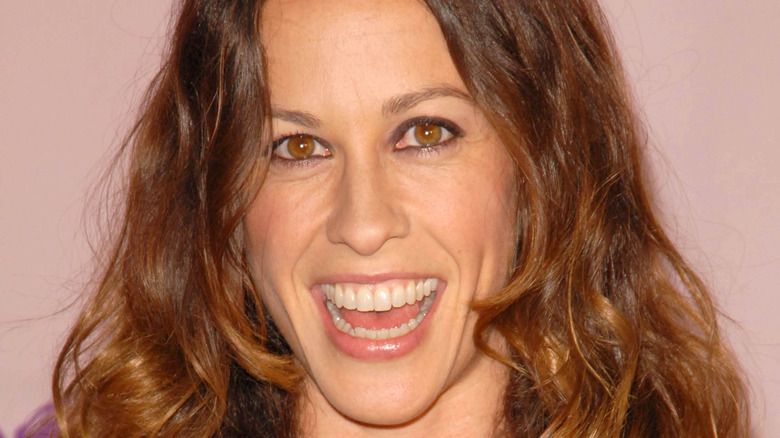 s_bukley/Shutterstock
Alanis Morisette's 1995 monumental album "Jagged Little Pill" became one of the 1990s most definitive works of music. Since its release nearly 30 years ago, the best-selling record has sold over 33 million copies worldwide and has gone platinum 10 separate times in the United Kingdom. It also won four Grammy's following its release (via Radio X). The album forges grace with angst in a tactical delivery that isn't exactly rock 'n' roll, but isn't too pop either. It's an unapologetic exhibition of musical prowess that seems to evoke an emotional catharsis from the listener in a remarkably sympathetic tone. Rolling Stone ranked it number 69 in its list of the 500 greatest albums of all time. However, there's something you oughtta know about "Jagged Little Pill."
If you can believe it, the Canadian singer-songwriter was almost prevented from releasing the album, and any prospective records that would have come after it. We wouldn't be singing along to "Ironic," or "Hand in My Pocket," had one particular run-in with some unsavory individuals taken a turn for the worse. Apparently, when Alanis Morissette was recording the album in Los Angeles all those years ago, she came face-to-face with three muggers who threatened her life with a gun while they robbed her (per Metro). 
Alanis Morissette was held up at gunpoint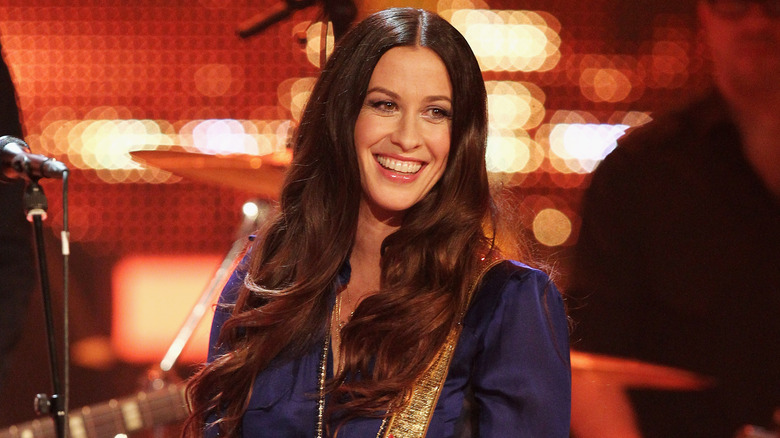 Mathis Wienand/Getty Images
During an interview on "The One Night Show," Alanis Morisette revealed, "All of a sudden I was being held up at gunpoint." The singer added, "They wanted all my things and I knew that I was going to give them anything, first of all, and second of all I had my backpack with the whole "Jagged Little Pill" record contents in it," reports Metro. While the standoff wasn't precisely a near-death experience in the definitive sense, the precious music and lyrics to "Jagged Little Pill's" greatest tracks could have easily been carried off and discarded by the clueless thugs. 
The assailants descended upon Morissette and made her hand over her purse and wallet. In hindsight, you could say it was a small price to pay given the astronomical amount of money "Jagged Little Pill" earned her in the long run. "I gave them my wallet and my purse and they said 'go lie down' with my backpack and I thought 'maybe they'll grab that on the way out,' but they didn't." On speaking about the potential aftermath of her ordeal, Morissette said she "was pretty close to having to start the record all over again," according to Rolling Stone. 
It wasn't the only time she was robbed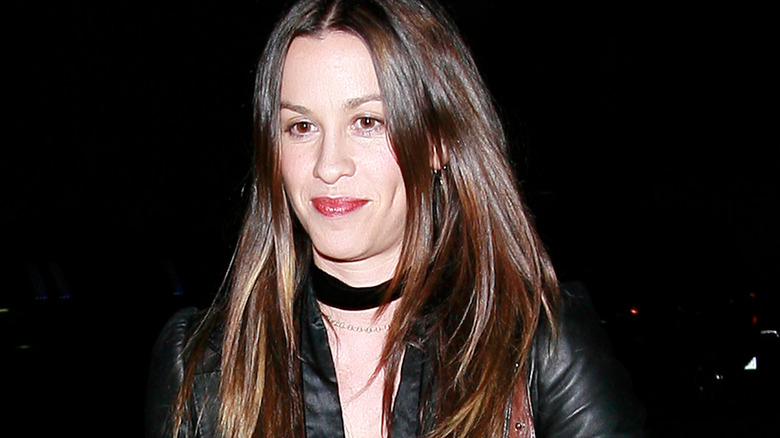 ET Drone Home/Shutterstock
In addition to the harrowing debacle in Los Angeles when she almost lost "Jagged Little Pill" in its entirety, Alanis Morissette has been robbed two other times in her life — most recently in February of 2017. As TMZ reports, burglars broke into her Brentwood, California home and stole $2 million dollars worth of jewelry. Luckily, she was away from the house at the time. 
The other time didn't include brute force of any kind. In 2017, Morissette's former manager Jonathan Todd Schwartz pleaded guilty to stealing around $4.8 million dollars from the singer and was sentenced to six years in prison. Between 2010 and 2014, Schwartz reportedly withdrew large sums of cash from her personal account without her knowledge and labeled them as "sundry/personal expenses" by means of covering up his tracks. While addressing Judge Dolly M. Gee during the trial, Alanis Morissette described the scandalous betrayal as "long, drawn-out, calculated and sinister" (per United States Department of Justice).