The Strange Place Where Angus Young Wrote Highway To Hell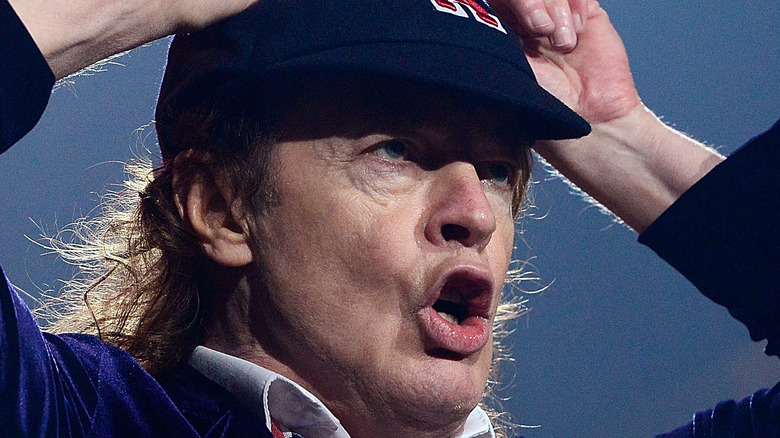 Jeffrey A. Camarati/Getty Images
Inspiration can be a mysterious, fleeting, and utterly bizarre thing. Creative types have been known to awaken in their beds with a brilliant idea from nowhere at all. Sometimes, sadly, they'll awaken in the morning with no memory of what that glorious idea was. Some have the presence of mind to attempt to write it down there and then, only to consult their notepad in the morning and see something utterly useless scrawled down.
The takeaway from all this, though, is that inspiration doesn't have to strike in a perfect, cloud-parting epiphany, in the most beautiful of natural surroundings. As Far Out Magazine reports, long-time Elton John collaborator Bernie Taupin got the idea for one of John's most iconic songs, "Rocket Man," from a Ray Bradbury short story "The Rocket Man." "It's common knowledge that songwriters are great thieves, and this is a perfect example," Taupin reportedly said on the matter.
AC/DC's equally iconic "Highway to Hell" was born in equally uninspiring circumstances. Angus Young, it seems, was answering the call of nature when the concept for the hit came to him.
The song came together in Miami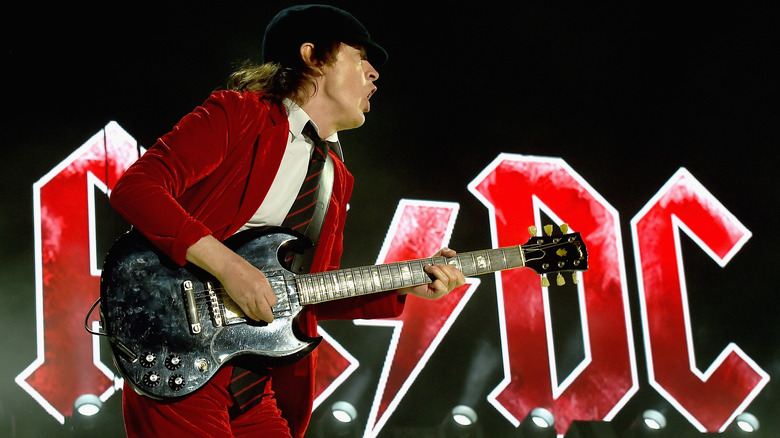 Kevin Winter/Getty Images
"Highway to Hell" will be familiar to rock fans everywhere. The album of the same name is one of the most fondly remembered in the band's repertoire, a 1979 extravaganza that defined a band that had "...never sounded so enormous, and they've never had such great songs." per All Music's Stephen Thomas Erlewine. 
As is often the case with AC/DC, "Highway to Hell" isn't the deepest or most thoughtful fare. It's a riff-tastic explosion of sound, a proud showcase of a band doing what they do best in a bombastic fashion. Interestingly, the music of the song seemed to come together quite quickly, as did the lyrics after a timely bathroom break.
In an interview with Zane Lowe for "Essentials Radio" on Apple Music 1, Angus Young explained that the band had been noodling away in a Miami studio for "a couple of weeks," trying to put together some new material. They hadn't really hit on their next killer song until Malcolm Young arrived, reportedly exclaiming, "I've got a good idea in my head, " (via Kerrang)
Angus Young stated that he and Malcolm worked on the perfect timing for the drums and the beat to kick in, and they were soon jamming on an impromptu tune with real promise. Regarding the final piece of the puzzle, the words to match, Malcolm demanded, "have you got something you can come up with?" A brief trip to the toilet later, Angus certainly did.
The bathroom break that hanged the history of rock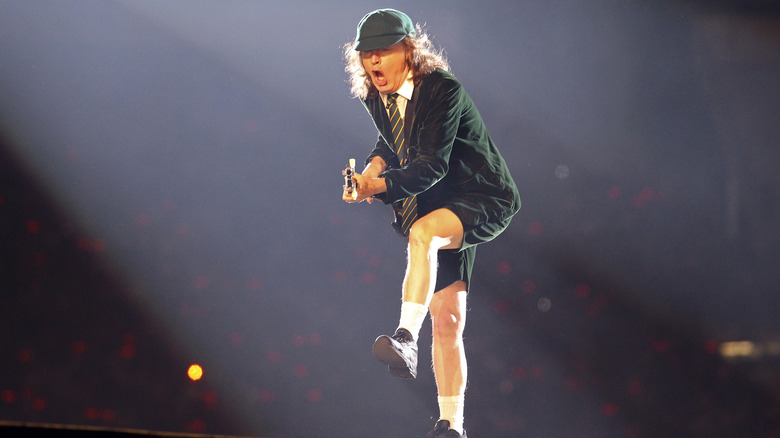 Bradley Kanaris/Getty Images
He said of the triumphant moment, " I was in the toilet and I was ... sitting and thinking ... And then I go, 'I think I've got it ... I've got the idea in my head,'" as Kerrang notes.
"I've got it. Highway to hell," he told Malcolm Young (not while he was still sitting on the toilet), and in short order, they had put the words to the composition. And, so he wrote the words for one of rock's most beloved songs.
It's not the most high-brow of origin stories, granted, but there's no denying the impact that "Highway to Hell" had, and continues to have. As Infoplease reports, the Rock & Roll Hall of Fame's James Henke gathered with other musical authorities to compile the list: 500 Songs That Shaped Rock. "Highway to Hell" takes pride of place on it, nestled among such classic efforts as Chuck Berry's "Johnny B. Goode," The Who's "My Generation" and another of AC/DC's heaviest hitters, "Back In Black."