The Real Reason Angus Young Started Wearing Schoolboy Uniforms On Stage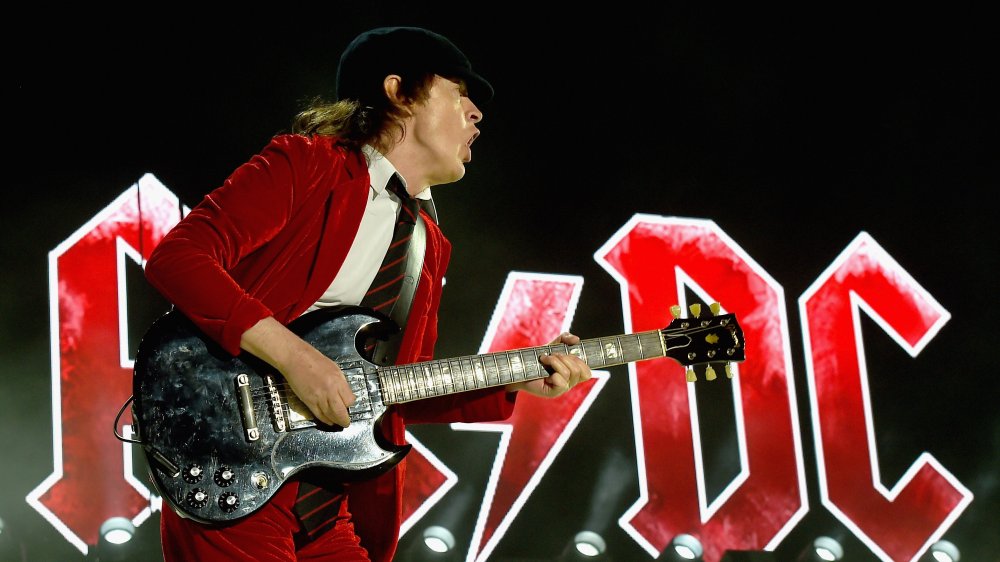 Kevin Winter/Getty Images
Perhaps the last thing you'd ever associate with a hard rock group singing tunes like "Highway to Hell" and "If You Want Blood," is the small cap, tie, and shorts of a schoolboy uniform. And yet, Angus Young, lead guitarist of AC/DC, has somehow made the two synonymous.
While some music legends go for the classic all-black uniform à la Ozzy Osbourne or Johnny Cash, other artists, like David Bowie, have a style and character that evolves with each new album they release. Not so with Angus Young. Young first premiered his schoolboy look in 1974, and it's become a staple of his performances for more than four decades. So, what's the real reason Angus Young first put on that schoolboy uniform?
The iconic look first came into being in April 1974 at an open-air concert in Victoria Park in Sydney. Young got the idea for the schoolboy uniform when his older sister Margaret and older brother and bandmate Malcolm suggested it. According to Louder Sound, Angus Young had previously put on bizarre costumes such as a gorilla suit, Zorro mask, and Superman suit to play. But Malcolm Young wanted AC/DC to be taken a bit more seriously for Victoria Park, so he donned an airman's jumpsuit and assigned the schoolboy uniform — which was borrowed from Margaret's son — to his kid brother. 
The other bandmates tried out a New York City cop uniform, a glam rock get-up, and a Joker costume for the gig, but Angus Young's schoolboy uniform was the only look that worked for the band's new image. Siblings — they can talk you into anything, but it doesn't always go over well with crowds.
Angus Young was nervous to put on the schoolboy uniform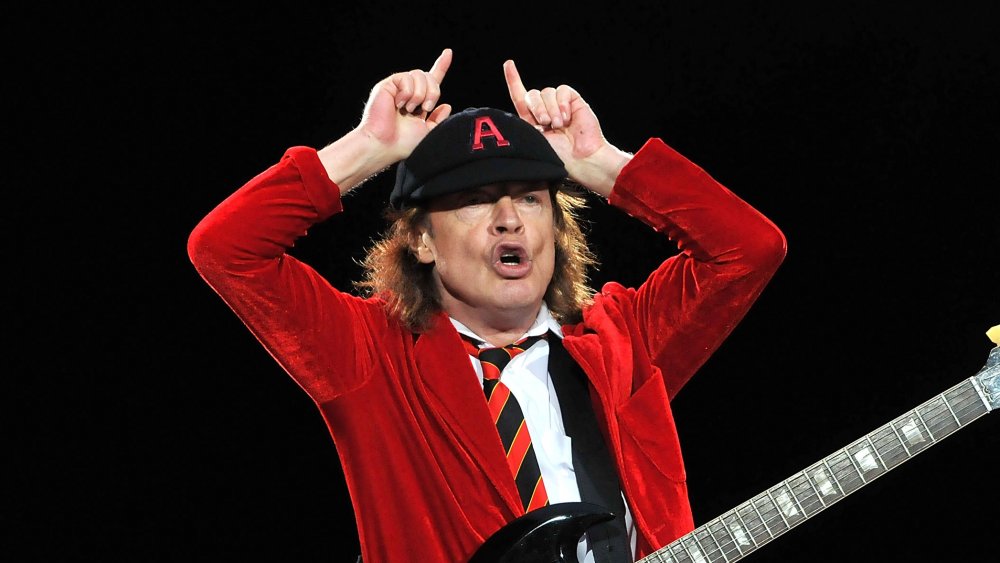 Jim Dyson/Getty Images
You couldn't tell now from his frenetic energy and his wild duck walk (thanks, Chuck Berry), but Angus Young has always struggled with stage fright. In fact, the 1974 performance where Young first donned the schoolboy uniform he now recalls as a particularly nerve-racking event.
"That was the most frightened I've ever been on stage, but thank God, I had no time to think," Young told Guitar World in 2020. "I just went straight out there. The crowd's first reaction to the shorts and stuff was like a bunch of fish at feeding time — all mouths open." Young was well aware that his costume could become the subject of mockery. "I had just one thing on my mind: I didn't want to be a target for blokes throwing bottles," Young said. "I thought if I stand still I'm a target. So I never stopped moving." 
Angus Young was just 18 when AC/DC got off the ground, so he was understandably overwhelmed by stardom. Once, with an audience full of beer-swilling bikers, Young got a little hesitant to go on stage. His older brother and rhythm guitarist Malcolm Young had to kick him from behind. Moving around and dodging glances became just as much a part of his stage persona as the little shorts.
Today, the schoolboy uniform has a soothing quality. "Usually, once I've got the uniform on, I'm okay," Young reflected. Angus Young's pre-show ritual includes going to the bathroom and having a smoke. And if he has a zit, hey, it's just part of the youthful look.
Angus Young has received advances from women because of the uniform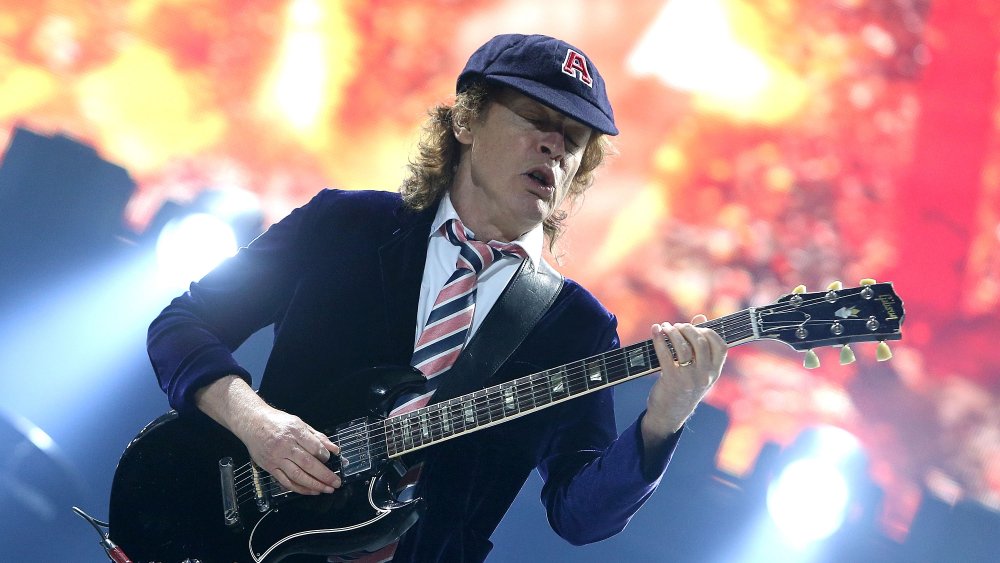 Paul Morigi/Getty Images
Everybody has a type. Angus Young learned that, for some people, a tiny school cap and shorts do the trick. While AC/DC bandmates like Bon Scott indulged in the rockstar lifestyle, Young liked to keep things rather tame when he was touring, focusing on the next gig and the next record.
Though, Young confesses, there were a few wild nights. "Because of the schoolboy uniform, some women have tried to mother me — They think I'm cute because I'm so short," Young, who is 5'2", told Guitar World. "Some women would come up and make, er, bold statements, but I don't know why. There's nothing sexy about a schoolboy, is there?"
Though, playing — especially playing live — has always been the central focus of Young's life. As of 2020, Angus Young remains the sole living member of the original AC/DC lineup who's never taken a break from the road and has recorded on all releases. Part of which you could accredit to the schoolboy's energizing effect. It's evolved somewhat over the years, from white sports socks to black jackets, and purple velvet numbers, but the schoolboy remains. "You're on and you're off, and then you have to go back to how you are as a person," Young admits. "That's the hard part, because once you go into being The Schoolboy it's pretty hard to come off it."