Bob Dylan Has Another Career That Might Surprise You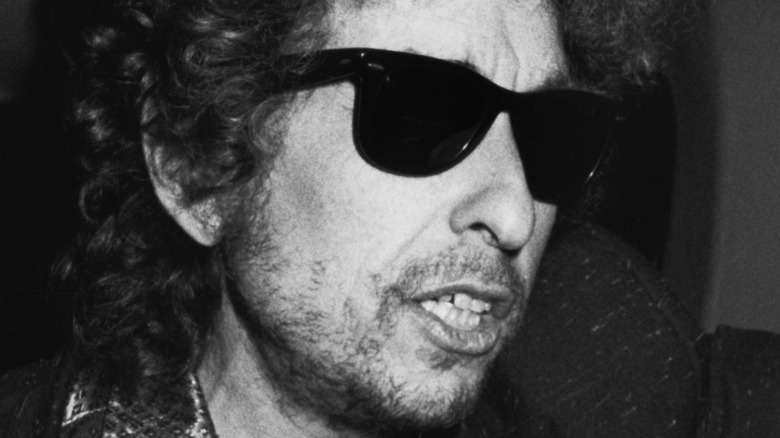 Michael Ochs Archives/Getty Images
It's funny to think that an artist as accomplished as Robert Zimmerman, better known as Bob Dylan, could feel that anything remained undone, after a string of hit records, penning a number of timeless songs, and winning the 2016 Nobel Prize for Literature, among other notable credits (per AllMusic). But as he sings in one of his most well-known tunes, "Tangled up in Blue," Dylan, now in his 80s, is "still on the road. Heading for another joint," and that just might include a side-career and creative outlet for the legendary singer-songwriter that few, including some of his most loyal fans, may not even know about.
Bob Dylan's artistic endeavors were never limited to just music. He's released books of lyrics and poetry, acted in films, and wrote his autobiography, titled "Chronicles: Volume One," per the official Bob Dylan website. Even now at his age, Dylan continues to tour tirelessly when other artists might have long since retired (via Glide Magazine). There's another side to Dylan's artistic output, though, that is somewhat less well known. Clues as to what this other medium might be have been there for quite some time, though. You just may not have noticed.
Bob Dylan's visual art is on two of his album covers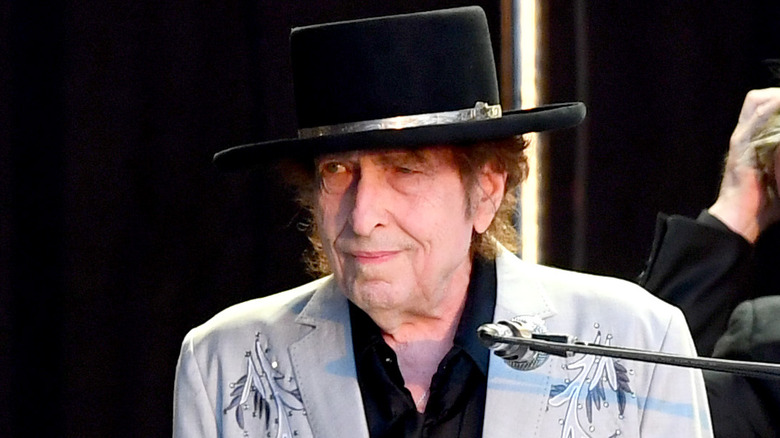 Dave J Hogan/Getty Images
Collectors of Bob Dylan records likely have his 1968 collaboration with The Band, "Music from the Big Pink," on their shelves (via Rolling Stone). And no Bob Dylan collection would be complete without his 1970 album "Self Portrait," (per AllMusic). But even the most ardent Bob Dylan fan may not have taken the time to consider the covers of each. Sure, they're both paintings. But who painted them? It was Bob Dylan himself, it turns out, who's been a visual artist nearly as long as he's been a musician, as Happy Mag notes.
According to the BBC, Dylan picked up a paint brush in 1966, one year after he went "electric," and the very same year an audience member called "Judas" at Dylan while he was touring in the UK, as Rolling Stone reports. From there, Dylan continued to explore his interest in visual art, and from that point onward, he worked on sculpture, drawing, and painting with nearly as much effort as he put into music. He spent time studying art with Ashcan School tutor Norman Raeben, about which Dylan said (via Castle Fine Art), "He put my mind and my hand and my eye together, in a way that allowed me to do consciously what I unconsciously felt."
Bob Dylan's visual art is now on display and for sale in some of the world's largest art markets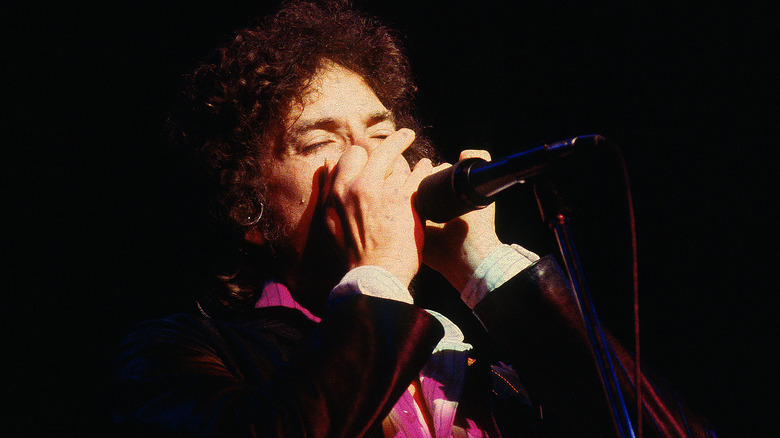 Larry Hulst/Getty Images
Despite his devotion to visual media, Dylan's paintings, drawings, and sculpture never reached the acclaim nor as wide or as broad of an audience as his music has managed to garner. That is, until only recently, with several of Bob Dylan's pieces now on display and for sale at a number of major galleries in the U.K., including Halcyon Gallery in London and the Castle Fine Art gallery in Manchester, per the BBC. His work has also been shown in Miami and China.
Dylan's visual output is sometimes described as Expressionistic and compared to Pablo Picasso. Works such as "Retrospectrum," "The Beaten Path," The Drawn Blank Series," "Mondo Scripto," "The Asia Series," and "The Brazil Series" are also available to view at Castle Fine Art. In the words of Dylan himself, what interests him most about visual art seems much the same as what inspires him to write music (via Castle Fine Art): "I'm pretty much interested in people, histories, myth, and portraits; people of all stripes."