Why AC/DC Was An Important Band To Eddie Van Halen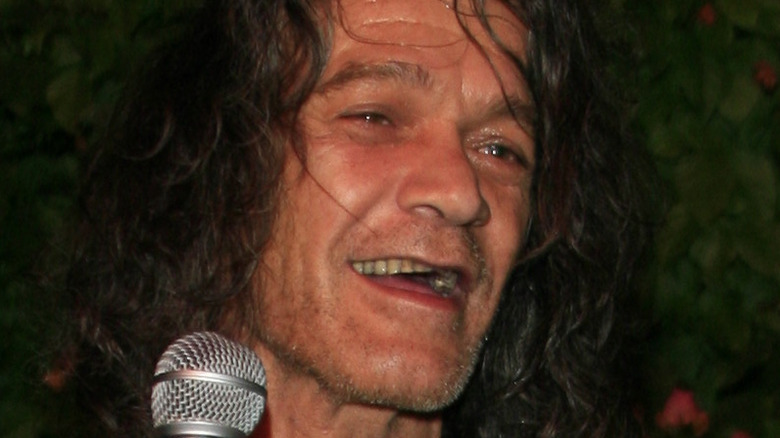 Joe Seer/Shutterstock
Eddie Van Halen, legendary guitarist for the band Van Halen, died in October of 2020 due to a stroke (per NME). Despite a lung caner diagnosis three years prior, his loss felt sudden and was devastating for rock fans everywhere. At the Rock and Roll Hall of Fame ceremony just a month later (also via NME), Eddie's musical peers, including Tom Morello of Rage Against the Machine and Slash, performed together as a tribute to him. Morello stated that Eddie was "the Mozart of our generation." The icons also spoke of Eddie's influence on decades of guitarists since his career began in the late 1970s.
According to Eddie's obituary at NME, the band Van Halen began in 1974 with Eddie's brother Alex Van Halen, David Lee Roth, and Michael Anthony. The band went on to sell 80 million albums. Eddie's guitar "tapping" technique helped bring metal music into the mainstream in the 1980s. The lineup changed a couple of times over the years, including the replacement of David Lee Roth with Sammy Hagar, but Eddie remained as the guitarist into the 21st century.
Eddie played AC/DC for his son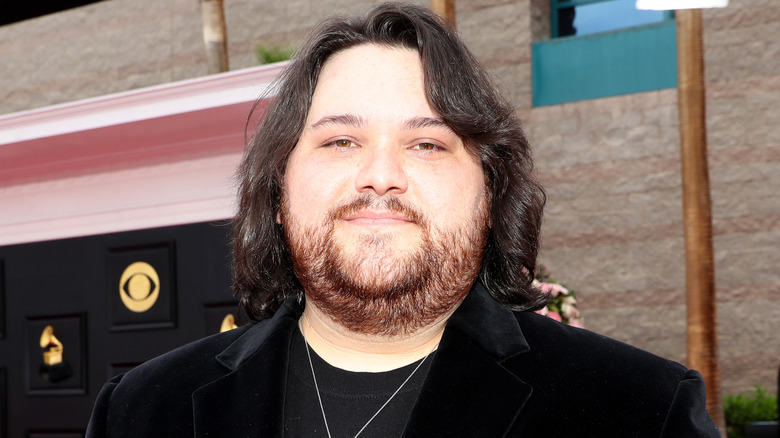 Johnny Nunez/Getty Images
Though he had a substantial impact on musicians and music fans all over the world, Eddie Van Halen had musical influences himself. Eddie's son and fellow musician Wolfgang Van Halen explained that he and his father bonded over their admiration for AC/DC. Eddie played him "Big Balls" from AC/DC's 1976 album "Dirty Deeds Done Dirt Cheap." Wolfgang stated, "Other than Van Halen being the most familiar classic rock-era band, AC/DC is definitely my band" (via Metal Castle).
The admiration was mutual. In another Metal Castle article, AC/DC's guitarist Angus Young referred to Eddie's guitar playing as "innovative" and discussed the great loss that everyone felt upon Eddie's passing, especially those who were "lucky to have met him." Aside from his talent, Young spoke highly of Eddie's warm personality and "big smile."
Eddie brought his love for AC/DC to the rest of Van Halen as well. In an interview with Guitar World, Eddie said that "Drop Dead Legs" from Van Halen's album "1984" was inspired by "Back In Black," one of AC/DC's most well-known songs. Eddie likened it to a slower, jazz version of "Back in Black."
Eddie and Wolfgang often performed together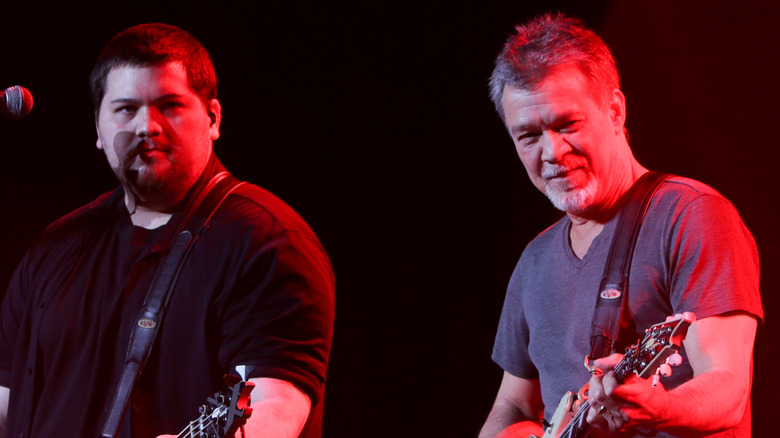 Debby Wong/Shutterstock
Wolfgang Van Halen has made a name for himself in the music world, but kept his Van Halen roots and the love for AC/DC that he and Eddie shared. Per Total Guitar, when Wolfgang began making his own music in 2015, Eddie described his son's sound as "AC/DC meets Van Halen meets aggressive pop." Wolfgang's band is called Mammoth WVH (which stands for Wolfgang Van Halen). Despite fans asking him to include Van Halen songs in the Mammoth WVH playlist, Wolfgang stated that Eddie would want people to be themselves rather than copy him.
Wolfgang did perform with his father on multiple occasions. Fans easily recognized how well the two performed together, but also recognized Wolfgang's talent on his own as they performed Van Halen hits with the rest of the band (via Society of Rock). Sometimes it is hard to imagine a rock star also being a devoted parent, but the relationship that Eddie had with Wolfgang proves that it is possible.