How Many Times Was Muhammad Ali Arrested?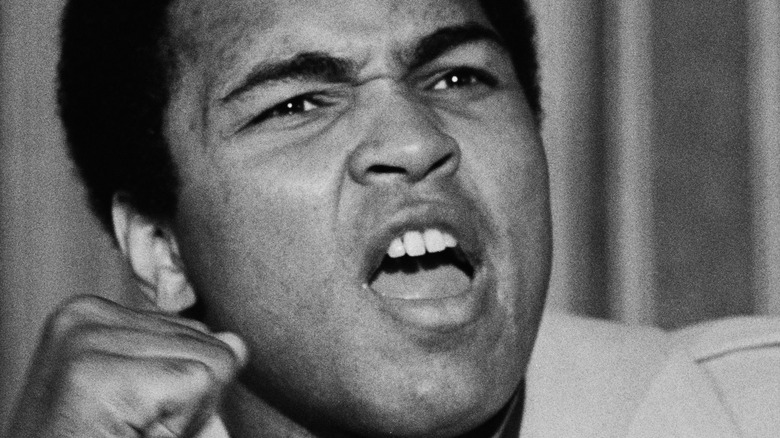 Evening Standard/Getty Images
By almost any measure, Muhammad Ali (born Cassius Clay) was the greatest heavyweight boxer to ever live. Certainly Boxing News sees it that way, noting that he had three reigns as Heavyweight Champion over a two decade-long career, during which he defeated Sonny Liston, George Frazier, and countless others. 
Outside the ring, Ali was known for his unapologetic demeanor and for his social and political advocacy. At a time when it was somewhat rare for a professional athlete to publicly take a social or political stance, Ali didn't shy away. He aligned himself with the Nation of Islam and its leader, Malcolm X, according to Religion Unplugged, which at the time advocated for separatism and Black nationalism. He also changed his name from what he deemed his "slave name" and to a name more in keeping with his conversion to Islam. And as the Vietnam War was raging, Ali was drafted but refused to be conscripted, resulting in a criminal conviction that was later overturned by the Supreme Court, as PBS reported.
a childhood crime began Ali's boxing career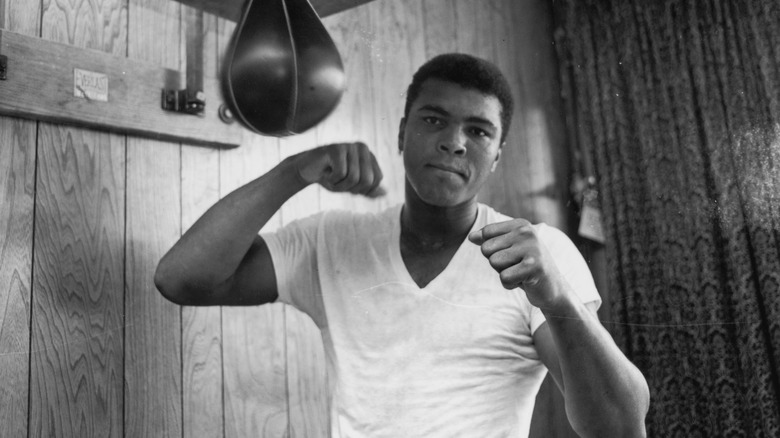 Harry Benson/Getty Images
Cassius Clay was born and raised in Louisville, Kentucky, according to Sports Illustrated, at a time when the city was still largely segregated along racial lines. Though he was born in one of the city's Black neighborhoods, his parents laborers, they weren't strictly poor, according to Ducksters, but they weren't rich, either.
As a youth, it seems that Clay liked to raise some hell, according to Sports Illustrated. He and his brother would go to visit a relative, and when the neighbors saw the "wrecking crew," as they were called, they'd lock their doors. It was actually a crime that started Clay (who would later take the name Muhammad Ali) on the path to a career in boxing, although he wasn't the perpetrator of the crime, but rather, the victim. When he was 12, someone stole his bicycle, and when he reported it to a police officer, he promised to "whip" whoever stole it. The cop, who just happened to be an amateur boxing trainer, told the young crime victim that if he was going to do that, he'd better learn to box first. The rest, as they say, is history.
Despite his youthful indiscretions, it does not appear as if he was ever criminally charged in those days. His one known arrest took place when Clay, now going by "Muhammad Ali," was an adult.
Muhammad Ali's one arrest was for draft evasion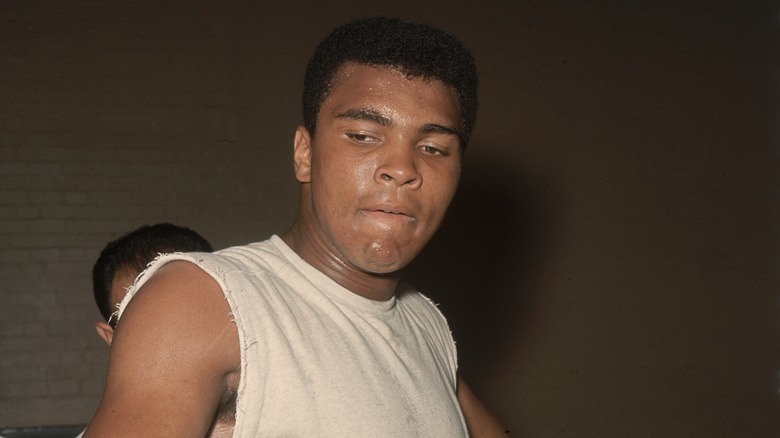 Central Press/Getty Images
As the Vietnam War was raging, Ali made no secret of the fact that he opposed the war and would not serve if he was drafted. "War is against the teachings of the Holy Koran. I'm not trying to dodge the draft. We are supposed to take part in no wars unless declared by Allah or The Messenger (Elijah Muhammad, then leader of the Nation of Islam). We don't take part in Christian wars or wars of any unbelievers," he said, via National Interest. Indeed, he was drafted, and on April 28, 1967 appeared before a Houston draft board. Three times his name was called, and he refused to step forward, and he was arrested. Within weeks, it looked as if his boxing career was over, as he was stripped of his titles and of his right to fight in any state, according to the book, "More than a Champion: the Style of Muhammad Ali."
Ali was convicted, but he took his case all the way to the Supreme Court. By the time the court ruled on his case, sentiment against the Vietnam War had turned, and the court unanimously overturned his conviction. Ali, meanwhile, regained his right to box and, though bedeviled by a yearslong absence, returned to form in a much-hyped 1971 fight against Joe Frazier, which Ali lost, as AOL News reported. However, Ali won his next two matches, beginning his reign as the undisputed heavyweight champion of the world.