What Was The Final Song Whitney Houston Performed Before She Died?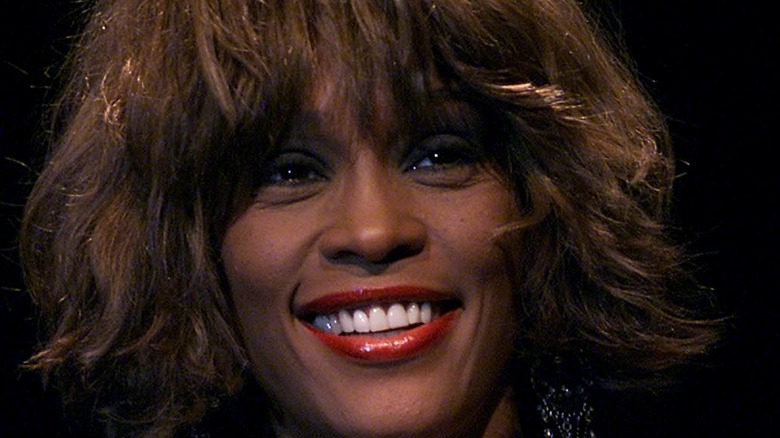 Scott Gries/Getty Images
Whitney Houston is surely in the running as one of the most remarkable voices in musical history. With her range, her ability to hit that nigh-impossible note in "I Will Always Love You" and her sheer marketability, Houston was the full package.
In a 1990 interview with MTV, Houston explained, "my root is not R&B; my root is gospel music," and the outlet went on to explain that she derived both her singing skills and her great faith from her mother, Cissy Houston, herself an accomplished gospel singer. Seven years later, per MTV, Houston spoke of her life's mission, which she believed was given to her by her God. "I chose you to take that voice I gave you and to spread it around because I know you'll always think about me," she reported being told.
There's certainly no denying that she set about this task with gusto, releasing a string of worldwide hits. In fact, as the RIAA reports, her 16.5 million single sales (prior to the beginning of sales being certified digitally) made her the most successful female soloist ever.
Her tragic death in February 2012 (aged just 48, per Britannica) robbed the world of a wonderful performer with so much more to give. Her final performance, however, was one that captured everything she stood for.
An unforgettable, unplanned performance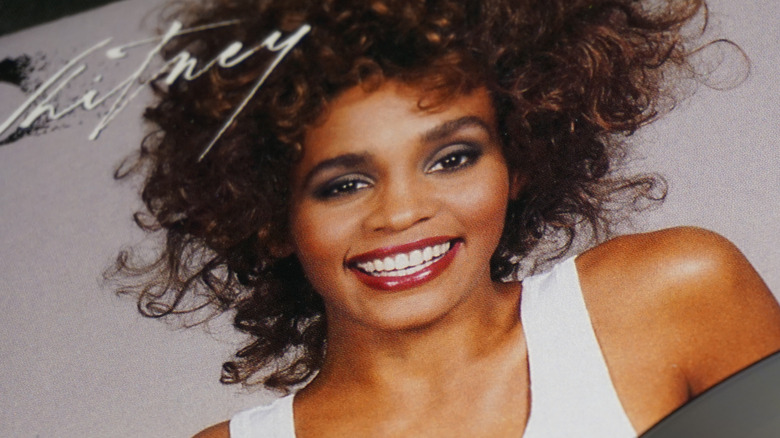 Stefano Chiacchiarini '74/Shutterstock
As CBS News reports, Houston made an appearance at Hollywood's glamorous Tru Nightclub just two days before her death.  Being the star she was, she took the microphone that night and launched into a haunting rendition of "Jesus Loves Me."
The party was called Kelly Price & Friends Unplugged: For the Love of R&B, The Hollywood Reporter adds, and it seems that Houston had attended as more of a guest than a performer. Nonetheless, it's always a coup to coax a talent of her stature into a song or two, and this was exactly what happened.
According to The Hollywood reporter, Price spoke to Houston during the show, calling her a "class act" and an "icon." Had she not done so, Houston's presence at the party may have been rather more low-key. As it was, though, the "I Wanna Dance With Somebody" hitmaker responded very positively. She promptly joined the host in the limelight, they embraced, and then without any further ado, a duet of "Jesus Loves Me" ensued.
A life dedicated to gospel music
Featureflash Photo Agency/Shutterstock
The two women looked into each others' eyes as they sang "Jesus Loves Me," as seen in the footage from ACEISWILDdotCom on YouTube. It was a profound and intimate moment that would have proven incredibly poignant for any lucky enough to have been in attendance.
As tragic as it was that this would be Whitney Houston's final performance before she died, it couldn't have been a more appropriate choice of song. Though she may have been a pop superstar, as she told MTV, this wasn't the way that she tended to see herself. Popular music was the name of the game, yes, and few artists before or since have ever made it more popular than she did. At the same time, though, it was more than that.
For Houston, gospel music, and spreading its message of love and faith, was the priority. As her official website reports, she made tremendous strides in this area, and the record-breaking sales of the soundtrack of "The Preacher's Wife" movie are a testament to that. Along the way, she inspired millions of music fans and singers who would follow in her footsteps.