How Many Times Has Paul McCartney Been Arrested?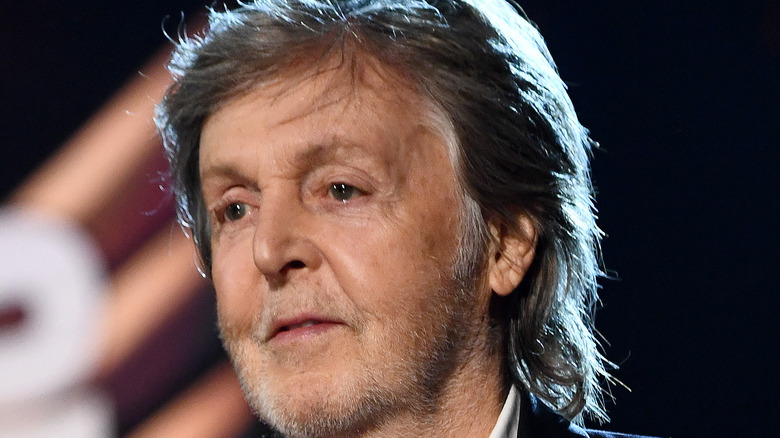 Kevin Mazur/Getty Images
Despite having a comparatively wholesome public image in an era where more and more bands were openly flaunting their reckless lifestyles, the Beatles were far from being saints. It's a well-known fact that they smoked, drank, swore, and consumed illegal substances, doing so even before they became internationally famous. And while the Fab Four were choirboys compared to many other rock stars who would follow in their wake, they did rack up quite a few arrests, both before and after their 1970 breakup.  
Talking about the Beatles and their troubles with the law, we know that John Lennon was arrested just once, thanks to the efforts of controversial British detective Norman Pilcher. The musician-busting cop, who was sort-of name-checked in the lyrics of "I Am the Walrus," was also behind the arrest of George Harrison and his then-wife, Pattie Boyd, just months later, and also for drug possession (via Ultimate Classic Rock). And while Lennon and his wife, Yoko Ono, were staying at Ringo Starr's apartment at the time of their arrest, the drummer has yet to get on the popo's bad side. That leaves Paul McCartney as the runaway leader in Beatle arrests, but just how many times did he get busted by the police, and why was he arrested so many times?
Macca has been arrested 6 times, starting with his Hamburg arrest in 1960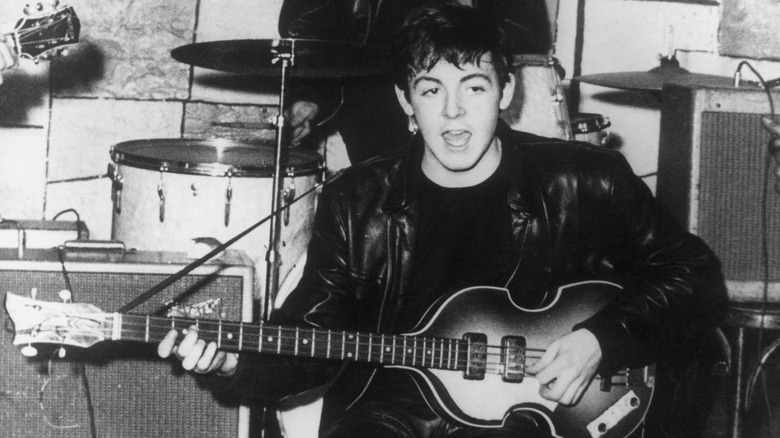 Keystone/Getty Images
All in all, Paul McCartney has been arrested a total of six times, and while he hasn't run afoul of the law in quite some time, he was only 18 years old when he first caught the attention of the men in blue. Per Beatles Bible, the incident happened on November 29, 1960, weeks after a series of gigs at the Kaiserkeller club in Hamburg, Germany, that ended with the club's owner, Bruno Koschmider, terminating the Beatles' contract. John Lennon and then-bassist Stuart Sutcliffe had already moved out of Koschmider's Bambi-Filmkunsttheater cinema (aka the Bambi Kino), while George Harrison was deported back to England for being underage; that left Paul McCartney and Pete Best as the only two Beatles who hadn't moved their belongings yet.
It isn't clear what type of object McCartney and Best lit up for them to see in the dark cinema while they were trying to gather their stuff, but the object caught fire and spread to one of the cinema's walls, which was fortunately damp enough to put it out quickly. There was very little damage, but Koschmider nonetheless felt that McCartney and Best deliberately tried to burn down the Bambi Kino. The two young musicians were then arrested on suspicion of arson, and they spent the night in jail before getting deported the next day.
The rest of McCartney's arrests were drug-related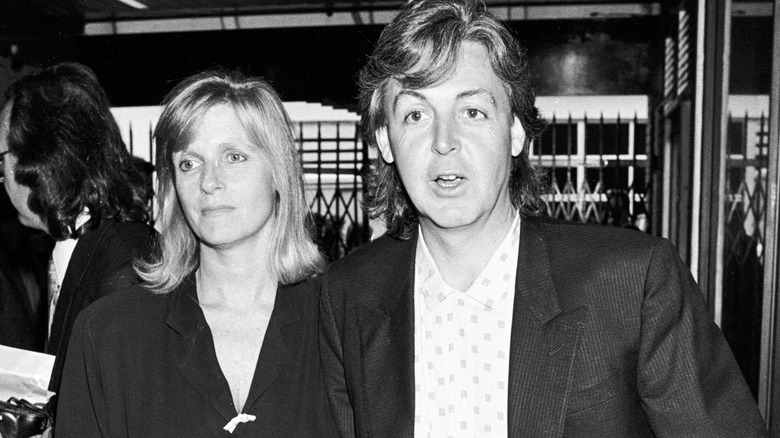 Dave Hogan/Getty Images
Unlike some of the other Beatles, Paul McCartney stayed out of legal trouble throughout the rest of the 1960s. He did, however, rack up a series of arrests for drug possession after the Fab Four disbanded, starting with an arrest in Sweden on August 10, 1972, after authorities found close to a half-pound of hashish in one of his bandmates' parcels following a Wings concert (via The New York Times). Seven months later, in March 1973, the cops apprehended the former Beatle for "illegal cultivation" of marijuana on his farm in Scotland. According to Ultimate Classic Rock, he got a $240 fine and was temporarily denied a U.S. visa as a result of the arrest. And speaking of America, that's where Macca was busted two years later, as he and his wife, Linda, were both arrested for marijuana possession in Los Angeles in 1975.
The most notorious of McCartney's drug arrests took place on January 16, 1980, when customs officers at the Tokyo airport found some weed hidden in his luggage — or more like enough weed for him to be charged for smuggling. Although he faced a possible prison sentence of seven years, McCartney only spent nine days at the Tokyo Narcotics Detention Center before he was released and deported (via History). In a deleted scene from his "Carpool Karaoke" appearance with "The Late Late Show" host James Corden, McCartney looked back on the experience, admitting that he "got out because of [his] celebrity." 
Despite all the brouhaha, that wasn't the last of McCartney's brushes with the law. This final brush happened exactly four years after the date of the Tokyo arrest, as he and Linda were busted in Barbados for — you guessed it — marijuana possession.