How Salvador Dali Came To Design A Candy Wrapper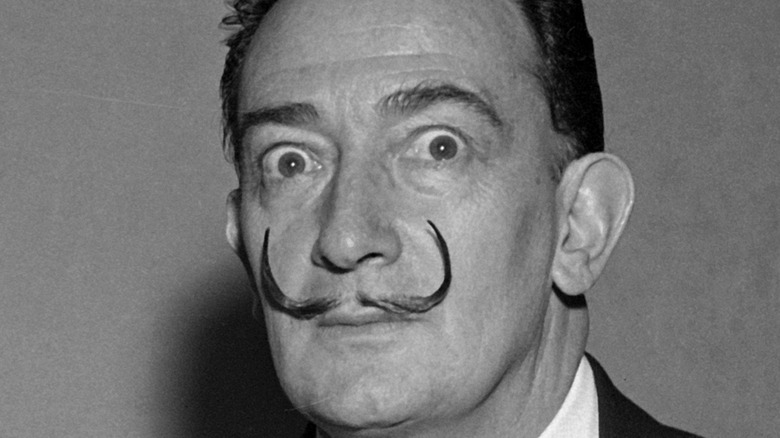 PoPsie Randolph/Michael Ochs Archives/Getty Images
Melting clocks, sliced eyeballs, and ... candy wrappers? Spanish artist Salvador Dali is arguably the most famous artist who worked in the surrealism movement, which "sought to channel the unconscious as a means to unlock the power of the imagination," (per The Art Story). Dali is perhaps best known for his 1931 painting "The Persistence of Memory," which features a series of melting timepieces draped around a barren seaside landscape. His 1929 collaboration with film director Luis Bunuel, "Un Chien Andalou," in which a woman's eyeball is sliced open by a razor, also garnered a lot of attention. 
Dali, born in 1904 in the city of Figueres in Catalonia, Spain, began studying art at the age of 10 and first embraced his iconic flamboyance after enrolling at the Special Painting, Sculpture and Engraving School of San Fernando in Madrid in 1922, according to The Art Story. He was expelled in 1926 before his graduation but soon visited artist Pablo Picasso at his studio in Paris where he was inspired by cubism as well as the study of futurism and the psychoanalytical work of Sigmund Freud. His first serious piece in his recognizable style was the 1927 painting "Apparatus and Hand" and within two years he was invited by artist Andre Breton to join the surrealists. In 1934 he was removed from the group, due to what Breton called "the glorification of Hitlerian fascism" as Open Culture notes. Dali's response? "I myself am Surrealism."
That famous Chupa Chups logo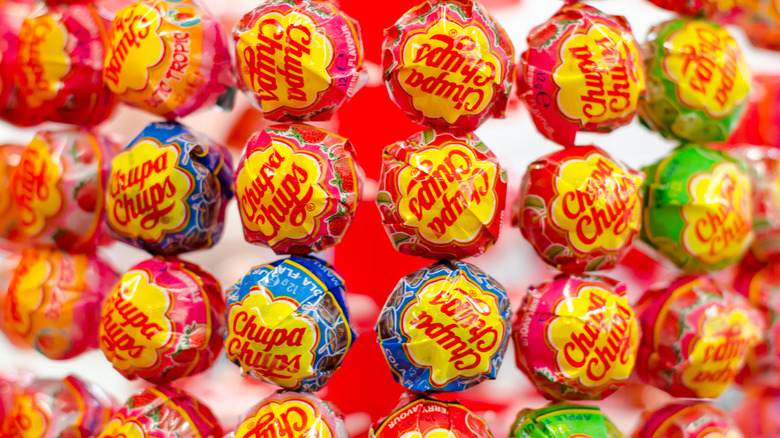 Lutsenko_Oleksandr/Shutterstock
In addition to his work in painting, sculpture, and filmmaking, Salvador Dali is also responsible for the graphic design work behind a famous logo. In 1969, Dali had coffee with his friend, candy entrepreneur, and fellow Catalonian, Enric Bernat, as reported by Fast Company. Per Bernat's 2004 obituary from The Guardian, he wanted to make candy more convenient, noting "I saw sweets didn't suit their main consumers, children. They got their hands sticky and ran into trouble with their parents. So I stuck a sweet on a stick." Bernat named his lollipop GOL, which was meant to evoke a game of soccer with the candy as a ball and the consumer's mouth as the goal. Unsurprisingly, this idea wasn't a hit and Bernat hired consultants who renamed the candy Chupa Chups after the Spanish word "chupar," meaning "to suck." 
According to Phaidon, Bernat spoke to Dali about his need for a new and better Chupa Chups logo during their coffee date. Dali began doodling on a newspaper as the two friends chatted. In no time at all, the master's hand designed the image we all recognize as synonymous with Chupa Chups (pictured). Wanting his artwork to be seen without being folded into the wrapper, he made sure that the design was placed on top of the lollipop.
Salvador Dali and lollipops were a great match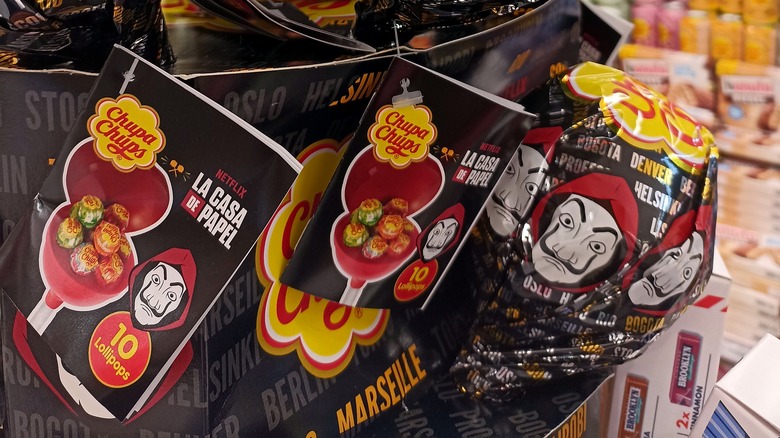 Kraft74/Shutterstock
Chupa Chups and Salvador Dali were a perfect match — both are known for irreverent, eye-catching, and memorable design and both remain instantly recognizable. As reported by Logo Design Love, Chupa Chups has participated in Spanish anti-smoking campaigns, starting in the 1980s with the joking proclamation "Smoke Chupa Chups." In 2013, they continued the anti-smoking messaging with the catchphrase "Stop smoking, start sucking" and a design that called to mind the black and white warning labels found on packs of cigarettes in Europe. According to The Guardian, this was a savvy marketing decision on the part of Enric Bernat to sell more lollipops despite fewer children around due to falling birth rates in 1980s Europe. 
Bernat's children took over Chupa Chups from their father in 1991. According to the official Chupa Chups website, in 1990 the candy became available in 164 countries around the world. Five years later, Russian astronauts brought Chupa Chups to the Mir space station, proving that the lollipop's popularity is intergalactic. By 2017, over 100 Chupa Chups flavors were available. It's likely that none of this would have been possible without Salvador Dali's creativity and design sense.