How System Of A Down Got Their Name
Lester Cohen/Getty Images
For a seven-year period between 1998 and 2005, System of a Down consistently released new albums as a true mainstay of the heavy music scene. Despite frequently resorting to quirky song titles and lyrical twists, the Armenian-American metal act wasn't shy about tackling serious topics, with a strong awareness of social issues and the tragic history of their ancestors. And while they haven't released a full-length album since 2005's "Mezmerize" and "Hypnotize," as noted by Rolling Stone, SoaD continues to tour, and they even released a single, "Protect the Land," in 2020 — their first new one in a good 15 years. Trends may have changed greatly since "Mezmerize" and "Hypnotize" hit stores, but System of a Down keeps fighting the good fight through their music.
Another interesting thing to note about SoaD is how they had a rather long band name at a time when brevity was the soul of wit. Well before post-hardcore bands were trying to top each other with unusual references and oftentimes hard-to-remember, long band names, System of a Down was quite the mouthful for many fans to say. But where did the name come from, and why did they go with "System" as the first word in the name? 
The name came from one of Daron Malakian's poems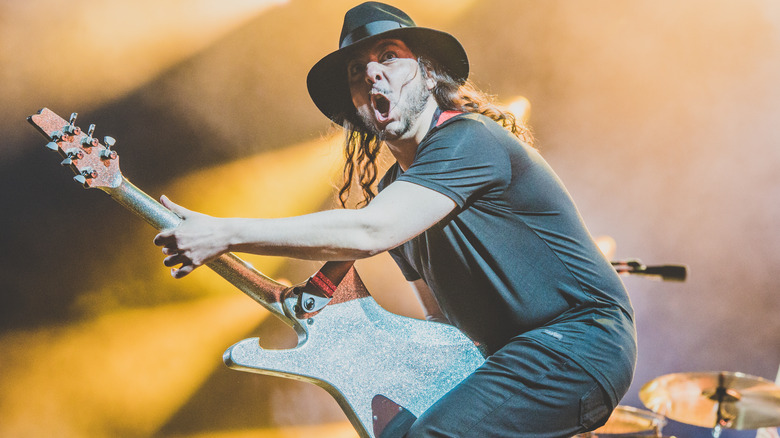 Milan Risky/Shutterstock
Before System of a Down, there was a band called Soil — no relation to the alt-metal band led by future Drowning Pool vocalist Ryan McCombs. Soil featured would-be SoaD singer Serj Tankian, guitarist Daron Malakian, and bassist Shavo Odadjian, and when they teamed up with drummer Ontronik "Andy" Khachaturian in 1994, they formed a new band that was originally called Victims of a Down, named after a poem Malakian wrote (via Stereogum). That's quite an interesting band name as it is, but as Revolver pointed out, Odadjian felt that they'd have better odds of attracting record buyers and concert goers if they replaced "Victims" with "System" — that way, they'd be filed alphabetically close to Slayer, which was one of their favorite acts.
Yes, it's true — you'd need to get through a number of other bands between Slayer and System of a Down, but it was a logical decision, and the Slayer influence has always been evident in SoaD's music. "Slayer is one of the bands that taught me how to play the guitar," Malakian told Revolver in a separate interview. "I would sit there and listen to 'Reign in Blood,' 'Show No Mercy' and 'South of Heaven.' It was like religion to me at that time of my life — when I was like 14 years old." Plus, it did help that Rick Rubin, who produced many of Slayer's classic albums, was behind the controls when System of a Down — now with John Dolmayan on drums — worked on their 1998 debut album.
They (almost) name-checked themselves toward the end of their debut album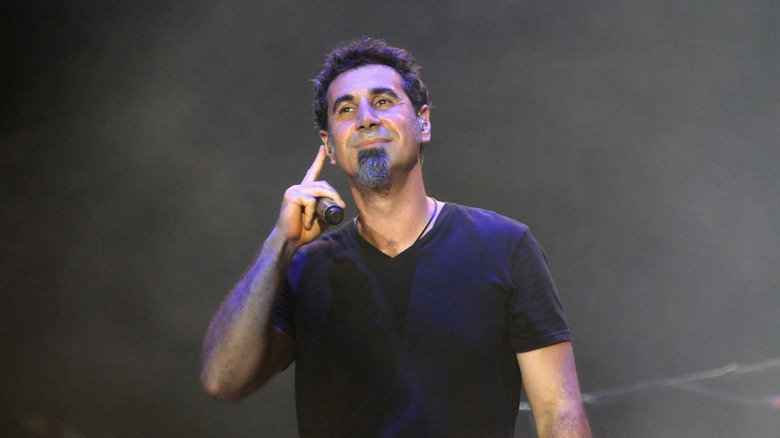 A.PAES/Shutterstock
After spending a few years gigging around Los Angeles, System of a Down, with producer Rick Rubin, got cracking on their debut album in 1997. They sounded nothing like any other band that was on the radio, and that went beyond their eclectic mix of influences — they also wrote songs that didn't fit the "mad at my dad" ethos of the late '90s hard rock/heavy metal scene. Many of these songs had strong political themes, and there were a few that specifically referenced the 20th century Armenian genocide, including "P.L.U.C.K.," the last track from SoaD's debut release.
"P.L.U.C.K." stands for "Politically Lying, Unholy, Cowardly Killers," which jibes perfectly with the lyrical themes and how true they were to the hearts of SoaD's members. One other thing that stands out, though, is how the song almost name-checks the band itself. In contrast to most of "P.L.U.C.K.," the refrain is sung in a calm, clear voice, but that changes toward the end of the first refrain, as Serj Tankian suddenly yells, "all in a system, down," before launching into a series of screams.
In addition to "P.L.U.C.K.," System of a Down also has a song called "Soil" on their first album, and while this is seemingly a reference to the precursor to SoaD in a tune that is otherwise about death, the song's title does not appear in the lyrics.