The Haunted History Of Errol Flynn's Home
Sasha/Hulton Archive/Getty Images
Swashbuckling Hollywood idol Errol Flynn lived on Mulholland Drive, Los Angeles, before the street was famous. According to Insider, Flynn's property — named Mulholland Farm — stretched over 11 acres and sported a pool, barn, and tennis court. They were all positioned around a two-story ranch house in the colonial style, as Seeks Ghosts points out. According to the 2015 book, "Errol Flynn Slept Here." Flynn famously liked to party, and Mulholland Farm saw its share of film screenings, fencing exhibitions, and hedonistic debauchery from the time he built it in 1941 until his death, at 50, in 1959.
The house was notorious for reasons more perverse than the odd drunken punch-up. Flynn was something of a satyr, with an insatiable appetite for women — even if they were underage. The New York Post relates the story of Flynn, on trial for the statutory rape of two underage girls, flirting with the teenage cigarette-stand girl while court was in recess, and eventually taking her home; she became his second, much-betrayed wife.
Flynn built Mulholland Farm, with secret passages and peepholes, two-way mirrors in the bathrooms, and a crawlspace above one bedroom that allowed him a full view of the bed. This was something of an open secret in Hollywood, and surely some of his guests took it on themselves to entertain their host. But, how many more toweled off in front of the mirror or stretched out on the bed, unaware of his invisible presence?
More ghosts than Errol Flynn's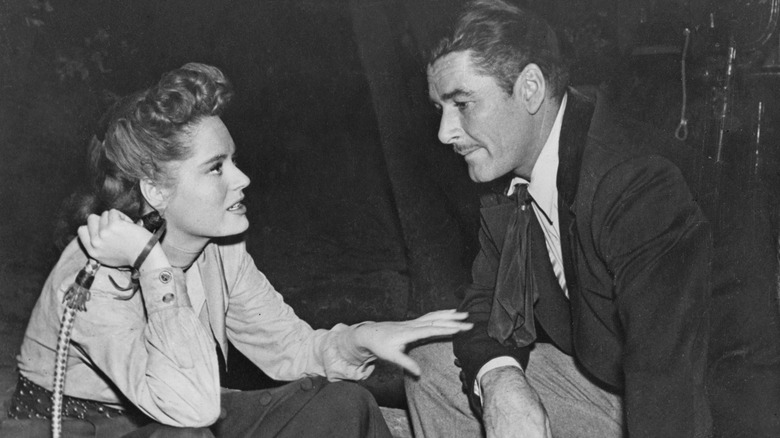 Keystone/Getty Images
The invisible, all-seeing, heavy-breathing spirit of the master of Mulholland Farm sounds like the plot of some bad horror movie. But, don't laugh too soon. According to Insider, the owner of the house after Errol Flynn's death began to notice unusual things. In 1980 the singer-songwriter Ricky Nelson bought the property; he too began to feel weird and uncanny currents in the air at Mulholland Farm. 
In particular, Nelson's daughter, Tracy, would often feel a presence in the house when she was alone. One night she was awoken by a commotion somewhere else in the house, a sound of glass or china breaking and furniture being smashed. The next morning, nothing in the house had been touched. Ricky told her, "Oh, that's only Errol," but disturbingly it happened again. This time, it happened just before the plane crash that killed her father.
Then the ghost allegedly appeared again when Nelson's son, Gunnar, claimed to have caught a glimpse of Flynn sitting on the edge of his bed, according to author Robert Matzen. Family guests saw him too, particularly in the wing of the house where Flynn kept his rooms. Children of friends would inexplicably avoid these areas, but could not articulate why, according to Seek Ghosts.
Whatever ghosts haunted Mulholland Drive, we'll never be able to investigate or exorcise it properly. The house was reportedly burned by squatters and then in 1988, the farm was pulled down. Twenty years later in, 2008 the artist and producer Moby bought the property but sold it at a loss in 2014 (per Variety).