The Eye-Opening Connection Between Princess Diana And Jimmy Savile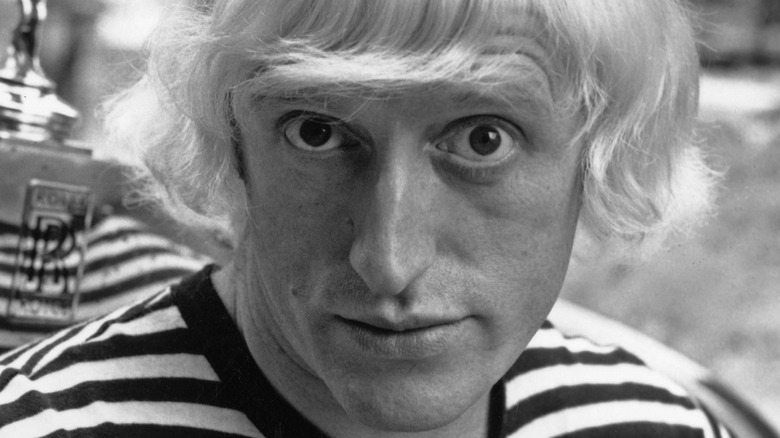 Evening Standard/Getty Images
Well-known British TV and radio personality Jimmy Savile died from pneumonia in 2011, via The Sun. Shortly after he died, a long history of sexual abuse and molestation of underage children came to light, with at least 400 charges brought against the eccentric celebrity, as Entertainment Daily explains. The Netflix documentary series "Jimmy Savile: A British Horror Story" reveals how Savile covered this up for so long. As the show explains, this was partially due to how deeply connected Savile was to the highest levels of English society, including Princess Diana.
Endearing Savile to the English upper class was his philanthropy work. It's unclear who knew what and when about Savile, but there's ample evidence that some in elite English circles likely knew more than they let on. According to the BBC, Savile raised an estimated £40 million, (roughly $52 million), which helped keep things quiet. It was later revealed that while this charity work gave Savile a pass, it also helped him gain access to underage children in hospital wards, schools, children's homes, and even BBC studios. It's in such a place where the never-before-seen footage of Savile with Lady Di took place.
If you or anyone you know has been a victim of sexual assault, help is available. Visit the Rape, Abuse & Incest National Network website or contact RAINN's National Helpline at 1-800-656-HOPE (4673).
English aristocracy honored Jimmy Savile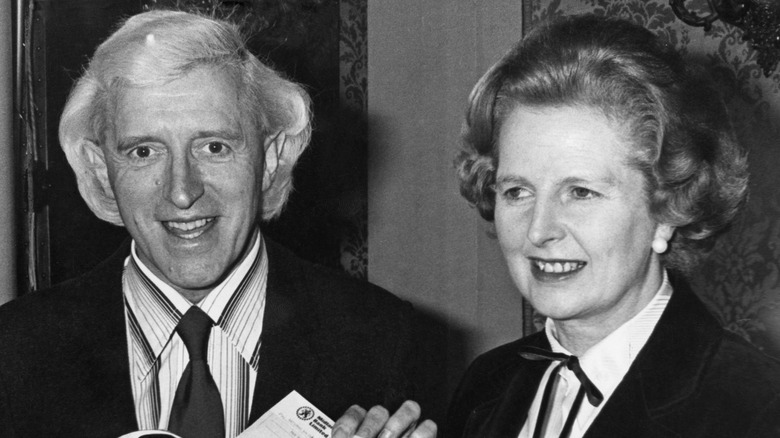 Evening Standard/Getty Images
Whether or not Princess Diana knew of Jimmy Savile's pattern of abuse remains unconfirmed, although many who were in Diana's elite social circle likely knew, or at least had heard rumors. Nevertheless, British Prime Minister Margaret Thatcher urged, unsuccessfully, for Savile to be knighted five times. She was rebuffed by her advisors over Savile's "strange and complex " private life — exactly what was meant by that is uncertain. Nevertheless, Savile would earn a knighthood in 1990 after Thatcher left office, according to the Daily Mail.
Other honors bestowed on the now-disgraced Savile include the Officer of the Order of the British Empire (OBE) in 1971, and a knighthood from the Vatican in 1982, as Britannica notes. Princess Diana was also not the only member of the British royal family with a connection to Savile. Scenes in the Netflix documentary series also show him with Prince Philip, the Duke of Edinburgh, and the Queen's husband, as well as Diana's own husband, Prince Charles. It's known that Savile acted as Charles' unofficial advisor for quite some time, according to Entertainment Daily.
Jimmy Savile told Princess Diana a dirty joke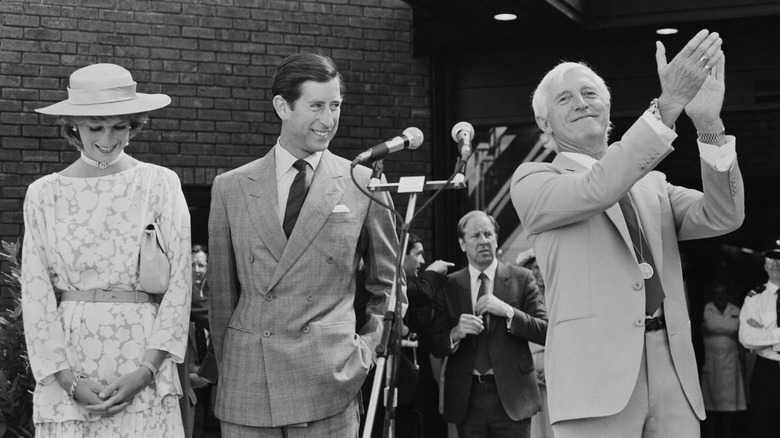 Hilaria Mccarthy/Getty Images
The footage included in "Jimmy Savile: A British Horror Story" between Savile and Princess Diana takes place in 1983. Sickeningly, Savile and Lady Di are seen touring hospital wards at Stoke Mandeville Hospital in Buckinghamshire. At one point, Diana inquires what a child in the hospital ward does to pass the time all day. In response, Savile makes an off-color joke at which Diana giggles, embarrassed, as Entertainment Daily explains.
For his part, the series asserts it's likely that Prince Charles never knew the full extent of what Savile was capable of although they were close. Savile did refer to Diana as "his girl" and even advised Charles as his marriage to Diana fell apart later on. He was also known to behave inappropriately in Diana's quarters, with non-consensual touching and other sexual impropriety toward Diana and toward her staff. Diana later described Savile's behavior as "very creepy" (via Daily Mail). Saville was 84 when he died.