What Was NHL Hall Of Famer Guy Lafleur's Net Worth When He Died?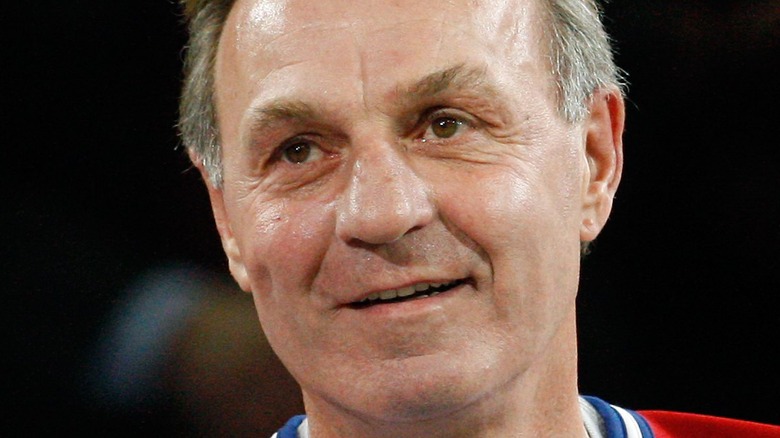 Richard Wolowicz/Getty Images
According to AP News, former Montreal Canadiens star Guy Lafleur died on April 22, 2022. The hockey legend was 70 years old. News of his death coincided with a statement from Montreal Canadiens President Geoff Molson. Per ESPN, he stated, "Guy Lafleur had an exceptional career and always remained simple, accessible, and close to the Habs and hockey fans in Quebec, Canada and around the world. Throughout his career, he allowed us to experience great moments of collective pride." He went on to say that Lafleur was one of the best hockey players he had ever encountered.
Although a cause of death has not been given, the CBC reports that Lafleur had dealt with a number of health issues in recent years. This included having quadruple bypass surgery and lung surgery where the upper lobe of his lung and lymph nodes had been removed (via NBC News). In late 2020, Lafleur announced that he was battling another bout of lung cancer. That same year, Lafleur told the NHL that he had been a heavy smoker for most of his life but that he had since quit to better his health. 
Nicknamed "The Flower" and "The Blond Demon," the Hockey Hall of Fame writes that he was raised in Thurso, Quebec. As a child, Lafleur knew that he was destined to be a hockey player and was known for sleeping in his hockey gear. Yahoo Sports states that in 1971, he was drafted into the NHL and began his professional career playing for the Montreal Canadiens.
Guy Lafleur returned from retirement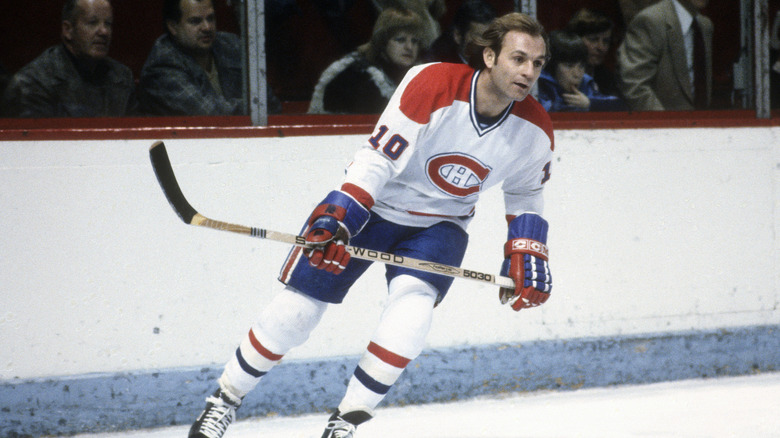 Focus On Sport/Getty Images
ESPN writes that Lafleur was a winger for the Montreal Canadiens between 1971 and 1985. Ultimately, he helped the team win five Stanley Cups. According to Yahoo Sports, he later became the first player in the NHL to score 50 goals in six consecutive seasons. In the 1970s, Lafleur was awarded three Art Ross trophies, two Hart trophies, and three Lester B. Pearson awards, all of which are significant accolades to receive from the NHL (via ABC News). However, things took a turn for the worse in the 1980s. Per the Hockey Hall of Fame, Lafleur nearly lost his life in a car crash after a night out with friends in 1981. The NHL states that he fell asleep while driving and rammed into a fence.
Additionally, Lafleur clashed with Jacques Lemaire, the then coach of the Canadiens. This led him to retire in 1985 when he was 33 years old (per the CBC). Lafleur's jersey number (No. 10) was subsequently retired and he was later inducted into the Hockey Hall of Fame in 1988. Lafleur then surprised everyone by returning to the rink and coming out of retirement.
He returned to the NHL and joined the New York Rangers. He played with them for one season before joining the Quebec Nordiques in 1989. Lafleur retired for good in 1991. It's rumored he turned down a $1 million offer from the L.A. Kings. Lafleur explained this away by saying that he preferred to end his career in his home country.
Guy Lafleur's salary increased throughout his career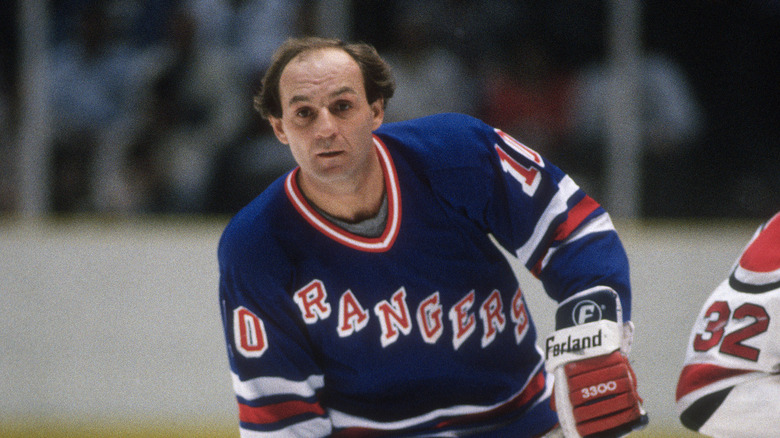 Focus On Sport/Getty Images
HockeyZonePlus states that Lafleur made nearly $4 million (around $13 million today) throughout his professional ice hockey career. Before joining the NHL and the Montreal Canadiens, he played for the Quebec Jr Aces and the Quebec Remparts. Although Lafleur made anywhere from $18k to $19k each season between 1966 and 1971, his salary largely increased when he joined the Canadiens and officially went pro. In 1985, his last season with the team, he reportedly made $652,852. When he came out of retirement between 1988 and 1991, he was making almost $1 million each season. 
His highest pay was during the 1988-89 season; Lafleur made $914,257. Moreover, the Hockey Hall of Fame writes that in the 1970s, Lafleur advertised several different products including Yoplait yogurt, soda, hockey gear, and more. This undoubtedly added to his already hefty income. Ultimately, this garnered him a reported net worth of $10 million. 
With news of his death, several hockey teams and fellow players have sent their condolences to Lafleur's family (via The Athletic). Prime Minister of Canada Justin Trudeau stated that he was "unlike anyone else on the ice" and that he will be heavily missed (per ABC News). According to the CBC, Lafleur is survived by his wife Lise and his two sons, Mark and Martin. Yahoo Sports reports that he had one granddaughter and that his mother and three sisters have also survived him. Lafleur's death comes only one week after fellow NHL Hall of Famer Mike Bossy died from lung cancer.