The Controversy Surrounding Tom Brady's So-Called 'Last' Touchdown Football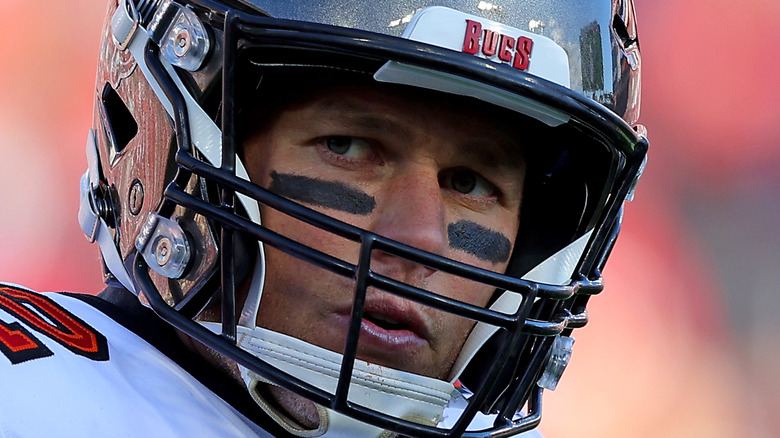 Kevin C. Cox/Getty Images
As arguably the most well-known active football player, Thomas Edward Patrick Brady, Jr. — better known as Tom Brady — has seen his name in headlines both positive and negative for much of his life. He has played for the New England Patriots and the Tampa Bay Buccaneers over his career of over two decades. He won his first Super Bowl ring in 2001 in only in his second year in the National Football League. With his latest win in 2021, he has a total of seven Super Bowl wins — the most of any player in history.
Controversy taints some all of these wins, however. According to Vox, scandal infamously known as "Deflategate" launched an NFL investigation revealed that the Patriots were using footballs with low air pressure, thus making them easier to grip when throwing and easier to catch as well. The game that sent the team to the Super Bowl in 2015 had under-inflated balls too, raising questions about the legitimacy of their subsequent Super Bowl win. "Spygate" during 2007 also called the Patriots' ethics into question, with allegations of spying on the other team.
A man bid $500,000 on Tom Brady's football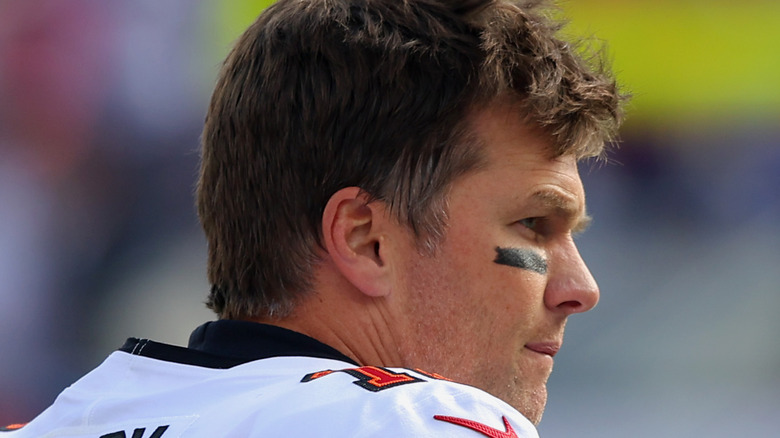 Kevin C. Cox/Getty Images
After the Buccaneers finished their season in 2022 just short of going to the Super Bowl, Tom Brady announced his retirement. However, it only took 40 days for Brady to return to the Buccaneers for his 23rd season in the NFL. In a March 2022 Twitter post, Brady cited "unfinished business" as his reason for coming out of retirement, but perhaps he's just a workaholic. 
Another headline surrounding a football and Tom Brady surfaced due to his announcement of a 23rd season, but not a deflated one this time. A man named Ron Firman paid a little over $500,000 for what everyone thought was Tom Brady's last ever football with which he threw a touchdown pass. Firman only had a small window of time for bragging rights before Brady announced the end to his short-lived retirement. Boston.com explains that now, Firman's Tom Brady football is worth no more than any other used NFL football.
The auction voided the sale of Tom Brady's last football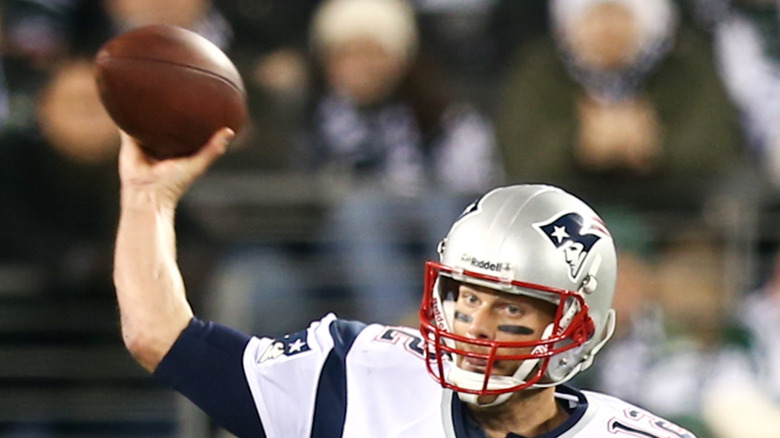 Debby Wong/Shutterstock
When speaking to Inside Edition, an exasperated Ron Firman inquired, "Is this possible? How could this be happening?" Firman was planning on putting the Tom Brady football on public display in a museum. Luckily, the auction voided the sale given that the sale took place just one day before Tom Brady revealed his decision to return to the NFL.
Firman has not sworn off his indulgence in Tom Brady memorabilia, claiming that he plans to bid on whatever next football is said to be Tom Brady's last in the NFL (via Boston.com). But will Tom Brady become the boy who cried "retirement" and not be taken seriously the next time he claims that he is retiring? It seems like Firman is not worried about taking that chance again. 
Tom Brady celebrated his 44th birthday in 2021, making him one of the oldest players. In October of 2021, CBS Sports reported that Brady believes he can play well into his 50s. This makes it odd that Brady announced his retirement in 2022, only to retract that claim weeks later. With seven Super Bowl wins, there are likely quite a few of his peers who wish that he would retire for good.