What Mick Mars Did Before Mötley Crüe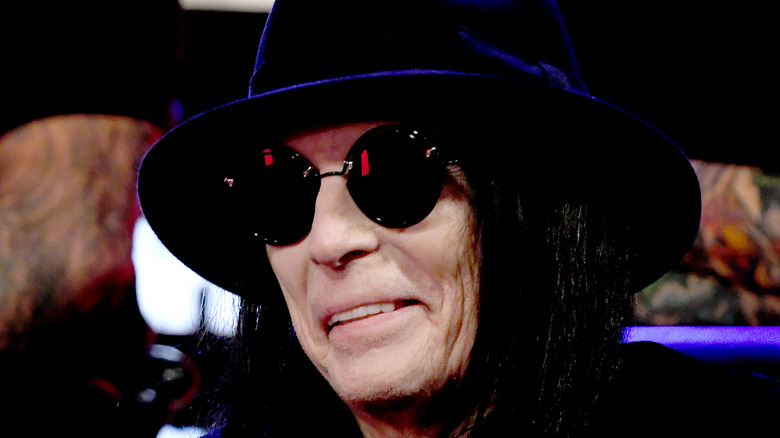 Kevin Winter/Getty Images
When the Mötley Crüe biopic "The Dirt" was released on Netflix a few years ago, the band enjoyed a refurbished burst of public admiration and spotlight beams. Original fans were swept back to the group's heyday of unabashed debauchery and depravity, and those who were just discovering their music became acquainted with one of the most enticing and riveting sagas in rock 'n' roll history. Heartbreak, heroin, decadence, and death nearly dismembered the group several times over, but they've survived the trials and tribulations of time hurled at them over and over again. 
While their collective odyssey as a band is staggeringly fascinating, their personal histories are worth a second glance as well. Guitarist Mick Mars has been with the group since day one, and as one of the founding members and the oldest individual in the Crüe, he has his own story that could easily warrant a stand-alone Netflix series itself. At 70 years old, Mick Mars maintains his reputation as one of the greatest rock guitarists of the past 50 years and keeps his unapologetic outlook on life at the forefront of his endeavors. "Get as rude as possible and don't let anyone tell you how to live," he once said (via Brainy Quote). Mars currently still performs with Mötley Crüe and despite a crippling chronic spine disease that has certainly been its own cross to bear, he has never backed down from his rightful place on stage among his brothers in music (per Ultimate Classic Rock). 
Mick Mars' early life and teenage years
Bill Tompkins/Getty Images
Born Robert Alan Deal in Huntington, Indiana on May 4, 1951, Mick Mars strummed his first notes on a guitar at the age of 6 when his parents gave him one as a Christmas gift. Eight years later when he was 14, he joined his first band after the family had moved to Garden Grove, California (via Last.fm). Mars spent the bulk of his teenage years perfecting his craft and exploring music as a whole. Despite the fact that he wound up in one of the most prominent hair metal bands in existence, he claims that his roots reside in the blues and references Paul Butterfield and Jeff Beck as his prime sources of inspiration (per All Music). 
By the age of 19, he was living with a group of bikers in Orange County where he met his first wife Sharon at a party. The two tied the knot after learning that she was pregnant, and shortly thereafter, Mick welcomed his first child into the world — a boy, Les Paul. By means of supporting his new family, Mick worked at a laundry mat and played music on the side with his band, Watoshi. Obligations amplified after the couple welcomed their second child, a daughter named Stormy. He resolved to quit his job following a hand injury and solely focused his sights on music despite protests from his wife. Sharon eventually left Mars and took the children with her (via Last.fm).
The years before the Crüe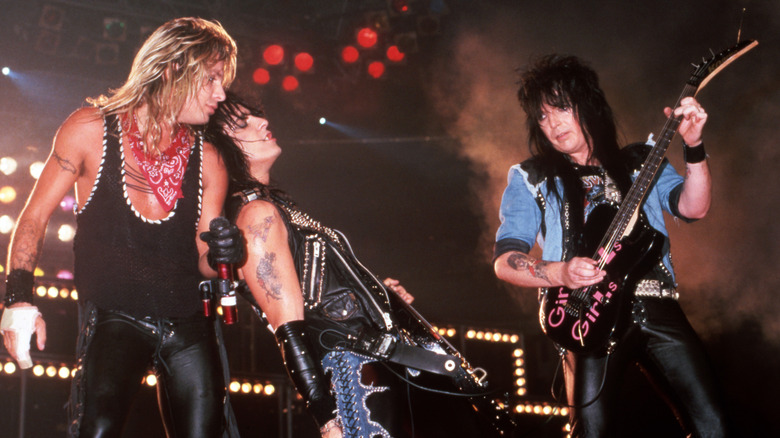 Icon And Image/Getty Images
Throughout the years following, Mick Mars frequented stages across Los Angeles and played lead guitar for a number of different bands as his prospects in the musical realm grew. Naturally, his ambition remained steadfast, and after posting an ad in a local LA newspaper that read, "Loud, Rude, Aggressive guitar player available," he agreed to meet with Nikki Sixx (bass) and Tommy Lee (drums) who were looking to form a band of that exact description. It only took one brief meeting between the three to ascertain that Mars was a perfect fit for the project (per Loud Wire). 
It wasn't long before vocalist Vince Neil joined the ragtag troupe. Drummer Tommy Lee recalled a friend of his from high school who sang in a local band called Rockandi. They attended one of the band's shows, offered Neil a place in their new group on the spot, and thus was born Mötley Crüe — and it was actually Mick Mars himself who conceived the band's name (via Loud Wire).