Malcolm X Knew This Legendary Comedian When They Were Teenagers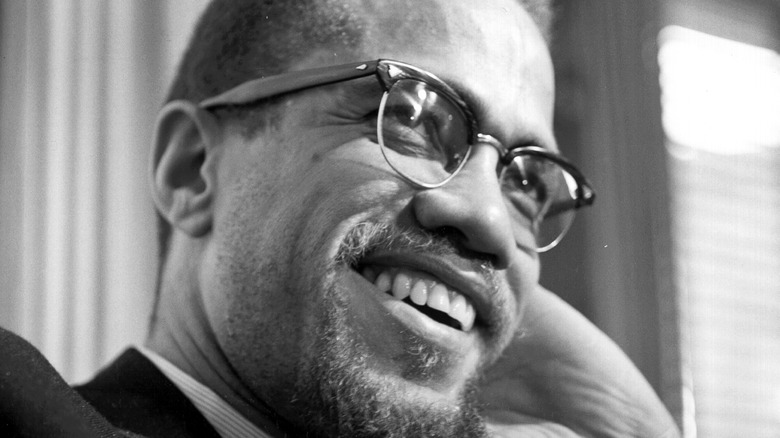 Michael Ochs Archives/Getty Images
It's always fun and educational to find out that two famous people have history that dates back to before their time in the spotlight. The fact that famed civil rights leader and minister Malcolm X was friends with one of the most iconic comedians of all time when they were just teenagers is a particularly fascinating one.
Malcolm X was born Malcolm Little on May 19, 1925 in Omaha, Nebraska, per the official Malcolm X website. His parents were both active in the civil rights movement — his mother was the national recording secretary for the Marcus Garvey Movement and his father was a Baptist preacher and chapter president of The Universal Negro Improvement Society. Death threats from the white supremacist organization Black Legion forced the family to move often. When Malcolm was just 4 years old, his family's Lansing, Michigan home was burned down, and two years later, his father's body was found on the town's trolley tracks. Both crimes were ruled accidents. Malcolm's mother was denied death benefits; she soon suffered from poor mental health, and Malcolm and his siblings were sent to foster homes.
In the early 1940s, Malcolm Little made his way to Harlem in New York City. While frequenting the restaurant Jimmy's Chicken Shack, he met a man named John Elroy Sanford. Per a video by Comedy Hype, available on YouTube, Sanford had moved to New York from Chicago with his band, the Jump Swinging Six. He began telling jokes onstage, and after the band broke up, Sanford started working at Jimmy's Chicken Shack.
When Detroit Red met Chicago Red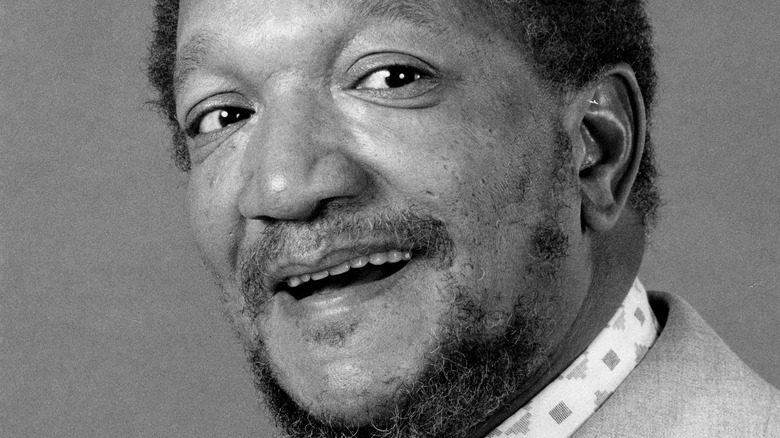 Michael Ochs Archives/Getty Images
Per Comedy Hype, both Malcolm Little and John Elroy Sanford were sharp dressers with red hair. They two men were nicknamed, respectively, Detroit Red and Chicago Red after their hometowns. They reportedly both worked at Jimmy's Chicken Shack during the day and started "hustling" together at night, stealing and reselling the popular zoot suits of the day and dealing marijuana. The two often slept on rooftops together and would conduct their business from their makeshift bedroom. In Will Power's play "Detroit Red," as reported by the Bay State Banner, their rooftop escapades get a scene, despite the play taking place in Boston, where Little spent several years as a young man. In what the article calls a "veiled tribute to a real-life friend," the character based on Sanford keeps Little up telling him jokes and stories, saying, "Even if we are two homeless dishwashers / The sky is ours too, Red."
According to Comedy Hype, Sanford decided to distance himself from Little when Little started doing larger robberies and taking harder drugs. Although the two remained on good terms, the days of Detroit Red and Chicago Red and all it entailed were drawing to a close. Per Redd Foxx's official website, Malcolm X later paid tribute to his friend in his book "The Autobiography of Malcolm X" when he called him "Chicago Red, the funniest dishwasher on this earth." As Redd Foxx, Sanford become one of the most famous comedians of the 1960s and 1970s, eventually starring on the hit sitcom "Sanford and Son."
How Malcolm Little became Malcolm X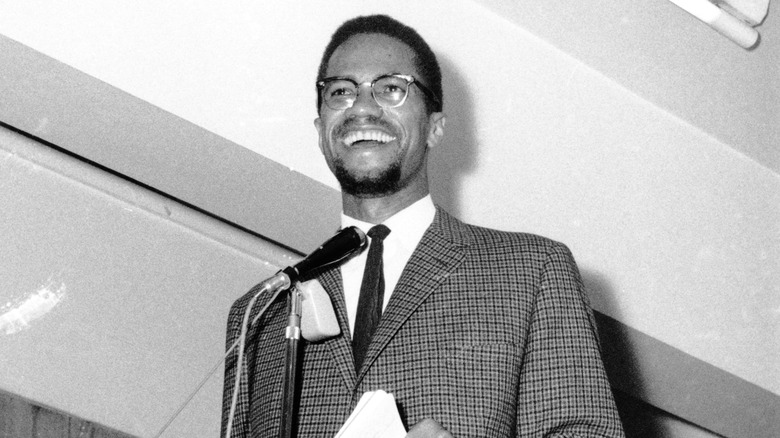 Express/Getty Images
Per the official Malcolm X website, Little was arrested in Boston, Massachusetts in 1946 on robbery charges and sent to prison. He used the time to study and read, converted to Islam, and began following the teachings of Elijah Muhammad of the Nation of Islam. When he was paroled in 1952, he changed his name to Malcolm X to signify the name he lost when his ancestors were trafficked to the United States and enslaved. X became a minister and national spokesman for the Nation of Islam as well as a prominent civil rights leader. Eventually, he started his own organization, the Muslim Mosque, Inc., and made a pilgrimage to Mecca, Saudi Arabia, from which he returned "with a new outlook on integration and a new hope for the future."
In 2016, as reported by The New York Daily News, Nate D. Sanders Auctions offered a postcard Malcolm X had sent Foxx from Miami on February 19, 1964, where he was attending the famous boxing match between Sonny Liston and Cassius Clay, who would soon rename himself Muhammad Ali. It featured a photo of a chimpanzee and read on the back, in part, "One hundred years have passed since the Civil War, and these chimpanzees get more recognition, respect & freedom in American than our people do, because even the monkeys that lead them have more sense than the monkeys that lead us." He signed it "Bro, Malcolm X." X was assassinated just over a year later.