How One Of Queen's Most Famous Riffs Was Almost Lost Forever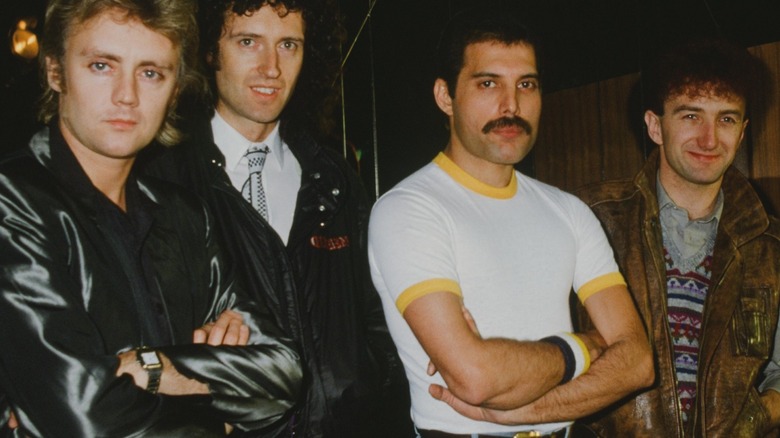 Koh Hasebe/shinko Music/Getty Images
Most present-day music fans naturally have (or had) no choice but to watch one-half of Queen's classic lineup — guitarist Brian May and drummer Roger Taylor — in concert with singers who, famous as they are in their own right, are simply not named Freddie Mercury. Regardless of how you feel about Queen's team-ups with Paul Rodgers and Adam Lambert, it's near-unimpeachable to say that their output with Mercury is what fans associate with the band's legacy. He was, after all, the man whose voice you hear on songs such as "Bohemian Rhapsody," "We Will Rock You," and "We Are the Champions," and is still considered one of the greatest rock frontmen of all time.
That said, Mercury wasn't the only Queen member singing lead on the group's songs. You need look no further than their 1975 album "A Night at the Opera," where May takes over on lead vocals on the "sci-fi skiffle" track "'39" and Taylor tries to give Don Henley and Phil Collins a run for their money while singing "I'm in Love with My Car," as noted by Louder. But the band teamed up with other artists as well, and it was the signature riff from one of those collaborations that stands out for the fact it was nearly lost forever during the hitmaking process.
John Deacon nearly forgot the main riff of Under Pressure hours after he wrote it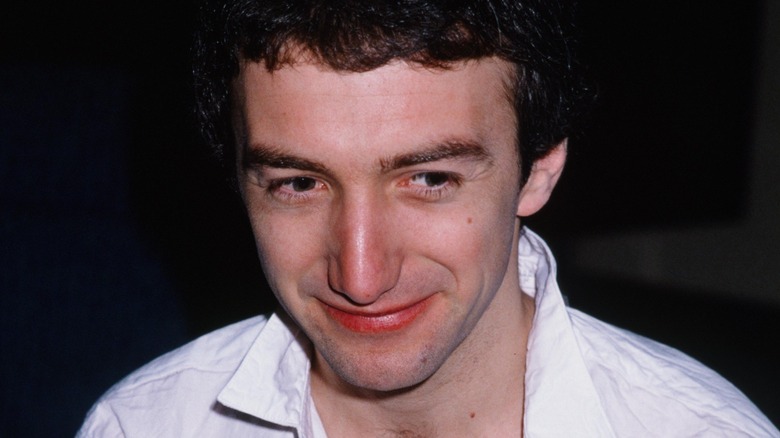 Koh Hasebe/shinko Music/Getty Images
The famous riff we're talking about is the main riff of Queen and David Bowie's 1981 hit "Under Pressure," which Brian May looked back on in a retrospective article for the Mirror in 2016. That's right — had this riff been forgotten like so many potentially good ones in the history of popular music and musicians, we probably wouldn't have gotten one Robert Van Winkle asking people to stop, collaborate and listen.
According to May, the inspiration for the song that became "Under Pressure" came about while Queen and Bowie were jamming at Mountain Studios in Montreux, Switzerland, and decided to work on something brand new. "We all brought stuff to the table, and my contribution was a heavy riff in D which was lurking in my head," the guitarist wrote. "But what we got excited about was a riff which Deacy began playing, 6 notes the same, then one note a fourth down."
Of course, the "Deacy" in question is none other than Queen bassist John Deacon, and we can't blame you if you tried to break down May's above description of the now-iconic bass line and tried to hum it in your head. However, after the musicians took a break for a few hours to eat and drink at a local restaurant, Deacon had apparently forgotten the riff, and Bowie had to remind him of how it originally went.
The crisis was quickly averted, and a classic song was born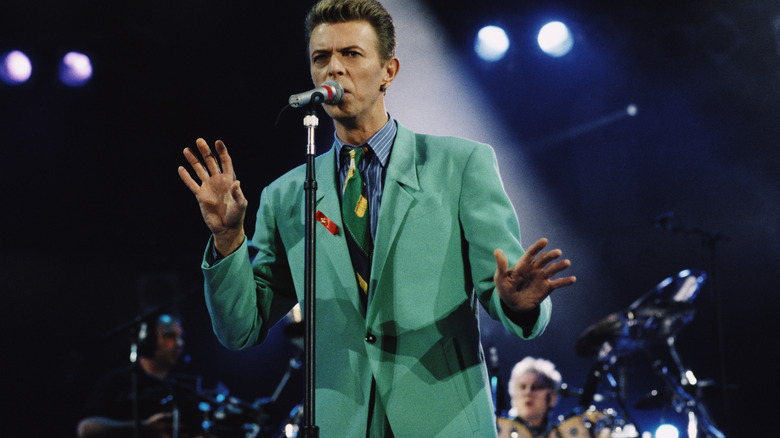 Michael Putland/Getty Images
In the article he wrote for the Mirror, Brian May described the moment David Bowie intervened and helped John Deacon remember the bass riff to "Under Pressure" as a funny one. That, according to the guitarist, was because Deacon was not a fan of other people telling him how to play the bass, especially if there was some physical contact involved. 
"But [Deacon] was good natured, and it all went ahead," he continued. "Then we began playing around –- using the riff as a starting point."
As further explained, Queen's normal tendency was to carefully plan things when writing songs. But Bowie encouraged the band to try a different approach and to trust their instincts while trying to make a song based on that catchy bass line. With those seven notes in place, May played a guitar riff over it, later on overdubbing a version of that riff on a 12-string guitar as suggested by Bowie. And with things falling in place as the musicians continued working on their collaboration, Bowie ultimately told Queen that he wanted to take control of the lyrics of the song, which, at that point, had the working title of "People on Streets." 
"David was in there first, and told us he wanted to take the track over, because he knew what he wanted it to be about," May wrote. "We all backed off and David put down a lyric which now focused on the 'Under Pressure' part of the existing [song]."
"Under Pressure" was released as a single late in 1981. The song only made it to No. 29 in the U.S., but was a huge hit in Queen and Bowie's home country, as it went all the way to No. 1 on the U.K. singles charts.