The Truly Horrific Crime Scene Of Marilyn Sheppard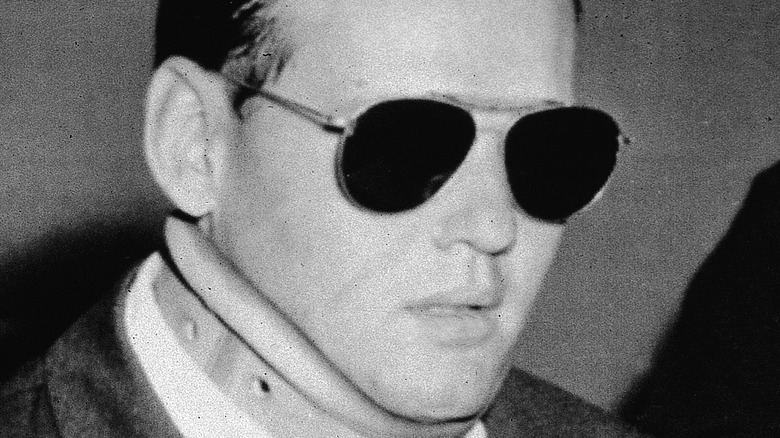 Hulton Archive/Getty Images
July 3, 1954 was an average day for Sam and Marilyn Sheppard (via Famous Trials). The couple resided in Bay Village, Ohio, and had one young son, named Chip. Cleveland Historical writes that Sam (seen above) was known for being a pillar in the community, as he was a doctor at the local Bay View Hospital. However, that would all change in one night. After an evening with friends at the family home, the Sheppards went to sleep. By early the next morning on July 4, Sam called his friend and Bay Village mayor Spencer Houk and exclaimed that Marilyn had been killed (per JT Townsend).
PBS reports that Houk and police quickly arrived at the scene. They found an injured Sam in a disoriented state and the body of Marilyn Sheppard in her bedroom. The house also appeared to have been plundered. Sam explained that he had been awakened by Marilyn screaming his name. He then reportedly encountered someone he described as a "bushy-haired" figure. Sam stated that a struggle ensued outside of his home, which resulted in him being knocked out. When he came to, he checked to see if his son was still in his room and called Houk.
According to Fox 8, suspicion quickly fell on Sam. Investigators believed the murder scene appeared to be staged and his story was undeniably bizarre. The case quickly became a media circus and Sam's once good name was smeared. Despite maintaining his innocence, Sam Sheppard was arrested for the murder of Marilyn Sheppard on July 30, 1954 (via Cleveland Historical).
Marilyn Sheppard was bludgeoned to death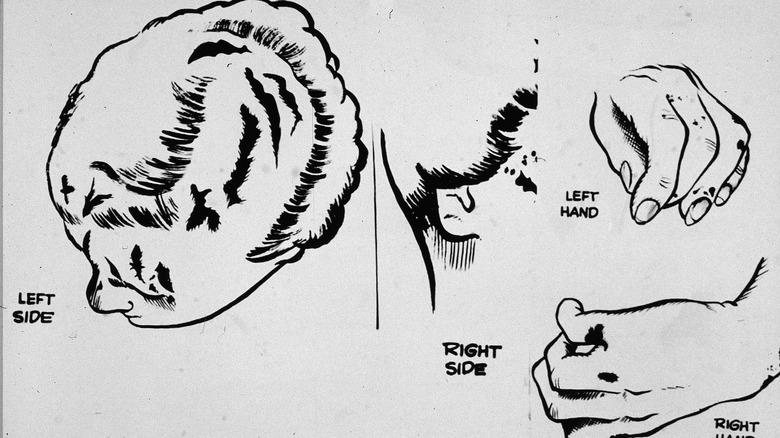 Hulton Archive/Getty Images
Prior to Marilyn's murder, Bay Village was known for being a quiet and upper-class city (via JT Townsend). The lurid details of the crime scene understandably shocked neighbors as well as the Sheppards' friends and loved ones. According to Famous Trials, Marilyn was found lying on her bed with her face looking toward the door. The scene was vicious and ghastly; the sheets were seeping with blood. Marilyn's shirt was pulled up, revealing her chest. Her genitals were also exposed. Marilyn's face and head were mutilated by various deep wounds. An autopsy later found that she died from 35 strikes to the head with an unidentified object.
Moreover, Marilyn had fought her attacker, and two of her teeth had been knocked out in the scuffle. Tragically, the autopsy also revealed that she was four months pregnant. NFL player and neighbor Otto Graham encountered the scene and later said, "Oh my God. It looks like someone stood in the middle of the room with a great big can of red paint and a brush and flicked it all around. This wasn't a couple of blows. Oh, no. Whoever did it, they had to be out of their mind" (per Famous Trials).
PBS writes that Sam's murder trial began in late October, 1954. Per Fox 8, the prosecution stated that his guilt was obvious. It was disclosed that Sam had been having an affair with a former hospital employee, Susan Hayes, establishing a motive. Although the murder weapon was never found, the coroner said it had to be a surgical tool.
Sam Sheppard's guilty verdict was overturned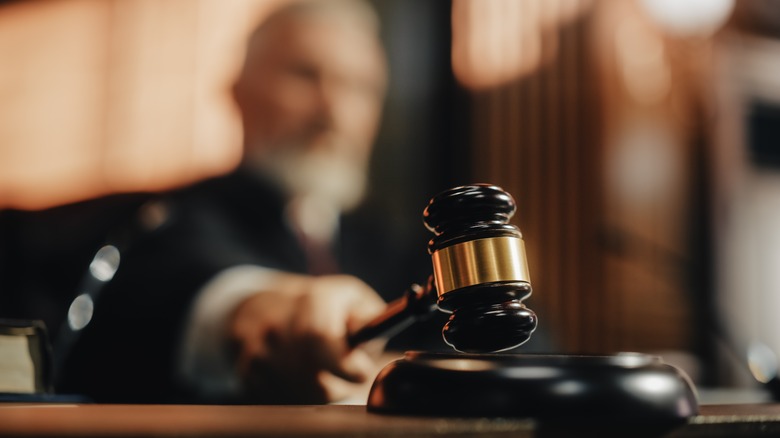 Gorodenkoff/Shutterstock
Sam Sheppard was found guilty of second degree murder in December, 1954 and received a life sentence (via Famous Trials). Cleveland Historical reports that he continued to proclaim his innocence while in prison. After the death of his defense lawyer in 1961, PBS explains that Sam hired F. Lee Bailey. Ultimately, Bailey was able to get Sam out of prison in 1964 after a judge ruled that he had not been given a fair trial. In June 1966, his murder conviction was officially overturned.
Despite this, JT Townsend states that the public still believed Sam had killed Marilyn. Per Famous Trials, his life after prison was dismal. Sam reportedly became an alcoholic and his relationship with his son, Chip, never recovered. The Encyclopedia of Cleveland History relates that Sam Sheppard died on April 6, 1970 at the age of 46 from the effects of his long-time alcohol abuse. Cleveland writes that Chip Sheppard later sued for wrongful imprisonment on the behalf of his late father. According to Biography, the jury later found that Sam Sheppard was not innocent in 2000. However, Marilyn's murder still technically remains unsolved.
Who, then — other than Sam — could have killed the young mother and wife? Per another article from Famous Trials, there were a few other suspects, and most notably, Richard Eberling. Many believe he was the "bushy-haired" figure Sam had encountered at his home. Eberling knew the Sheppards and was later convicted of the murder of an elderly woman in 1989. Despite this, nothing ever came about regarding Eberling's possible involvement; he died in prison in 1998 (per Murderpedia).
If you or anyone you know is struggling with addiction issues, help is available. Visit the Substance Abuse and Mental Health Services Administration website or contact SAMHSA's National Helpline at 1-800-662-HELP (4357).