Zelenskyy Reveals The One Thing That's Changed About Him Since The Russian Invasion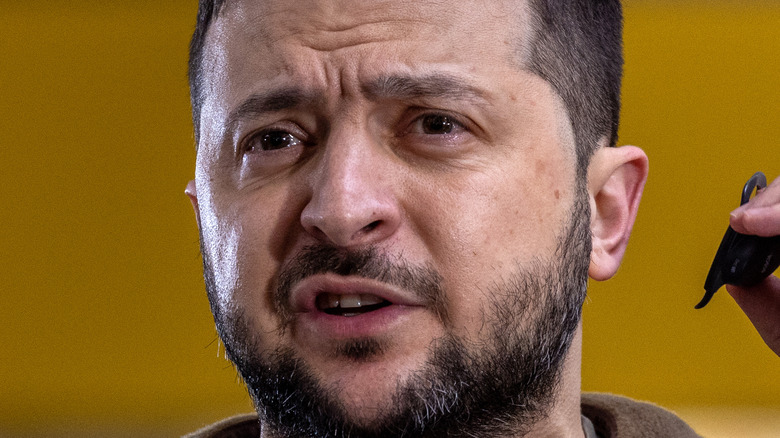 John Moore/Getty Images
Following Russia's invasion of Ukraine in 2022, most of the world rallied around the eastern European nation and its president, Volodymyr Zelenskyy. A former actor and comedian, Zelenskyy was thrust into the international spotlight as he brushed aside offers to help him flee the country as Russian forces crept across its borders, instead choosing to stay and fight with his fellow citizens.
Just days into the war, The Times of London reported that the Ukrainian president had already survived as many as three assassination attempts. However, Mikhail Podolyak, a presidential advisor, estimated that the total could be even higher. "Our foreign partners are talking about two or three attempts. I believe that there were more than a dozen such attempts," he said to the Ukrainian outlet Ukrayinska Pravda (via Insider).
Zelenskyy had previously been known to many Americans, as he was on the other line of a phone call that led to the impeachment of former President Donald Trump back in 2019 (via another post at Insider). Since then, his profile has risen even more, given his show of strength and resiliency in the face of adversity.
Zelenskyy offered insight into the war effort in an interview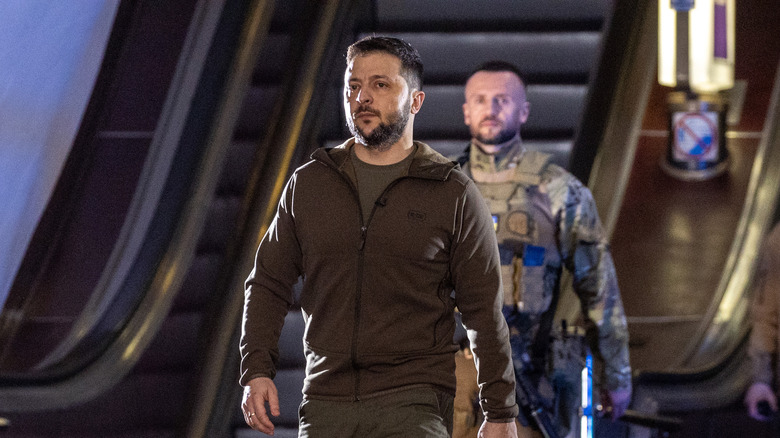 John Moore/Getty Images
Zelenskyy managed to find time to sit down with Time in April to talk about how the war effort was unfolding, and what it was like in the first few days after the invasion started. Zelenskyy said that he can only remember pieces of February 24, as he said that at a certain point, all of the days started to run together. "The first days were hard for all of us. I think we were all more or less in the same condition. Everyone in Ukraine, only with different responsibilities," he said. "You understand that they are watching. You are a symbol. You have to act the way ahead of state must act. So of course I remember moments from that night. The explosions."
He then talked about the war going forward and that the future of Ukraine hinges on the country's ability to come together in a moment of crisis. "I think that, before the invasion, our society was in some ways divided. We were not a clenched fist. And then we were. I think that's very important," Zelenskyy said. "They outnumber us by a lot. So we just needed to be a unified whole. That is our only chance."
How the invasion has changed Volodymyr Zelenskyy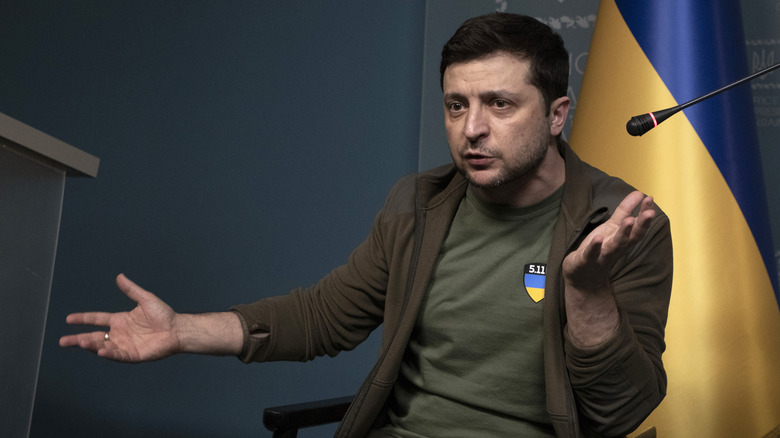 Laurent Van Der Stockt/Getty Images
Going through such a stressful situation is bound to change a person; in fact, in this instance, it could even change the world. Time magazine asked President Zelenskyy how the crisis facing his country has changed him personally. Zelenskyy joked that he had gotten older, which he followed up by discussing the value of maintaining a sense of humor. "It is a means of survival. Otherwise, everyone around would feel depressed. And feeling depressed is not a good way to win," he said.
The interviewer asked him to expand on how he had aged in the months since the invasion started. He answered that he had matured both mentally and morally. "I've aged from all this wisdom that I never wanted. It's the wisdom tied to the number of people who have died, and the torture the Russian soldiers perpetrated. That kind of wisdom ... To be honest, I never had the goal of attaining knowledge like that," Zelenskyy said.