Inside The Complicated Relationship Between Ramesh Balwani And Elizabeth Holmes From The Dropout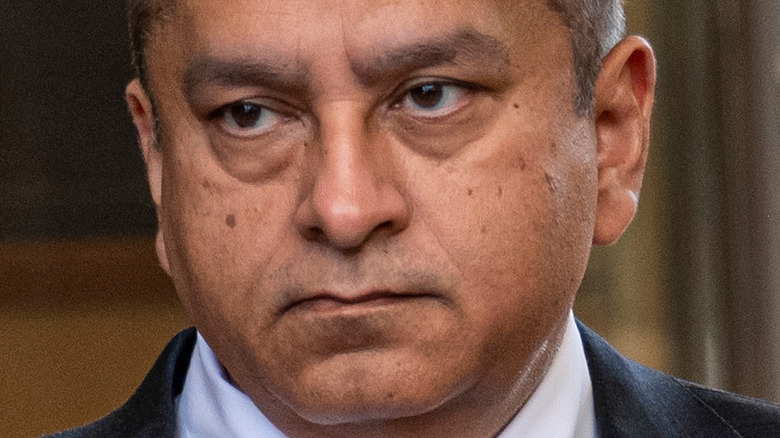 Bloomberg/Getty Images
This article contains mention of sexual assault.
The miniseries "The Dropout" details the rise and fall of entrepreneur Elizabeth Holmes and her failed startup, Theranos — but it appears the real story is just as dramatic. As Insider recapped, Holmes dropped out of Stanford University in 2004 at the age of 19 to found Theranos, which she envisioned would revolutionize the blood-testing industry. Holmes patented alleged technology to perform what she claimed was accurate diagnostic testing by using just a drop of blood. By 2014, the company was valued at $9 billion, with Holmes the world's youngest female self-made billionaire. Behind the scenes, however, Holmes had installed Ramesh "Sunny" Balwani as president of her company and her second in command — a move that turned out to be strategic for all the wrong reasons. 
Per the investigative reporting of Wall Street Journal reporter John Carreyrou, in reality, Theranos never built a prototype that consistently returned accurate results. As a result, Holmes and Bulwani misled investors, partners, and patients. As their fraudulent dealings began to surface, Theranos shut down its labs and wellness centers in 2016, and in 2022, Holmes was convicted of three counts of wire fraud and one count of conspiracy, per Insider. (As of this writing, she awaits sentencing, while Balwani's trial is still ongoing.)
But in the course of the Theranos investigation, it came to light that both Holmes and Balwani were romantically involved — and their complicated relationship seemingly contributed to the general dysfunction of Theranos as a whole. 
At first, Elizabeth Holmes and Sunny Balwani were strictly platonic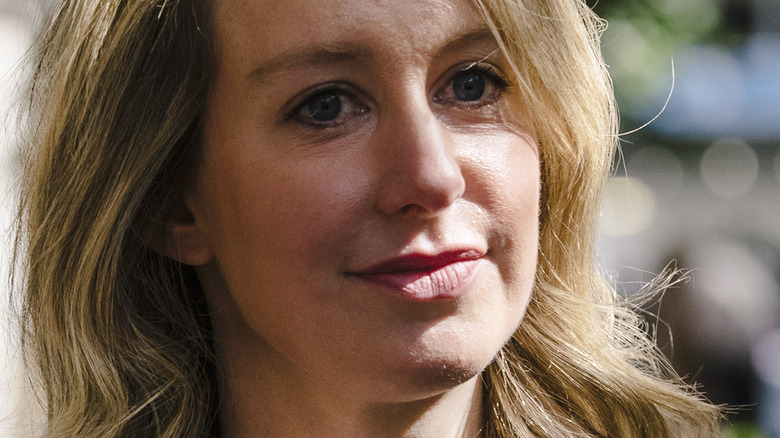 Bloomberg/Getty Images
As People reported in 2019, Sunny Balwani was born in Pakistan, raised in India, and emigrated to the United States with his family in 1986. He became enormously successful in 1998 after he co-created a company that helped businesses buy and sell on the Internet. By 2000, he was a multi-millionaire after selling the company for stock and cashing out before its demise. He met Elizabeth Holmes in 2002 during a study abroad program in Beijing, China, with Stanford University's Mandarin program. At that time, he was 38; she was 18. 
Their relationship was platonic at first, but by July 2005, they were living together as a couple in Silicon Valley, and in 2009, Balwani joined Theranos as its president. Later, Both Holmes and Balwani admitted during a 2017 deposition, per ABC News, that they had attempted to keep their relationship from investors. Theranos employees later noted that their relationship was actually obvious, as they arrived at work together each day.
Balwani was reportedly known as an "enforcer" at Theranos who bullied employees. He also purportedly used security footage to track their movements around the Theranos building, as well as their interactions with one another. In a 2018 interview with Insider, writer John Carreyrou reported that, according to one of the sources, "[Balwani and Holmes] were running this thing as a partnership" and that the source "painted the portrait of this fraud [as] being run by a couple."
Elizabeth Holmes' testimony featured shocking allegations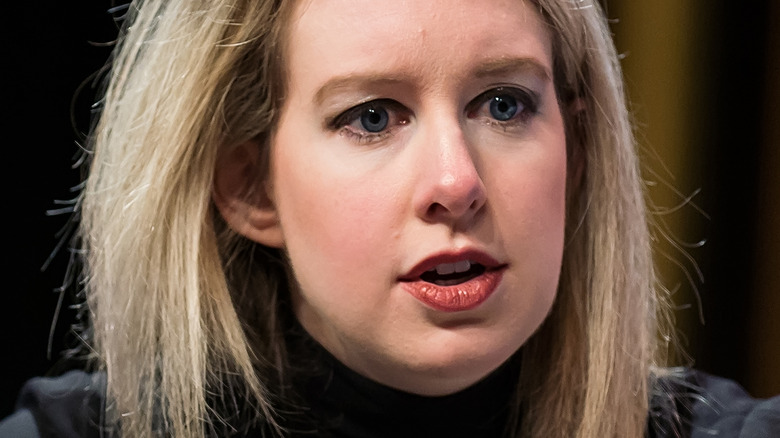 Gilbert Carrasquillo/Getty Images
While testifying at her criminal trial in November 2021, Elizabeth Holmes painted a disturbing picture of her relationship with Sunny Balwani, which continued until 2016, per The Mercury News. (At that point, Holmes had moved out of their shared home, and Balwani had left Theranos.) Holmes revealed that when they first met in Beijing, she looked up to Balwani as a successful entrepreneur and sought his professional advice. Balwani continued emailing her after they returned to the United States, and she eventually confided in Balwani after she was sexually assaulted while still a Stanford University student.
According to Holmes' testimony (via The Mercury News), Balwani allegedly told her over the course of their relationship "that I didn't know what I was doing in business, that my convictions were wrong, that he was astonished at my mediocrity," adding that she "needed to kill the person who I was in order to be what he called the new Elizabeth." He reportedly encouraged her to work long hours, monitored what she ate, and directed her to stick with what she termed as "pure" foods. He also purportedly referred to Holmes' family as a distraction from Theranos. 
In addition to this, Holmes claimed Balwani "wanted me to know that he loved me," but would often get angry and demand that she have sex with him when she didn't want to do so. According to Reuters, Balwani "categorically denied" Holmes' allegations via court filings, referring to them as "false and inflammatory."
If you or anyone you know has been a victim of sexual assault, help is available. Visit the Rape, Abuse & Incest National Network website or contact RAINN's National Helpline at 1-800-656-HOPE (4673).