Why Wayne Gretzky's Wife Was Blamed For Him Being Traded To Los Angeles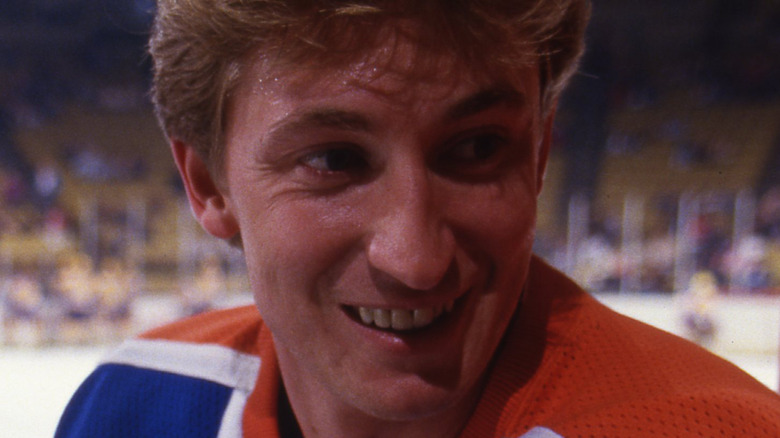 Andrew D. Bernstein/Getty Images
On August 9, 1988, one of the biggest moments in National Hockey League history occurred. It was the middle of summer, with ice nowhere in sight — not even in Edmonton, where a press conference had been called at Molson House, a historic brewery in the Alberta city. The press conference had been called by the Edmonton Oilers to announce the future of their prized player, Wayne Gretzky. Even then, Gretzky was regarded as one of the greatest, if not the greatest hockey player to ever throw on a pair of skates. On that day in August he was just a few months removed from leading the Oilers to a fourth consecutive Stanley Cup.
Gretzky had trouble choking back tears as he thanked the Oilers and the city of Edmonton. This was because just before Gretzky spoke, Oilers owner Peter Pocklington made the seismic announcement that Gretzky had been traded to the Los Angeles Kings. While secretive efforts to trade The Great One had been in motion all summer long, the move shocked Oilers fans, the hockey world, and even all of Canada.
Gretzky was born in Canada and dominated the league with a Canadian franchise. According to the NHL, Gretzky personified many Canadians' vision of themselves. Losing him to a team south of the Canadian border felt like a nationwide gut punch, and those upset wanted a place to direct their ire. Unfortunately, many of them placed the blame for Gretzky's departure squarely on the shoulders of his wife, Janet Jones.
Gretzky and Jones had been spending offseasons in Los Angeles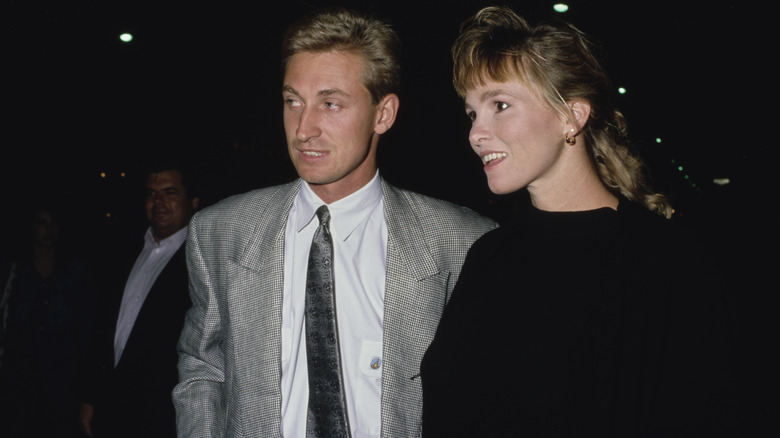 Michael Ochs Archives/Getty Images
Just about a month before Gretzky's trade was announced, he married his wife, actress Janet Jones. Obviously, as an actress, much of her work was in Los Angeles, and when Gretzky wasn't in the midst of another grueling campaign and an inevitably deep playoff run, he and Jones would spend their summers in Los Angeles, where they stayed at the home of fellow Canadian, actor Alan Thicke, according to the NHL.
Fans felt that Gretzky's increased time spent in Los Angeles, coupled with the news that he would now be playing for the Kings, led them to the conclusion that Jones had lobbied for her husband to be dealt, and they were ruthless. "I've been called Jezebel and Yoko Ono," Jones said a few months later, per UPI. "I expected to take some heat that way. But it hurts."
Jones countered by saying that fans should've directed their rage at the only man who was capable of approving such a massive trade, Oilers owner Peter Pocklington. Pocklington blew off Jones' allegation and even suggested Gretzky's tears at the announcement press conference had been for show. "'If people had told me how great I was day in and day out for 10 years, I'm sure my ego would be a pretty generous size, too," Pocklington said.
How the Gretzky trade happened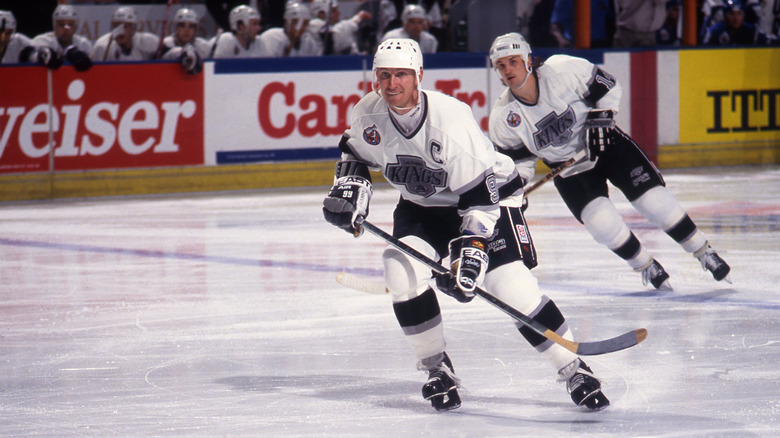 Bernstein Associates/Getty Images
What fans didn't know at the time was that efforts to move Gretzky had been happening all summer after he and the Oilers hoisted the Stanley Cup following a sweep of the Boston Bruins. Gretzky was nearing the end of his contract with Edmonton and they were pretty sure that he would look to sign elsewhere. In an appearance on the Spittin' Chiclets podcast, the hockey legend said that multiple teams were trying to present offers that would tempt the Oilers to trade Gretzky. This included a phone call the day after the Stanley Cup Finals from the owner of the Vancouver Canucks, indicating that Gretzky could have a stake in team ownership if he was traded there.
With only one year on his contract, Gretzky and the Oilers reached an agreement whereby they would only move him to a team with which he was willing to re-sign, which was done to maximize what the Oilers received in return. That list was narrowed down to the Detroit Red Wings and the Los Angeles Kings. Gretzky was almost going to agree to a trade that would send him to Detroit, where he would play for the same franchise as his idol, Gordie Howe. However, his father convinced him to go somewhere else and build his own legacy, so he agreed to be traded to the Kings. Going with Gretzky to the Kings were fellow oilers Marty McSorley and Mike Krushelnyski. Going the other way in the deal were Kings players Jimmy Carson and Marrin Gelinas, first-round draft picks in 1989, 1991, and 1993, and finally, $15 million, per NHL.