The Untold Stories Of The Jack The Ripper Suspects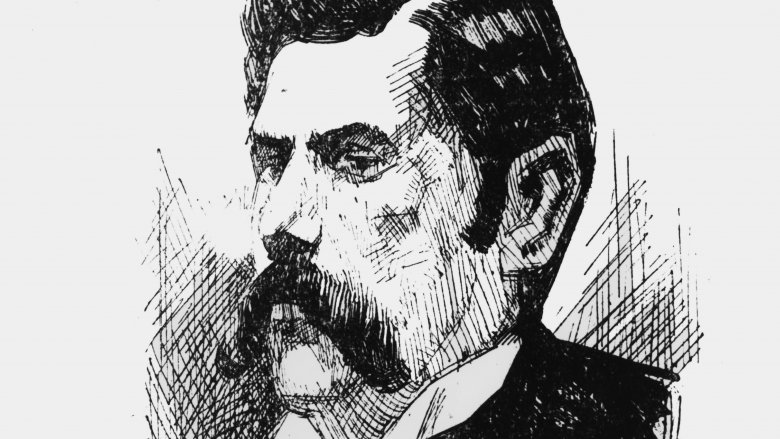 Getty Images
In autumn of 1888, a serial killer stalked the streets of Whitechapel and was the talk of London. Jack the Ripper — named in a letter penned by someone claiming to be the killer — made headlines around the world, and there's next to nothing we actually know about him. He was never identified, but the sketch above was put together to try to help in the manhunt. There were a ton of theories about who the Ripper was; here are some of the contenders.
Walter Sickert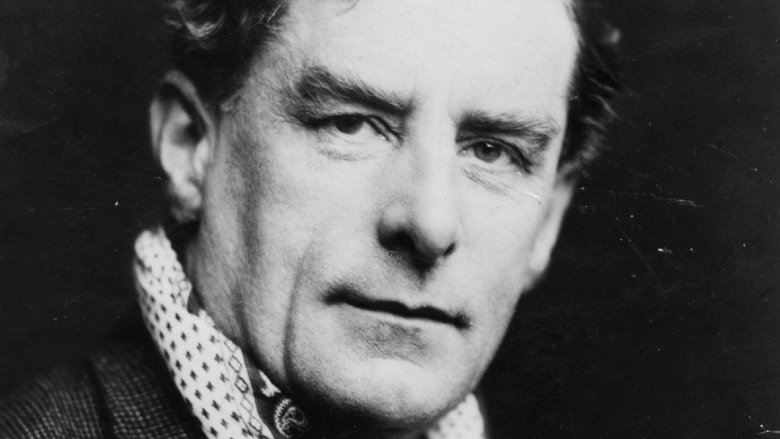 Getty Images
If you're not familiar with the name Walter Sickert, you weren't paying attention in art history class. According to The Guardian, he's considered one of the best British painters of the era, but if you ask American crime writer Patricia Cornwell, he was Jack the Ripper.
Take a gander at Sickert's biography from Tate, and there's not much to suggest he was anything but the renowned painter, artist, writer, and teacher his contemporaries believed him to be. Early in his career, he drew inspiration from London's music hall scene and from the seedier side of life. Cornwell believes the secret to his true identity as Jack the Ripper lies in his work, which she says mirrors the murder scenes a little too closely to be coincidence.
Sickert's name has been mentioned in connection with the Ripper case before. Joseph Sickert, who claimed to be his illegitimate son, also claimed the painter confessed guilt on his deathbed. Decades later, Cornwell embarked on her costly crusade and wrote in The Telegraph she believed so much in his guilt she spent $7 million buying paintings and his writing desk in hopes of finding some clues. Clues weren't there, but Cornwell did find some outrage from the art community when she tore up one of his canvases.
Thomas Hayne Cutbush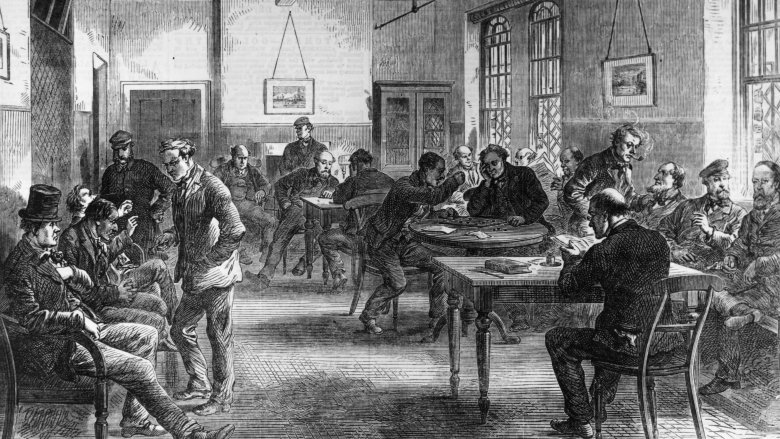 Getty Images
Thomas Hayne Cutbush wasn't declared insane and committed to Broadmoor until 1891, a few years after the Ripper stopped. That's the biggest strike against the theory he was the Ripper, but according to The Independent, no one was arguing he was sane. That became extra-true in 2008, after Broadmoor unsealed his medical records.
The 26 documents told a strange story. Born in 1864, he led a perfectly ordinary life until 1888, when he started to go an indeterminate kind of insane. At the time, it was linked to "heredity and overstudy"; he spent hours hunched over medical textbooks, and he wasn't he only family member to be called mad. His uncle — who also happened to be a Metropolitan Police superintendent — shot himself in front of daughter.
Cutbush was said to disappear frequently, only to come home covered in mud and sometimes blood. His aunt claimed he was occasionally violent, which he demonstrated in 1903 by attempting to bite his mother when she visited him at Broadmoor. He threatened attendants with knives and struggled with paranoid delusions. At one point, he believed his food was poisoned and that doctors and his legal counsel were conspiring to kill him. Contemporary media named him as the Ripper, claiming without evidence that the police department was orchestrating a coverup because Cutbush was the nephew of one of their own. That would have been embarrassing.
Francis Tumblety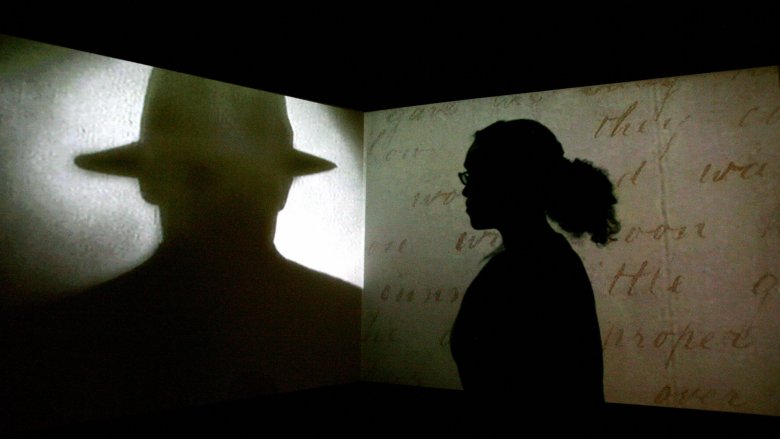 Getty Images
If Francis Tumblety actually was Jack the Ripper, it would be a minor footnote in the story of his life. His name turned up in letters written by Scotland Yard detective John Littlechild, the chief inspector on the case. Tumblety was even arrested at the time but jumped bail and headed back across the Atlantic.
CSICOP calls him one of the most likely suspects, and it's easy to see why. He grew up in Rochester, New York, where he made some money selling dirty books on the city's canal boats. After that, he started masquerading as an herb doctor but was arrested for selling quick-fix abortion pills to prostitutes. He turned up a few years later in Montreal but skipped town when one of his patients died. Next came Maine, where acquaintances took note of his hatred for women and of the cabinet full of jarred lady-parts he kept in his office. He apparently showed it off after a dinner party, which is the ultimate party foul and probably the best cue you'll ever get to leave a party.
He headed for London in the 1860s, and when he was arrested in 1888, he was charged on suspicion of the Whitechapel murders. Scotland Yard knew he left town after jumping bail, and it seems they even followed him to New York City around the same time the murders in Whitechapel stopped. Actual evidence was lacking, and he's still in the pool of legitimate possible suspects.
William Henry Bury
Getty Images
William Henry Bury has the dubious honor of not only being a Ripper suspect, but also the last person to be executed in Dundee, Scotland. He was hanged on April 24, 1889, and while he has the usual list of not-so-redeeming qualities like a tendency to drink too much and beat his wife, he was also in Whitechapel at the right time and he very clearly hated all women equally.
Bury and his long-suffering wife left London in January 1888, not long after the Ripper killings stopped. According to Executed Today, they had only been in Dundee for a few days when he strangled his wife and sliced open her stomach. With no way to get rid of her body, he came up with the most bizarre statement ever. He told police she'd killed herself and that he hid the body for a few days because he didn't want anyone to think he was Jack the Ripper. It's a pretty specific excuse, and it totally didn't work. There wasn't any evidence to link him to the Ripper killings, but there were some things that looked pretty suspicious. One was his ill-fated wife's tendency to refer to him as Jack the Ripper, but maybe she was just acknowledging how horrible he was. His executioner believed he was the Ripper, and rumor had it some Scotland Yard detectives agreed. One thing's for sure — Bury took his secrets with him to the gallows.
Mary Pearcey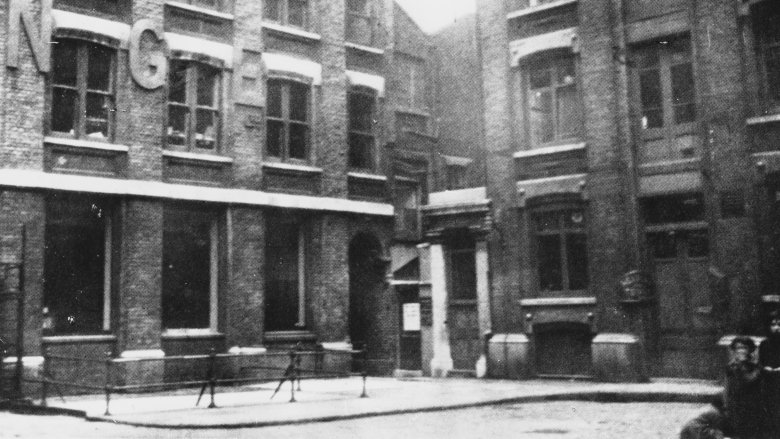 Getty Images
There's only a single female suspect accused of being Jack the Ripper, and she was hanged on December 23, 1890. Evidence she was the so-called "Jill the Ripper" is pretty flimsy, but Ripper or not, Mary Pearcey undoubtedly had a taste for killing.
According to the Old Police Cells Museum, it ran in the family — her father was executed for murder when she was 14. She hooked up with a ton of men off and on, but she really had a thing for a furniture remover named Frank Samuel Hogg. Unfortunately for her, Hogg was married and a father, so Pearcey decided to take care of some business. Mrs. Hogg's body was found first, her skull fractured and her throat cut so deeply she was nearly decapitated. Their daughter, 18-month-old Phoebe, was found the next day. She was strangled.
Suspicion first fell on the husband, as it usually does. Once Pearcey showed up on the radar, it wasn't long before they found bloodstains all over her kitchen, rugs, kitchen knives, and a poker. She insisted to authorities searching her home that she had just been killing mice — bizarrely, she also played the piano and whistled during the search — but no one bought it. She'd been masquerading as Mrs. Hogg's friend for some time, until jealousy got the better of her and an afternoon tea turned deadly. Was she just a jealous lover, or something more?
Robert Mann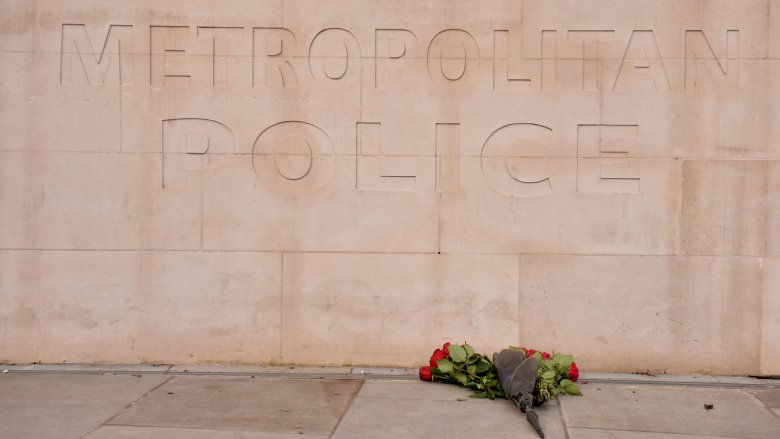 Getty Images
According to author Mei Trow (via The Scotsman), Jack the Ripper's true identity was Robert Mann. Trow took some of the basic beliefs about the Ripper — that he was lower-class, that he probably had a troubled childhood, and that he worked as a medical assistant or in another profession that allowed him to be around flesh and blood but didn't involve social interaction with people — and reexamined key players and evidence through a more modern lens. He found Robert Mann checked all the horrible boxes and then some.
Mann was a mortuary attendant who lived in a Whitechapel workhouse. As they say, it's about location, location, location, and Mann was in the right location to work in the mortuary Ripper victim Polly Nichols was sent to. He even had access to her body and undressed her after being given strict instructions not to touch her.
He was called to testify as a police witness, but the coroner noted he was "subject to fits, and neither his memory nor statements are reliable." Trow says Mann fits the profile and was in a unique position to admire his work even after the bodies were discovered. Once he was deemed unreliable and denounced before the law, the law forgot about him — even as a suspect.
Aaron Kosminski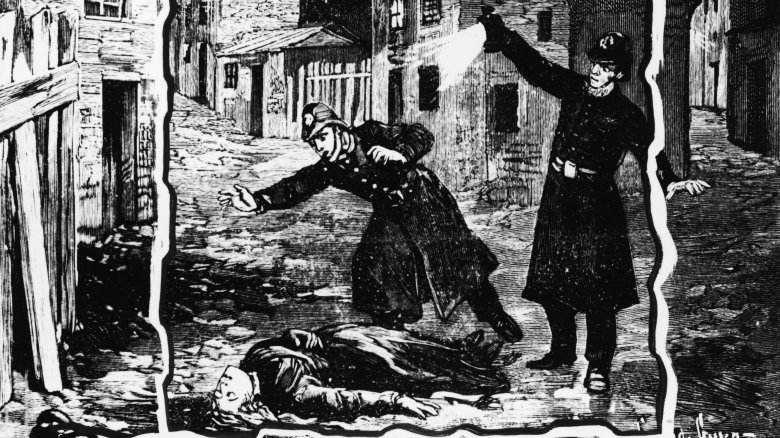 Getty Images
In 2014, the announcement was made ... again. Jack the Ripper had been identified! This time, it was Aaron Kosminski, a 23-year-old Polish immigrant who moved to London after fleeing the pogroms of the 1880s. According to Pacific Standard, Kosminski's name wasn't a new addition to the roster of suspects; he'd been questioned by Scotland Yard as one of their strongest Ripper candidates. There was no evidence at the time, but author Russell Edwards promised he found it.
It was DNA from Catherine Eddowes' shawl, tested at Liverpool John Moores University. They claimed to have matched DNA to Eddowes and another sample to one of Kosminski's descendants, but the shawl is no smoking gun. There's no chain of custody and according to The Independent, the DNA profile contained an error that made the whole thing inconclusive anyway.
Forward says Kosminski may have been extremely violent with lunatic tendencies that got him committed to the Colney Hatch Lunatic Asylum for decades before his death, but he was also something else unforgivable: Jewish. At the time, rumors circulated that the killing was a Jewish ritual sacrifice, and in spite of making an official statement denying that, Scotland Yard believed Kosminski was at least a viable suspect. Sadly, we know little about Kosminski's life, except that he allegedly had a habit of self-abuse and once held his sister at knifepoint.
Carl Feigenbaum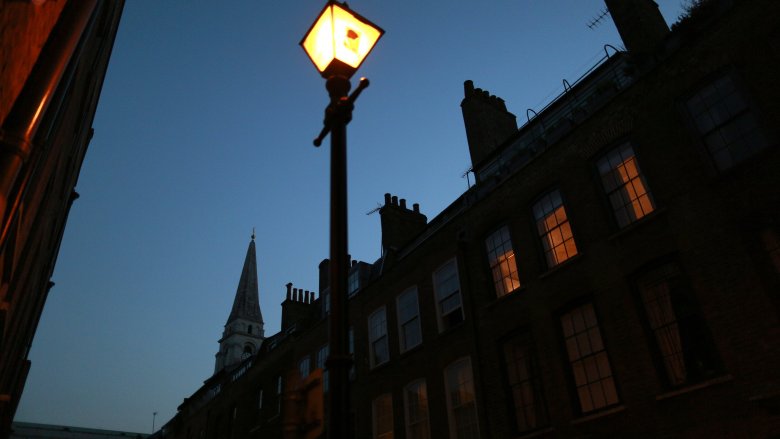 Getty Images
It's entirely possible that Carl Feigenbaum told his lawyer the most Ripperesque thing ever. He was quoted as saying, "I have for years suffered from a singular disease ... a desire to kill and mutilate every woman who falls in my way. I am unable to control myself" (via Executed Today).
Allegedly. He was executed on April 27, 1896, after being found guilty of the murder of his landlady, so brutal he nearly decapitated her. Because that's not horrible enough, he was said to be about to mutilate her further when he was interrupted by her 16-year-old son and fled. That was in New York City, but it's entirely possible he was also in London for the Ripper killings. Feigenbaum was a merchant mariner and sailed all over the world, but there was no smoking gun, no ship manifests, and no records to definitely place him in London at the right time. The theory he was the Ripper actually came from his lawyer, William Lawton, who spoke to the press before his body had even cooled. William Lawton said his client had professed his innocence to an almost bizarre degree before being executed. Unfortunately, with no way to track Feigenbaum's movements, all we have is conjecture.
Prince Albert Victor
When it comes to famous suspects, Prince Albert Victor is probably the biggest name on the list. But what exactly was it that made him a Ripper candidate?
According to Casebook, Queen Victoria's son was never a serious candidate at the time. His name doesn't even come up until 1962, and it took another eight years for a complete theory to be assembled from the papers of Sir William Gull, the prince's doctor. The theory states the prince — known as Eddy — had contracted syphilis in the West Indies that slowly drove him to madness and then to murder. The Royal Family supposedly knew about the whole thing and covered it up, and Eddy's 1892 death wasn't from the flu, but from the disease that drove him to kill.
The problem is that none of these claims could be substantiated. Dr. Thomas Stowell died just as his theory was published, and by the time anyone thought to corroborate the story, all his personal papers (and, presumably, Gull's papers) had been burned. There's a massive flaw in the theory, too: Eddy wasn't in London on the days of any of the murders. That hasn't stopped the theories, though, and it hasn't stopped him from being forever associated with the shadow of Jack the Ripper.
James Maybrick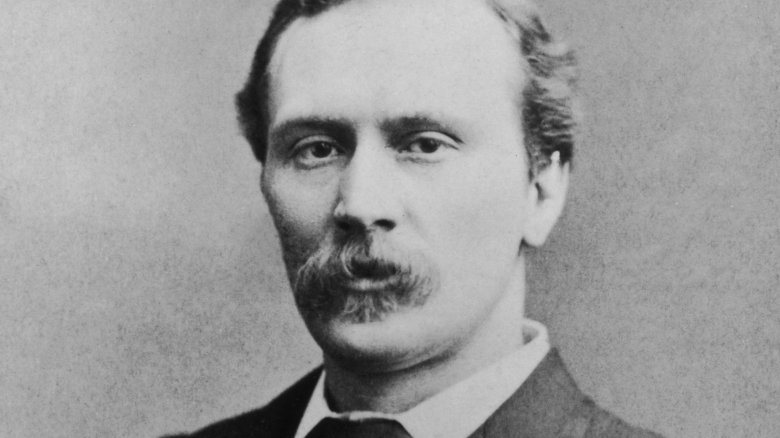 Getty Images
In 2017, The Telegraph reported on supposed proof that Liverpool cotton merchant James Maybrick was definitely maybe Jack the Ripper. Buried in the pages of a diary discovered in 1992 was a confession: he not only killed in Whitechapel, but murdered one Manchester prostitute was well. The end of the journal was signed, "Yours Truly, Jack The Ripper," but since there's no real provenance to the journal, debate raged over whether or not it was the real deal. (Even more confusing, the man who found it had earlier signed a statement saying it was a hoax, then retracted that statement.)
Casebook says Maybrick had a weird story. After establishing a cotton merchant company in London and picking up an addiction to arsenic, he met and married Florence Chandler. Financial difficulties, infidelity on both sides, and substance abuse piled on the already unhappy marriage, and things were particularly stormy around the time of the killings. Maybrick grew sick, dying on May 11, 1889.
Florie was put on trial, accused of poisoning her husband. She was found guilty and sentenced to execution, but a public outcry blessed her with 15 years of hard labor instead. Released in 1904, she ended up living in America until her death in 1941. Maybrick was never associated with the Ripper until the diary was found, and it puts the entire affair in a whole new light. Did Florie kill him, and in doing so, did she kill Jack the Ripper? Did she know something was going on? So many questions.
Seweryn Klosowski (George Chapman)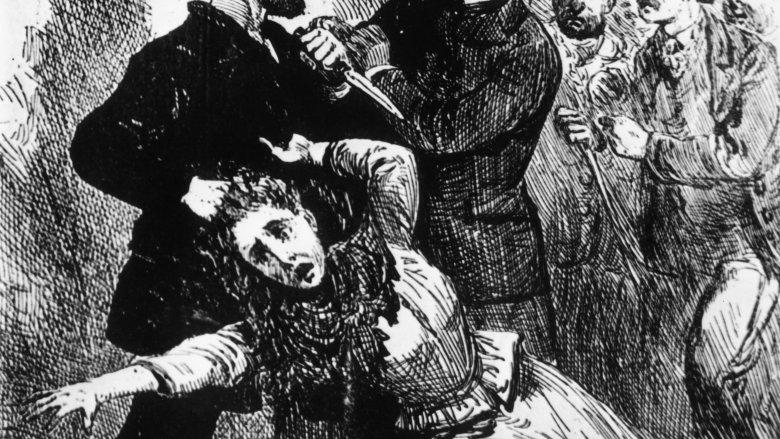 Getty Images
The man known as George Chapman had possibly the closest known ties to Jack the Ripper — he was definitely a serial killer. He was hanged on April 7, 1903, convicted of poisoning three women. That's not exactly the Ripper's weapon of choice, but Scotland Yard detective Frederick Abberline was among those who believed he was the Ripper.
In 1888, Chapman was still going by his birth name, Seweryn Klosowski. He was running a barber shop in Whitechapel at the time, but he appeared to never stay in one place for too long. He was in America in 1891 and back in London in 1893, where he quite weirdly started seeing someone with the same name as one of the Ripper victims, Annie Chapman. He even took her name, even though that relationship only lasted into the next year.
There's no hard evidence to link him to the Ripper, but there are a lot of weird claims that go along with his three confirmed kills. He was well-known to be violent, especially toward women, and his wife even claimed he had tried to strangle her. She found a knife within reach, and when she confronted him, he said he had planned on decapitating her. It's not clear if the Ripper was executed the day he died at the end of a rope, but a serial killer of some sort hanged that day.
Montague John Druitt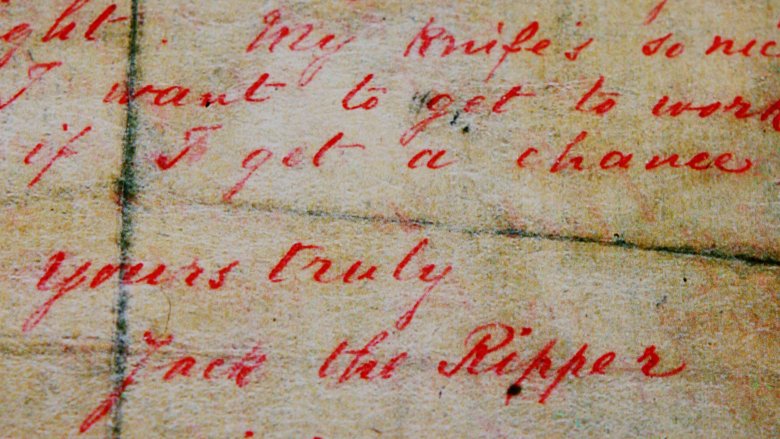 Getty Images
The life story of Montague John Druitt is perhaps the most unlikely to be connected with the Ripper, and it's entirely possible he wouldn't have been remembered had he not drowned himself in the Thames a few weeks after the killing stopped.
Druitt was a barrister, teacher, and cricketer. Cricket Country paints him as a well-adjusted, successful man with everything to live for until he started unraveling in 1888. The Dorset Page gives a little more detail on what was going on in the background of his life. His father died in 1885. In 1888, his mother was committed to Brook Asylum and he lost his job, though we don't know why. Scotland Yard's Assistant Chief Constable Sir Melville Macnaghten wrote that he considered Druitt a suspect and that Druitt's own family suspected him. "The truth, however," Macnaghten wrote, "will never be known, and did indeed, at one time lie at the bottom of the Thames, if my conjections be correct!"
There's a catch, though. Not only were Scotland Yard's files on Druitt wrong — they referred to him as a doctor instead of a barrister — but he was also living in Blackheath at the time of the murders. He was playing in cricket games the day after Polly Nichols was killed and on the same day Annie Chapman was murdered. That seems to be something of an alibi, but some are convinced he was the Ripper.