What Happened To The Police Officer Who Murdered Sarah Everard?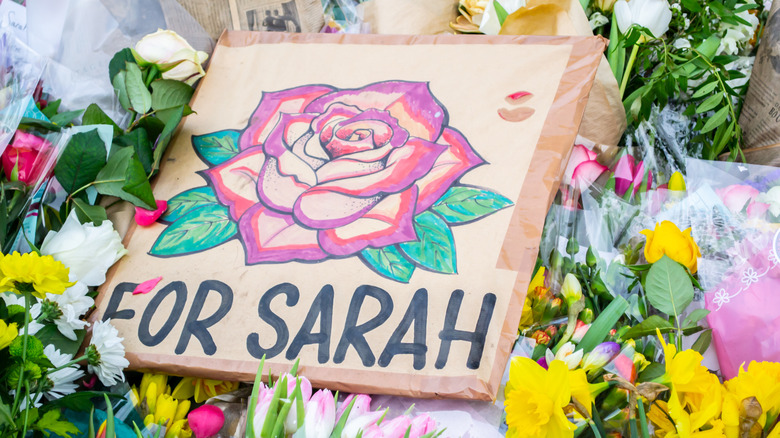 JessicaGirvan/Shutterstock
The devastating phenomenon of police brutality is not limited to instances in the United States, and people are more active than ever in their efforts to find a solution to the problem. In the spring of 2021, British citizen Sarah Everard was abducted by police officer Wayne Couzens. Everard, after several hours spent with her captor, was later found dead by authorities. She had been raped and murdered (via BBC). 
Months later, Lord Justice Adrian Fulford oversaw the conviction process before Couzens, Sarah Everard's family, and a large crowd of bystanders eager to see justice delivered. "You have irretrievably damaged the lives of Sarah Everard's family and friends ... you have eroded the confidence that the public are entitled to have in the police forces ... you have utterly betrayed your family," Fulford declared to the former police officer (per CNN).
Details about the murder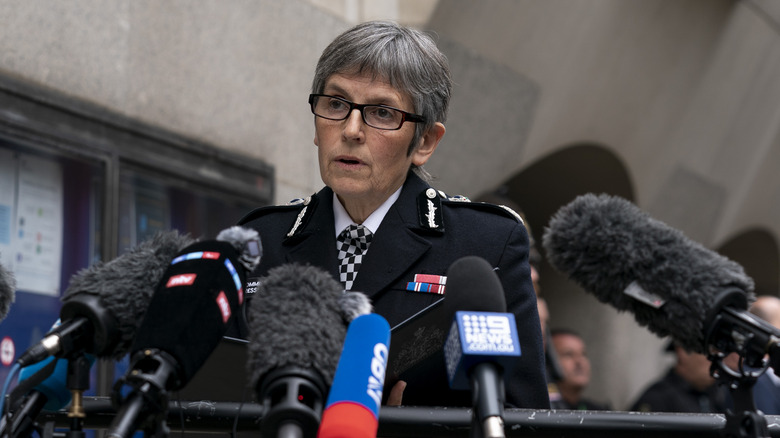 Ming Yeung/Getty Images
The BBC reports that the 33-year-old Everard was walking down a sidewalk between the neighborhoods of Clampton Common and Tulse Hill on March 3, 2021 when Couzens stopped her on behalf of "breaching coronavirus guidelines." A couple passing in a car spotted the 48-year-old officer, who was met with no resistance, handcuffing his victim and placing her in the back seat of his car (which happened to be a rental). He shortly thereafter transferred her to his own vehicle and, after driving her out to Dover in Kent, raped her, strangled her to death with his own belt, and then burned her body in an attempt to dispose of it. She was located days later after being reported missing.
Wayne Couzens was arrested at his own residence after a thorough investigation connected him to the murder. After pleading guilty and being discharged from the police force, legal undertakings commenced. He appeared before the court with "his head bowed and his eyes closed," according to CNN.
Wayne Couzens received a live sentence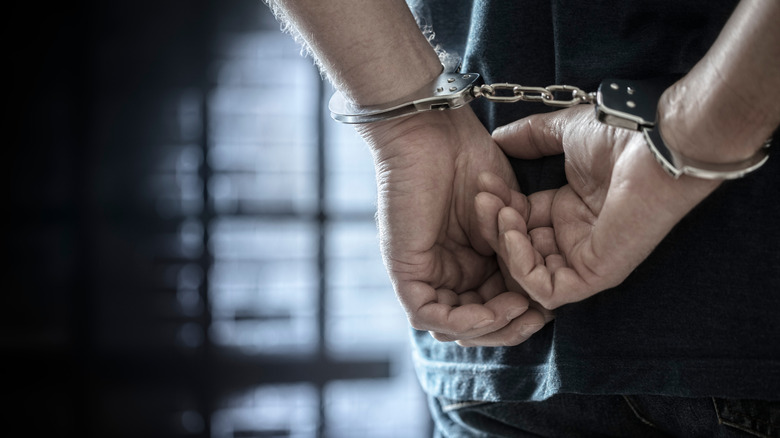 Brian A Jackson/Shutterstock
Wayne Couzens' guilty plea eradicated the need for a trial, though specific conviction terms still needed to be ascertained by a court of law. Jim Sturman, who represented Couzens in court, pled on his behalf in an attempt to reduce his sentence. Sturman argued that the former officer's otherwise immaculate record, willingness to plead guilty, and history with depression were prevalent factors that suggested allowance for a more mild conviction. However, Lord Justice Adrian Fulford and others overseeing the process felt differently (via CNN).
Wayne Couzens was sentenced to life behind bars with no chance of parole, which is an astoundingly rare punishment in Great Britain. Most who receive life imprisonment have some manner of achieving parole later on, but Couzens will be afforded no such luxury. "She lost her life because Wayne Couzens wanted to satisfy his perverted desires ... He treated my daughter as if she was nothing and disposed of her as if she was rubbish. I am haunted by the horror of it." Sarah's mother, Susan Everard, shared with the press following the sentencing.