Why Veronica Lake's Signature Hairstyle Was Discouraged During WWII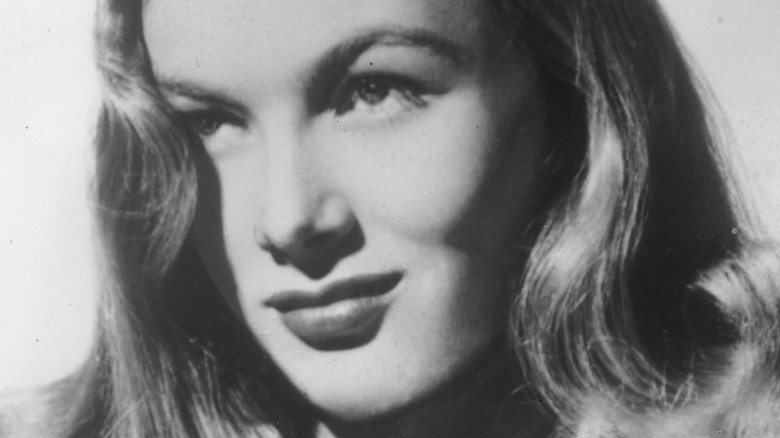 Keystone/Getty Images
We may receive a commission on purchases made from links.
Over the years, fashion and hairstyles depicted in popular media have created trends in real life. As Glamour wrote in 2021, one of the more famous examples of this happened back in the 1990s with a hairstyle sported by Rachel, the character Jennifer Aniston played on the beloved sitcom "Friends." The cut, generally known as a bob, became a sensation. Soon enough, women all across America were going into hair salons, asking for the coif nicknamed "the Rachel." Per Glamour, "the Rachel" was revived by fashion fans around the time of the "Friends" reunion release in 2021 — and the look proved to be as difficult to achieve as it had been decades prior.
A generation or so before Aniston, another actress created an almost identical hair sensation that swept across the nation. In 1941, actor Veronica Lake was an instant smash in her first major feature film role as a nightclub singer in "I Wanted Wings." This was due in no small part to her signature hairstyle, which featured a few strands of hair seductively covering one of her eyes, as Life magazine wrote at the time (via The Vintage News). It became known as the "peek-a-boo" style, and for a few years during World War II, the U.S. government had to ask her — and millions of other women — to knock it off.
Veronica Lake birthed a hairstyle trend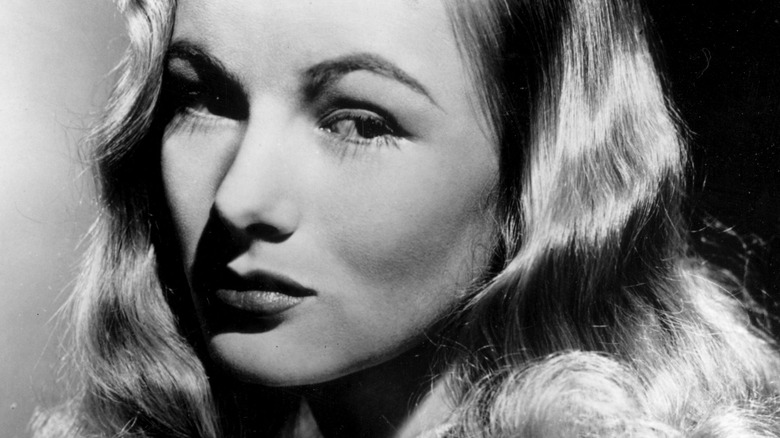 Keystone Features/Getty Images
In August 1941, Constance Keane — the name Veronica Lake went by before her rise to fame – was trying to make a go of it as an actress. She managed to get an audition for the upcoming film "I Wanted Wings," for the part of Sally, a nightclub singer during wartime. Constance bungled her audition –- or at least, that's what she believed –- at one point losing her balance and having a few stray locks of hair fall over her left eye, as she told The New York Times in 1969. "I was playing a sympathetic drunk, I had my arm on a table ... it slipped ... and my hair –- it was always baby fine and had this natural break –- fell over my face," Lake recalled. She spent the rest of the audition trying to shake her back into place and left the room sobbing.
Fortunately for Constance, the producer loved it, and her hair in particular. She got the part, changed her name on her agent's suggestion to "Veronica Lake," and both the film and her hair were a box office hit. Soon women all across America were sporting the "peek-a-boo" look, also known as the "Lake look." According to the 1971 biography "Veronica" by Donald Bain, the craze even spurred a company to advertise that Lake used one of their brushes for 15 minutes every day (via Lisa's History Room).
The timing for the peek-a-boo look couldn't have been worse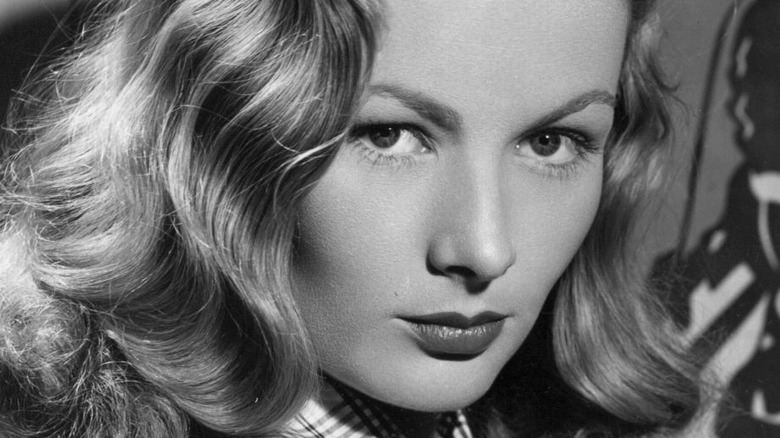 Hulton Archive/Getty Images
At the same time Veronica Lake nabbed her first big part in a major movie, something else was happening in 1941: the United States' entry into World War II. With American men being shipped overseas in the thousands, American women were called on to support the war effort, in part by going to work in the factories, according to the Associated Press (via TODAY). With that, Lake's hairstyle became somewhat problematic. Such long hair, a la the "peek-a-boo" look, could catch in factory machinery, and even prove fatal. The government asked Lake to, at least temporarily, retire her hairstyle, which she willingly did.
Decades before TikTok makeup tutorials, Veronica participated in what many would now consider a beta version, or a PSA, of a World War II hair trend. In the reel, Lake instructed fans on how to do up their hair in a safe but becoming style known as the "Victory Roll" (via YouTube).