The Disturbing Relationship Between DC Sniper John Allen Muhammad And Lee Boyd Malvo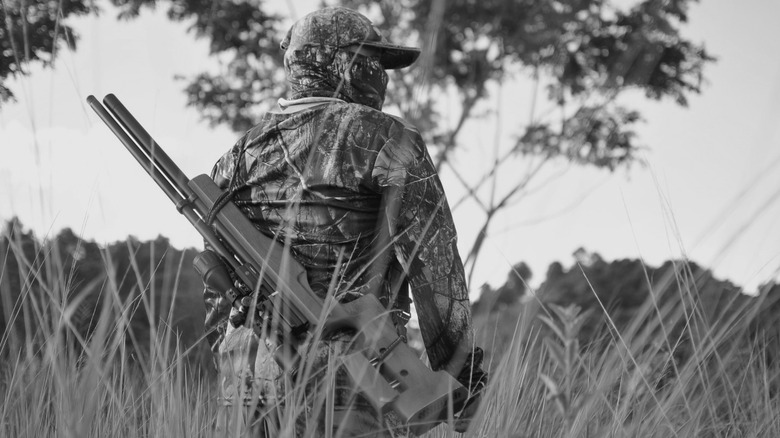 vica rollies/Shutterstock
Between February 16, 2002, and October 22, 2002, 17 people were killed, and 10 others were injured in what appeared to be random shooting attacks in multiple regions — including Arizona, California, Florida, Louisiana, Maryland, Texas, Virginia, Washington, and Washington, D.C.
As reported by Northern Virginia magazine, at least one of the earlier victims was robbed of his laptop and $3,500 in cash. However, a majority of the victims — who were shot in parking lots outside restaurants, retail stores, and gas stations — were not robbed and were shot from a distance. ABC News reports the shootings were eventually limited to Maryland and Washington, D.C., but authorities could not find anything connecting the victims, who were not of a specific age, gender, or race. They were also baffled that the shootings happened at different times, and the locations seemed to be totally random.
Amid their investigation into the shootings, authorities eventually determined that the victims were being shot with a sniper rifle. Although the perpetrator taunted law enforcement officials with tarot cards and letters left at the scenes, authorities did not get a break in the case until they found fingerprints on a magazine left at the scene of one of the shootings. According to the FBI, the fingerprints were a match for Lee Boyd Malvo, who had a prior arrest in Washington State. Malvo's arrest report also named another man, John Allen Muhammad, who was one of Malvo's known associates. Both men were subsequently named as suspects in the sniper shootings.
The Beltway Snipers were arrested in October 2002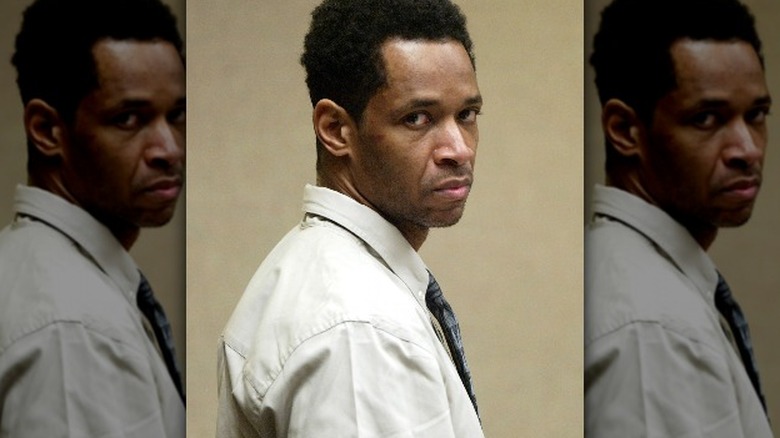 Pool/Getty Images
Seventeen-year-old Lee Boyd Malvo and 41-year-old John Allen Muhammad, who were dubbed the Beltway Snipers, were arrested in the early morning hours of October 24, 2002. As reported by i News, both of the suspects were found sleeping in Malvo's parked vehicle.
According to the FBI, the vehicle was akin to a "rolling sniper's nest." In addition to the Bushmaster .223-caliber rifle, which was used in several of the shootings, authorities found a scope and a tripod for the weapon. The vehicle had also been modified to allow someone to enter the vehicle's trunk from the passenger compartment. Authorities also found specific evidence linking Malvo and Muhammad to the shootings, including impressions of one of the letters left for law enforcement officials and a laptop stolen from one of the victims. The FBI also found maps with planned getaway routes on the laptop, and they corresponded to several of the shootings.
As the crimes were committed in multiple states, Biography reports that there were several associated trials. However, Muhammad was ultimately convicted of multiple counts of murder and sentenced to death. He died by lethal injection on November 10, 2009. As reported by WUSA9, Malvo was also convicted of murder and was ultimately sentenced to life in prison without the possibility of parole.
The brutal and unusual nature of the shootings drew international attention. However, the dynamic of the relationship between 41-year-old Muhammad and 17-year-old Malvo was also a point of interest and eventual controversy.
John Allen Muhammad met Lee Boyd Malvo in Antigua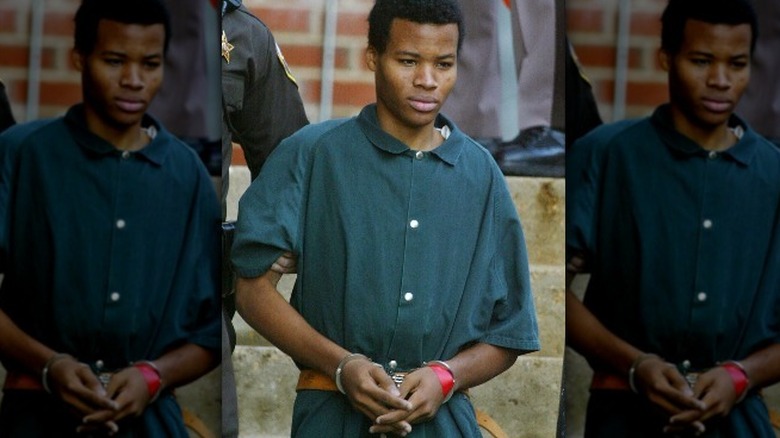 Mark Wilson/Getty Images
A native of New Orleans, Louisiana, John Allen Muhammad was married twice and was the father of four children. As reported by Biography, he was also a former member of the Louisiana Army National Guard and later joined the U.S. Army, where he became known as a skilled marksman.
Following his second divorce, Muhammad fled the United States and moved to Antigua with the three children he had with his second wife. According to Biography, it is believed that Muhammad first met Lee Boyd Malvo while he was living in Antigua. Muhammad eventually moved back to the United States and settled in Bellingham, Washington. When authorities became aware that he moved back to America, they removed the children from the home and returned them to their mother.
Biography reports that Muhammad was despondent about the loss of his children and began focusing heavily on his relationship with Malvo. Muhammad arranged for Malvo and his mother to travel to the United States, where they initially lived together in a homeless shelter. The relationship between Muhammad and Malvo was described as having a father-son dynamic. However, it was not entirely healthy. Muhammad was unusually controlling and forced Malvo to eat a special diet and follow an exercise regime. In December 2001, Malvo and his mother were detained by immigration officers as they had overstayed their visas.
Lee Boyd Malvo said he was brainwashed by John Allen Muhammad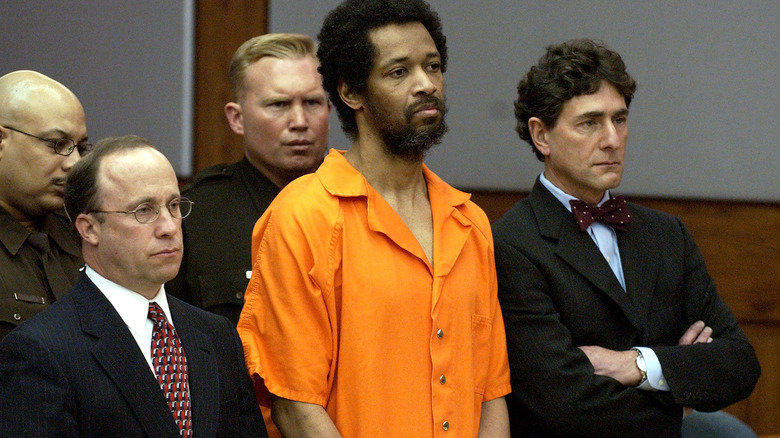 Pool/Getty Images
Biography reports that Lee Boyd Malvo and his mother were eventually released from detention pending their immigration hearing. Malvo immediately reunited with John Allen Muhammad. In addition to the diet and exercise program, Muhammad began teaching Malvo how to shoot a gun. By 2002, the pair committed their first crime together — the armed robbery of a liquor store in Alabama. They later moved on to the Washington, D.C. area, which authorities believe was prompted by Muhammad's second wife moving to Maryland with their three sons.
According to Biography, Malvo and Muhammad worked together to choose and shoot random victims. Muhammad also reportedly stalked his former wife and children. However, they were not targeted in any of the shootings. Following their arrest, Muhammad admitted he was an accomplice. However, he claimed Malvo shot all of the victims. Malvo denied being the sole shooter and testified that Muhammad shot at least six of the victims.
Although it is unclear who pulled the trigger in each of the shootings, Muhammad appeared to be the mastermind behind the attacks and seemed to have an unusual amount of control over Malvo. The unconventional relationship led to speculation that Muhammad may have been abusing the teen. In a 2012 interview with The Washington Post, Malvo accepted the blame for his own actions, but he also contended he was brainwashed by the older man. 
Lee Boyd Malvo eventually admitted he was sexually abused by John Allen Muhammad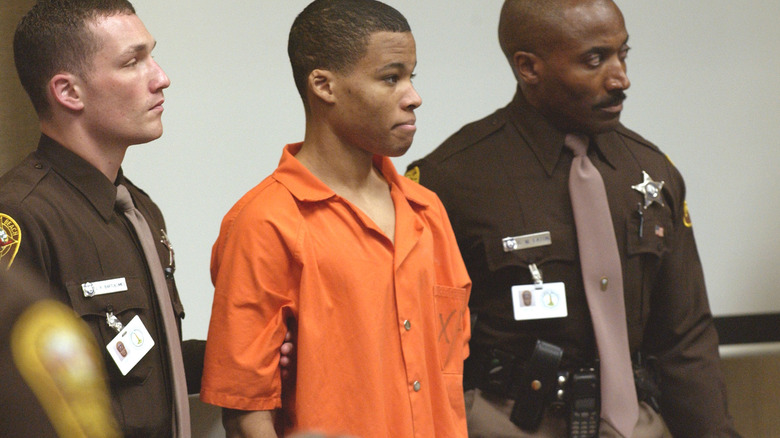 Pool/Getty Images
During the September 2012 interview with The Washington Post, Lee Boyd Malvo said, "I was a monster ... I was a thief. I stole people's lives. I did someone else's bidding just because they said so ... There is no rhyme or reason or sense." However, he also said John Allen Muhammad chose him as his accomplice because he could "mold" him to do what he wanted. Malvo said he was manipulated by Muhammad and spent years recovering from the older man's influence.
In the years following his arrest, Malvo was asked on several occasions whether he was sexually abused by Muhammad. However, he vehemently denied the possibility, calling the suggestion "outlandish." As reported by The Washington Post, Malvo has been candid about his childhood, the crimes he committed, and his remorse for having participated in the D.C. sniper attacks, but he seemed to be holding something back.
During an October 2012 interview with Today, Malvo finally admitted he was sexually abused by Muhammad from the time he was "almost 15" until they were both arrested. Malvo said he did not previously discuss the abuse because he had a "sense of shame" about it. Malvo said spending time in solitary confinement gave him a lot of time to think about the past and to come to terms with the abuse. He said he finally feels ready to let go of the guilt that he "carried around for several years."
If you or anyone you know has been a victim of sexual assault, help is available. Visit the Rape, Abuse & Incest National Network website or contact RAINN's National Helpline at 1-800-656-HOPE (4673).
Lee Boyd Malvo was also abused when he was a young child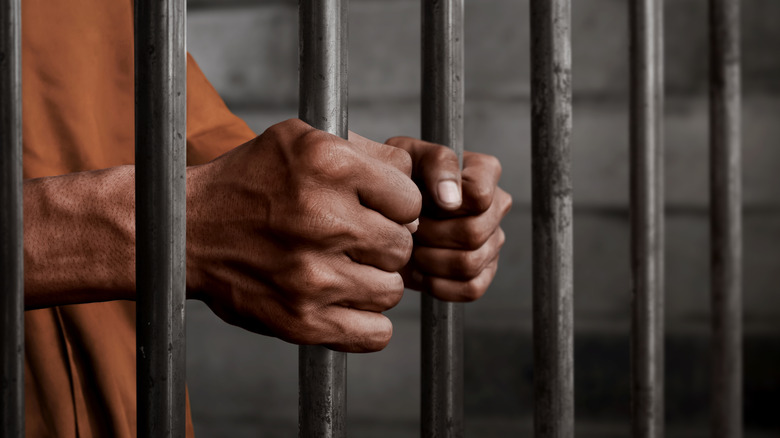 FOTOKITA/Shutterstock
Although he was hesitant to disclose his abuse at the hands of John Allen Muhammad, Today reports Lee Boyd Malvo admitted he was also sexually abused by a babysitter and more than one relative. Malvo said the abuse began when he was only 5 years old and continued until he was 10.
In recent years, Malvo was interviewed extensively for a documentary titled "I, Sniper." During one of the interviews, the Daily Mail reports Malvo said he had consensual sex with Muhammad immediately following many of the shootings and even suggested he enjoyed the sexual encounters — which he referred to as "exceptionally exciting." As he earlier stated that he was 14 years old when he had his first sexual encounter with Muhammad, Malvo would have been under the age of consent in all of the states he and Muhammad were in during their crime spree, according to BHW Law Firm. Therefore, the encounters were not legally consensual.