The Man Behind Elvis Presley's Iconic Outfits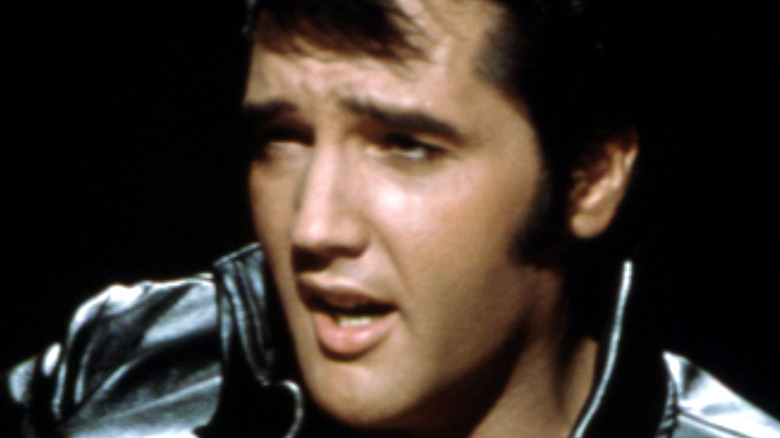 Michael Ochs Archives/Getty Images
Elvis Presley is famous for his velvety voice, his hip-shaking dance moves, his charisma, and his outrageous lifestyle. He's equally famous for his iconic, instantly recognizable outfits, particularly from the late 1960s until his death in 1977. The black leather suit worn for his 1968 comeback special. The velveteen suit he wore when he was invited to the White House by then-president Richard Nixon. The spangled jumpsuits he wore onstage, including the Peacock and the Aloha Eagle. All of these outfits and more were designed by one man.
Bill Belew was a graduate of New York's Parsons School of Design, per the B & K Enterprises Costume Co. website. He designed costumes for a slew of performers, including Lena Horne, Josephine Baker, and Ella Fitzgerald, as well as a variety of stage productions, including "Sweet Charity," "Funny Girl," and The New York City Ballet's production of "Giselle." Add to that list several television specials and programs, including the Emmys, the Grammys, and the American Music Awards.
As reported by Salon in 1999, Belew came to work with Presley when producers of The King's 1968 comeback special, which ran on NBC, invited Belew to submit some designs. Belew had worked with the same producers on another television special featuring singer Petula Clark. He told Salon that his first idea came to him immediately: "It always seemed like people assumed he wore black leather, but he never did ... At that time, though, we were into denim, and I said, 'What if I just duplicate a denim outfit in black leather?' Elvis loved it."
Elvis wore jumpsuits in order to move easily on stage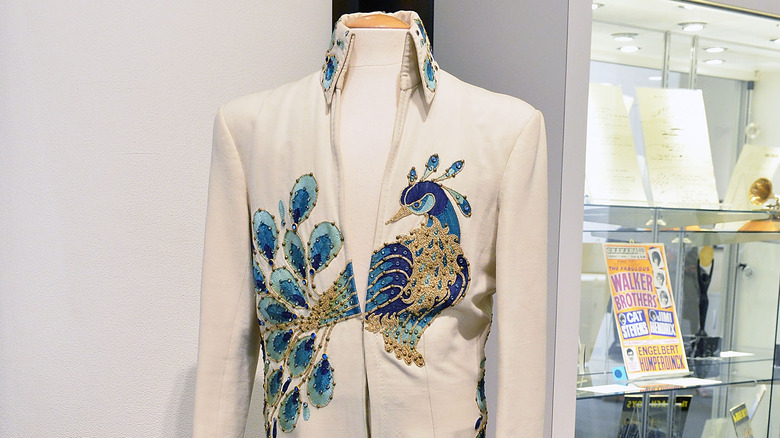 Slaven Vlasic/Getty Images
Bill Belew's vision appealed to both Elvis Presley and his fans. It kicked off a nearly decade-long partnership in which Belew's designs helped Presley create a new, flashier, more theatrical presence both on and off stage. Belew told Salon, "I wanted the clothes to be easy and seductive and that was it. And I never wanted anything to compromise his masculinity." In 2008, costume designer and historian Butch Polston, who owns the  B & K Enterprises Costume Co. and considered Belew a mentor, spoke with the Los Angeles Times. He described the design details Belew incorporated into Presley's jumpsuits. The jumpsuits were made in response to Elvis' request for stage clothes that were easy to move around in, like the gi he wore when practicing martial arts. 
Belew used high, Napoleonic collars to frame Presley's face, Edwardian pointed sleeves, and wide bell bottoms with kick pleats. Famous costumes included the Aloha Eagle Suit and the Burning Love Suit, which was red with a pinwheel pattern. The Flame Suit had two iterations, the first of which featured jeweled flames on the front, back, and down the legs, and the Dragon Suit, which featured a dazzling rhinestone dragon motif. Presley's favorite, said Polston, was the Peacock Suit (shown above), which featured embroidered peacocks with the tail feathers running down each leg. It sold in 2008 for $300,000 (via USA Today.)
How the Aloha Eagle came to be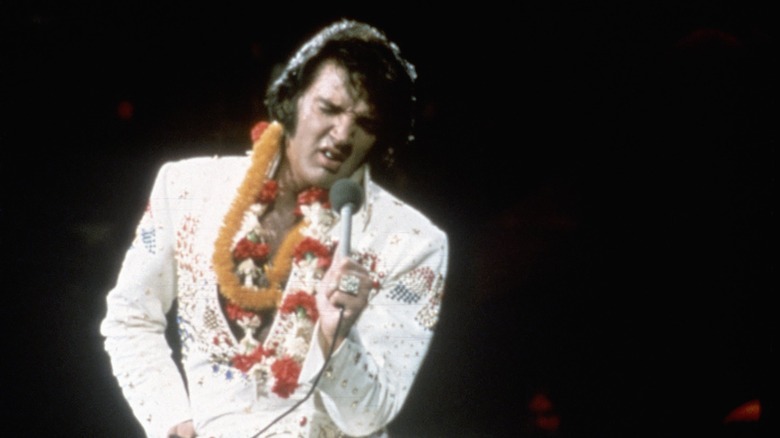 Michael Ochs Archives/Getty Images
In an interview with Elvis Australia, Bill Belew said he thought that Presley's favorite outfit that he'd designed was the Aloha Eagle suit, which he famously wore for his 1973 "Aloha From Hawaii" special. This costume included a cape, which Belew said was inspired when Elvis told him, "Bill, I just want the suit to say America." Belew noted that he'd recently been in Europe, when there had been controversy regarding an American eagle being displayed across an American embassy. The idea for an eagle motif replaced his original idea for an American flag-themed suit, and Elvis was on board.
The original cape, featuring an eagle with outstretched wings, was floor length, but a modification was necessary when the full length cape turned out to be too heavy for Presley to move in, actually causing him to fall over when he attempted to rehearse in it. Belew replaced it with a short cape and later laughed, reminiscing, "[A]ll these years I always carried this image in my head of Elvis making the step forward and then bam. Laying there amongst all this cape. And I can see him howling with laughter, too."
Bill Belew designed the many outfits, but much of the embroidery was designed and stitched by his coworker, Gene Doucette. Doucette told The Guardian in 2010 that he sketched the original eagle idea for the Aloha Eagle suit and explained his costuming philosophy: "I didn't just want glitter. I wanted a story."