Inside Dolly Parton's Relationship With Naomi Judd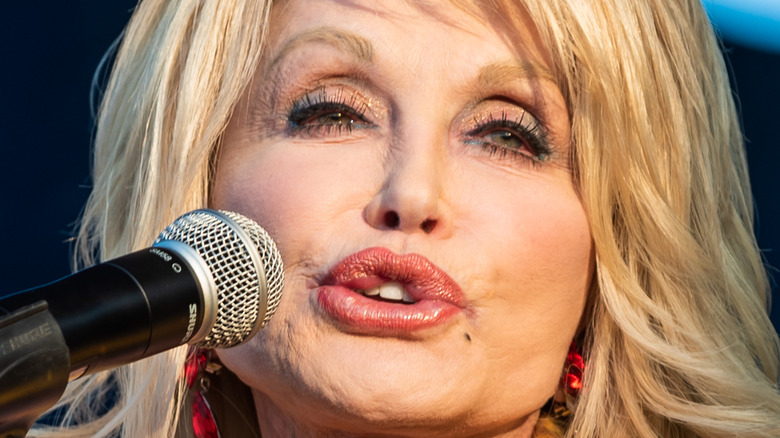 Carl Beust/Shutterstock
The world was shocked and saddened to learn of the sudden death of country music matriarch Naomi Judd at the age of 76 (via AP). Judd made her name performing alongside her daughter Wynonna in the chart-topping duo, The Judds. As news spread of Judd's death, words of remembrance came from other musicians who knew her. "Country music lost a true legend," country superstar Carrie Underwood wrote on Twitter. "This is heartbreaking news! Naomi Judd was one of the sweetest people I've ever known," country singer Travis Tritt also tweeted. Another statement came from country music legend Dolly Parton, a peer with whom Judd had a long friendship.
In addition to a string of No. 1 hits and a three-decade career in music, Naomi Judd was mother to actress Ashley Judd. The Judds had only just been recently inducted into the Country Music Hall of Fame; Naomi died the night before the ceremony. The group was also about to embark on their first tour in a decade. The sad news of Naomi Judd's death came through an announcement from the family (via AP): "We lost our beautiful mother to the disease of mental illness," the statement read. It was later revealed that Judd's cause of death was likely suicide, as Fox News reports. Among all the statements honoring, perhaps none were more moving than Dolly Parton's. In 2021, Judd opened up about her relationship to the singer (via Outsider).
If you or anyone you know is having suicidal thoughts, please call the National Suicide Prevention Lifeline​ at​ 1-800-273-TALK (8255)​.
Parton and Judd were close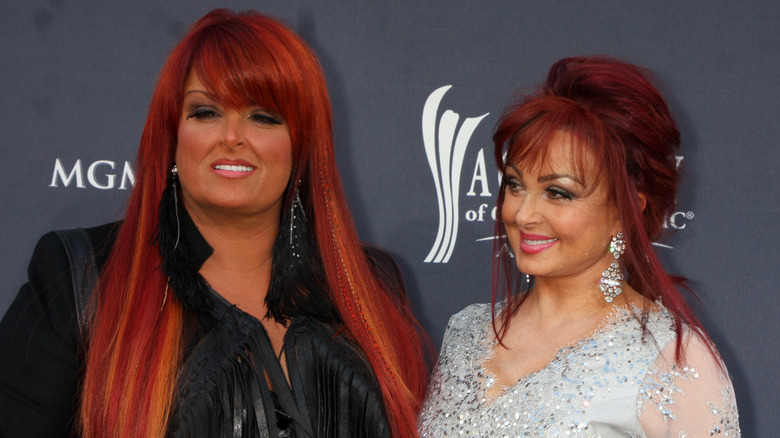 Kathy Hutchins/Shutterstock
In an interview with Andy Cohen on "Watch What Happens Live" in 2021 (available to watch now on YouTube), Naomi Judd spoke candidly with the host about how close she was with Dolly Parton. Like Judd, Parton scored some of her biggest hits in the '80s (via AllMusic). The two friends were also the same age. In her interview with Andy Cohen, Judd revealed just how intimate the two friends really were: Judd had even seen Parton naked. To prove it, Judd gave details about some previously unknown tattoos Parton has on her body, calling Parton her girlfriend (via Outsider).
In that same interview, Judd offered up a Dollyism from around that same time. According to Judd, Parton said (via Outsider) "[W]ell, if you're like me, the older you get less makeup but, the more underwear you wear." In Parton's statement shared on Twitter after she learned of Judd's death, the "Jolene" and "9 to 5" singer explained just how many similarities she shared with Judd. In addition to being successful musicians, actresses, and authors, Parton and Judd were both Capricorns, and they both loved big hair and makeup, according to Parton.
Parton never performed with Naomi solo or with The Judds, but she did make an appearance in 1995 in "Naomi & Wynonna: Love Can Build a Bridge," a biographical film about the mother-daughter singing group (per IMDb). Also early on in their career, The Judds performed Parton's song "Coat of Many Colors" on the Ralph Emery Show (via Rolling Stone).
Parton will always love Naomi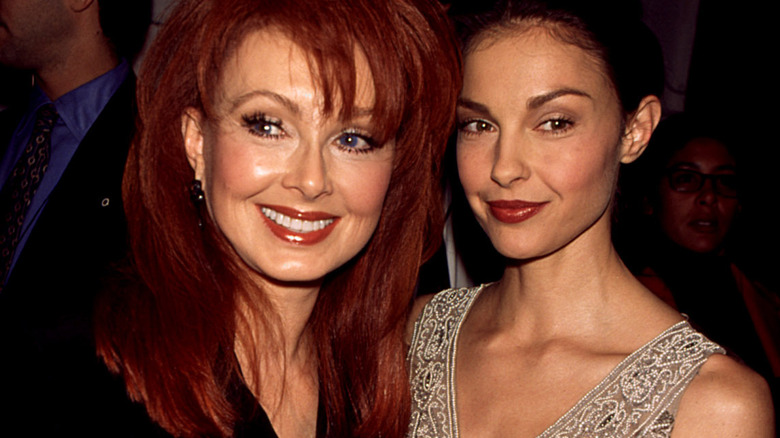 Everett Collection/Shutterstock
Parton concluded her touching tribute on Twitter to Naomi Judd with the statement, "Just know that I will always love you." This was likely directed at her old friend Naomi Judd, but also to Judd's daughters Wynonna and Ashley, all three of whom Parton referred to as sisters. Parton also apologized for missing The Judds Country Music Hall of Fame induction ceremony, at which Wynonna and Ashley Judd made an emotional appearance. Wynonna Judd said at the ceremony (via USA Today), "I didn't prepare anything tonight 'cause I knew that mom would probably talk the most."
Also at the induction ceremony, Wynonna said, "I feel so blessed and it's a very strange dynamic to be this broken and this blessed ... but though my heart is broken, I will continue to sing." Following that, Ashley added, "I'm sorry that she couldn't hang on until today." Naomi Judd first wrote of her mental health issues in her 2016 book "River of Time: My Descent Into Depression and How I Emerged with Hope." In 2014, Parton said depression also runs in her family, as The Mirror reports. And in 2019 on the podcast "Dolly Parton's America," Parton confessed to contemplating suicide at one point in her life (via Prevention). The Judd family also said in their statement announcing the death of their mother, "We are shattered. We are navigating profound grief and know that as we loved her, she was loved by her public. We are in unknown territory." An investigation into the death of Naomi Judd is ongoing (via Fox News).