How Public Enemy Got Their Name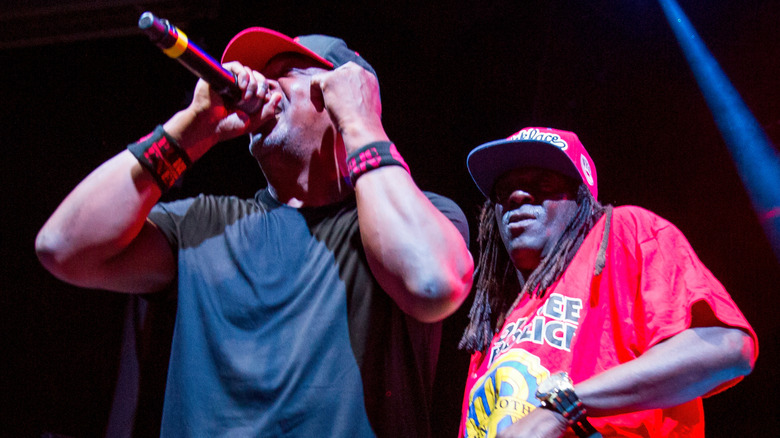 Scott Legato/Getty Images
Today, hip-hop is one of the most popular music genres in the world, and the most popular in the United States (via Billboard). And, it's not hard to see why. From the early days of boomboxes and breakdancing to the streaming era explosion, hip-hop has employed many fans and followers. Worldwide, many countries like the Netherlands and South Korea have their own variations of hip-hip, which enjoy their own success to this day, as stated by AllMusic. 
But, we would be remiss if we discussed hip-hop without bringing up one of its most iconic groups: Public Enemy. Featuring members Terminator X, Professor Griff, Chuck D, and Flavor Flav, Public Enemy was one of the most influential hip-hop groups of the 80s and 90s. They also have a grand total of 15 original studio albums under their belt to boast with some titles seemingly carrying a political message, according to Britannica. So, we're going to go over their history, along with how they got their name. 
Public Enemy made politically conscious music about racism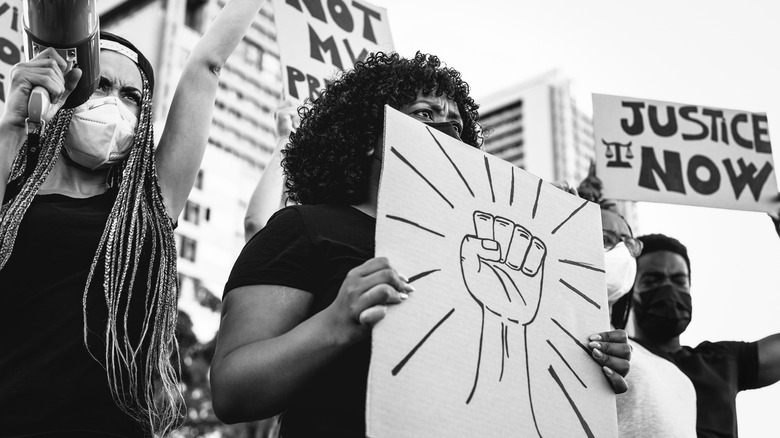 AlessandroBiascioli/Shutterstock
Public Enemy first came together at Adelphia University in 1982, as told by Britannica. Rick Rubin, then Def Jam record label producer, was apparently impressed with Chuck D's college radio performances, inviting the rapper to record at the label. Public Enemy's thesis statement was clear and loud: Black oppression is happening in America. Much of their work and soundscapes revolve around black politics and activism, resulting in a multitude of iconic albums, such as "Fear of a Black Planet," "Nation of Millions," and "Yo! Bum Rush the Show." 
As for Public Enemy's name itself, there are a few historical tidbits behind it. According to an interview in Rolling Stone, Chuck D explains that the name came from the 1787 three-fifths compromise, which stated that black people could only be considered as three-fifths of a person. "If this is a public document, obviously we must be the enemy, so that's where the name Public Enemy came from," Chuck said. 
Public Enemy's legacy still leads on today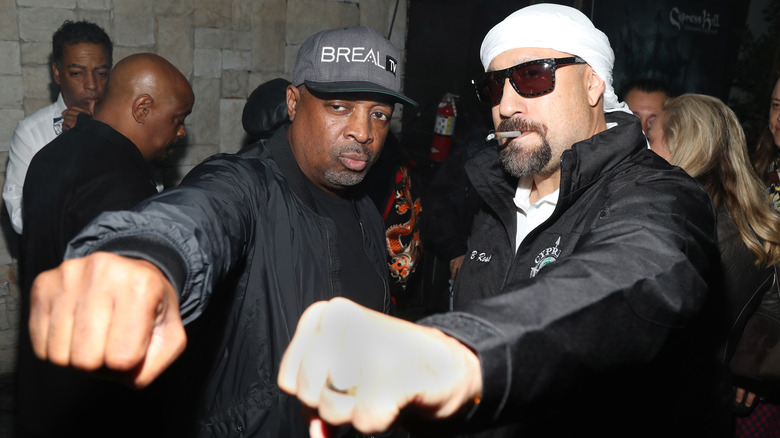 Jerritt Clark/Getty Images
As with many iconic hip-hop aspects, Public Enemy's famous logo also has a history behind it. In a Rolling Stone interview, Chuck D said that the group's iconic crosshairs logo was meant to symbolize how hunted black people are in America. "A lot of people thought it was a state trooper because of the hat, but the hat is one of the ones that Run-DMC wore. The B-Boy stance and the silhouette was more like the black man on the target," Chuck states.
Public Enemy's history is one fraught with fame and infamy, as, at one point, they were called "the world's most dangerous band" by the British tabloid music press, as said by Jeff Chang in his book "Can't Stop Won't Stop: A History of the Hip-Hop Generation". Their political activism remains relevant today, especially in the Black Lives Matter era, and might continue to do so for a good while (via Smithsonian Magazine).