The Myth About Theodore Roosevelt You Need To Stop Believing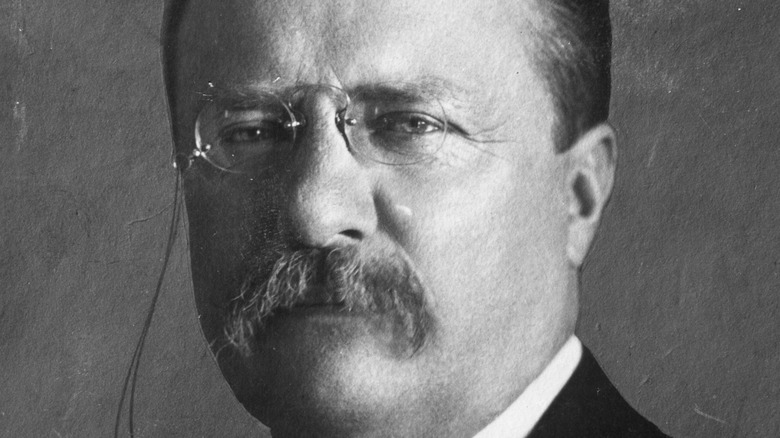 Hulton Archive/Getty Images
Theodore Roosevelt was the 26th president of the United States. He continues to be one of the more storied politicians in American history. Born in New York City in 1858 to wealthy parents, young Roosevelt spent a lot of time cooped up in his family's brownstone, suffering from asthma and various illnesses, per Biography. He grew up to embrace athletics with the encouragement of his father, Theodore Roosevelt, Sr., and went to Harvard College and Columbia Law School. During his second year of college he lost his father, and channeled his grief into working and studying hard. He graduated magna cum laude from Harvard, but left law school to enter politics, becoming the youngest person ever elected to the New York State Assembly. After the deaths of his mother and his first wife, which happened on the same day in 1884, he left New York and set out for the Dakota Territories to work on the ranch he owned there. He returned to politics two years later, running unsuccessfully for mayor of New York, then serving as a civil service commissioner, a New York City police commissioner, and Assistant United States Navy Secretary.
Roosevelt's political career didn't keep him from taking action when he felt compelled to do so. During the Spanish-American War in 1898, he left his government post to start a volunteer cavalry. As reported by the Hispanic Division of the Library of Congress, the First U.S. Voluntary Cavalry (per History), also known as the "Rough Riders," which became well known for their role in the Battle of San Juan Heights in Cuba, thanks in part to Roosevelt's written history of the battle.
The youngest United States president ever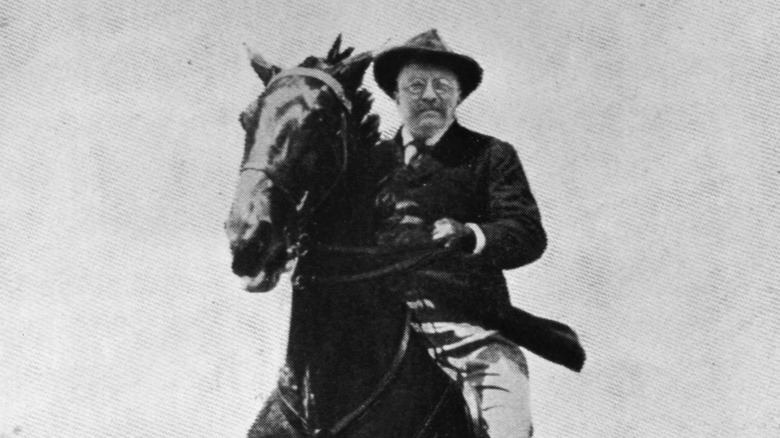 Hulton Archive/Getty Images
After making headlines and winning the admiration of many Americans, Theodore Roosevelt was nominated for the Medal of Honor and was elected governor of New York in 1898. Per the Miller Center at the University of Virginia, he was unpopular among fellow Republicans due to his progressive policies, including his support for a bill focused on taxing public services' value and assets. A plan to cramp his influence and keep him in the background within the party by nominating him for the role of United States vice president backfired when he was a very popular addition to the ticket he ran on and eventually won, led by William McKinley. When McKinley was assassinated in 1901, Roosevelt stepped into the presidency. At age 42, he was the youngest person to ever hold the office at that point.
As president, Roosevelt continued championing progressive issues, including welfare legislation, regulation on the part of the government, regulating business, and conservation. He believed that the government had a responsibility to the people and owed it to them to introduce reforms. He was reelected in 1904 by a landslide; the United States had never seen such a popular president. After his second term, Roosevelt traveled for a year throughout Europe and Africa, including famously going on many African safaris on which he acquired over 3,000 animal trophies. He later considered running against William Howard Taft in the 1912 election but he and his supporters ultimately left the Republican party to form the Progressive Party.
Did the Bull Moose candidate really ride a moose?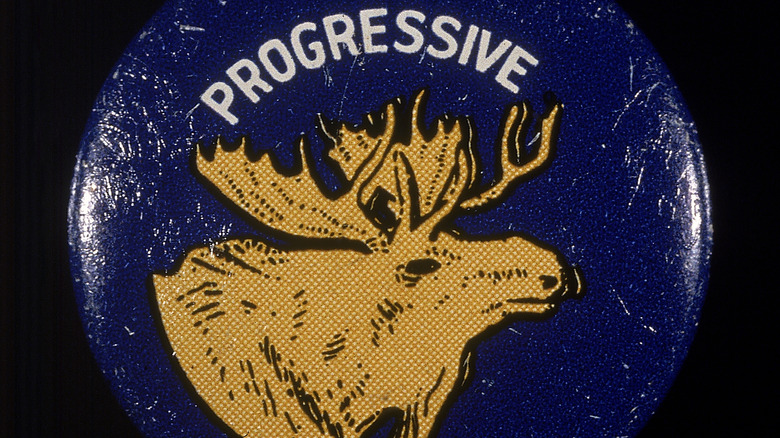 Blank Archives/Getty Images
As reported by the Miller Center, when Theodore Roosevelt was nominated as the presidential candidate at the 1912 Progressive Party convention in Chicago, Illinois, he gave a powerful and galvanizing speech in which he not only proclaimed "we stand at Armageddon, and we battle for the Lord" but also announced that he felt "as strong as a bull moose." The party became nicknamed the Bull Moose Party and adopted the moose as their symbol. Although he ultimately lost the national presidential election to the Democratic nominee, Woodrow Wilson, Roosevelt won six states and many tenets of his New Nationalism platform were enacted during the Wilson administration.
Despite proclaiming himself to be as strong as a bull moose, there is an ongoing rumor involving Roosevelt and a moose that has been debunked. Per the Harvard University Houghton Library Blog, in the run up to the 1912 election, the New York Tribune published three photos that featured three nominees riding on the animals associated with their respective parties –  Republican Taft on an elephant, Democrat Wilson on a donkey, and Progressive Roosevelt on a moose. The collage was put together by photography firm Underwood and Underwood and ran under the headline "The Race For The White House." Someone created the photo of Roosevelt by using a picture of the former president riding a horse, cutting out the rider, and placing it on a moose. Roosevelt was many impressive things, but unfortunately, a mooseback rider wasn't one of them.