Inside The Friendship Between Marilyn Monroe And Jane Russell
Keystone Features/Getty Images
Marilyn Monroe and Jane Russell were both iconic actors who had similar levels of fame when they co-starred in the 1953 film "Gentlemen Prefer Blondes." At the time, Russell had been an established movie star for a decade who rose to prominence in Hollywood when director Howard Hughes cast her in the 1943 Western "The Outlaw," per Biography. The movie's advertising campaign focused on Russell and what became her famously curvaceous figure. Hughes even designed a special seamless bra for Russell to wear while filming in order to better showcase her bust line.
The board of the Motion Picture Production Code refused to approve "The Outlaw," which only increased the public's interest in the film, which Hughes eventually briefly released independently before pulling it, reediting it, and re-releasing it in 1946. Jane Russell, who was just 19 when she was cast in "The Outlaw," became a star and made several more Westerns, including "The Paleface," "Son of Paleface," and "Montana Belle," as well as "His Kind of Woman" and "Macao" with Robert Mitchum and "Double Dynamite" with Frank Sinatra and Groucho Marx.
Monroe and Russell teamed up in 1953 and became friends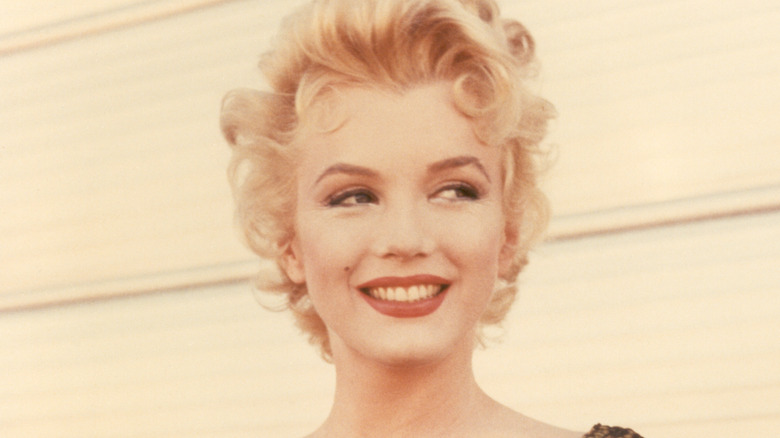 Michael Ochs Archives/Getty Images
Marilyn Monroe's fame has since overtaken that of Jane Russell, but in 1946, Monroe was a model who had just signed her first contract with Twentieth Century Fox (via Britannica).  After appearing in a few minor roles in various movies, she went back to modeling. Like Russell, Monroe became well known for her curvaceous body, which led to a film role in the 1948 movie "Scudda-Hoo! Scudda-Hay!" 
By 1950, she was getting fan mail after an uncredited appearance in "The Asphalt Jungle" and a small yet pivotal role in 1950's "All About Eve." She received a contract from Fox and even more attention from an increasingly adoring public. She went on to make a series of movies, including "Let's Make It Legal," "Love Nest," "Clash By Night," and "Niagara," in which she was spotlit as a "love goddess," paving the way for Monroe's status as perhaps the most famous Hollywood actresses of all time, as well as that of one of the most iconic sex symbols in the history of American popular culture. As reported by Life magazine, "Gentlemen Prefer Blondes" has become most well known for the origin of Marilyn Monroe's pink-clad performance of "Diamonds Are A Girl's Best Friend," which remains a well-known scene thanks in part to Madonna parodying it in the 1984 video for her song "Material Girl."
Jane Russell reminisced about Marilyn in her autobiography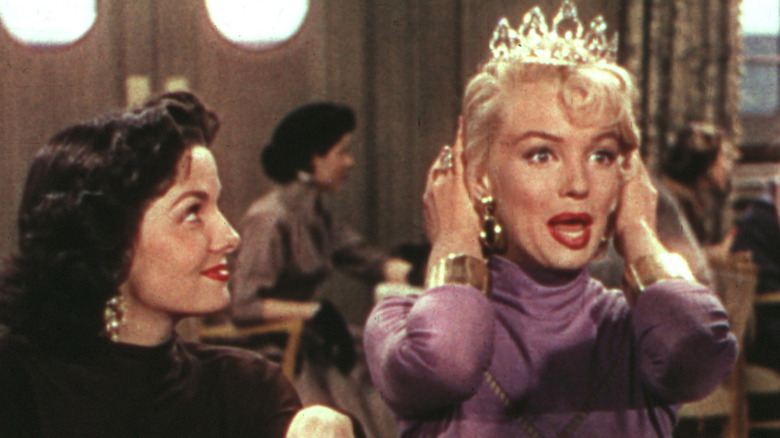 United Archives/Getty Images
Per Life, Marilyn Monroe and Jane Russell were billed as co-stars in "Gentlemen Prefer Blondes," appearing as traveling showgirls and best friends Lorelei Lee and Dorothy Shaw. They performed several songs together, including "Two Little Girls From Little Rock," which they sang in matching red sequinned dresses. In 1985, via Vanity Fair, Russell published her autobiography "My Path & My Detours," in which she discussed many of her past co-workers, including Monroe. The two women became friends on the set of "Gentlemen Prefer Blondes." Russell reminisced that Monroe was "very shy and very sweet and far more intelligent than people gave her credit for." 
Russell also remembered having to act as an older sibling at times, coaxing Monroe out of her dressing room when she started missing time on the set due to the nervousness she felt after her acting coach was banned from the set. According to Biography, Russell once encouraged Monroe to come to a Bible study group and Monroe later quipped, "Jane tried to convert me, and I tried to introduce her to Freud."
Years later, Russell wrote about memories of Monroe that came to her after spending the day with friends in 1962, writing, "I thought of Marilyn Monroe. I wished I had her phone number, because I knew she belonged there, where we were all laughing about our problems." The next day, she learned that Monroe had died. Russell lived to be 89 years old, dying of a respiratory disease in 2011.