Why The Indy 500 Winner Always Drinks Milk After The Race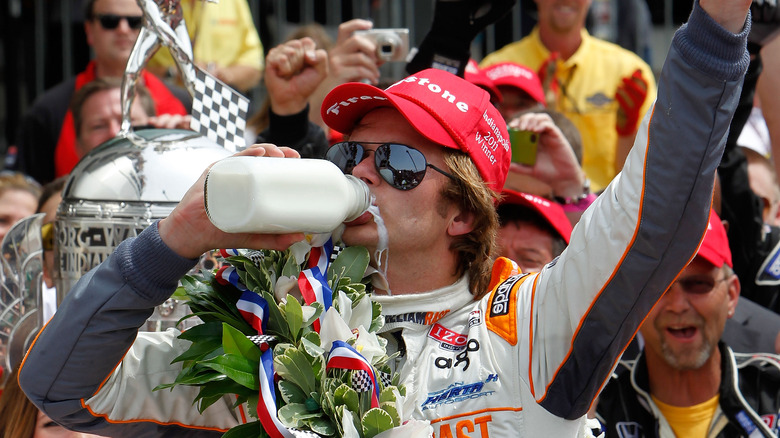 Jonathan Ferrey/Getty Images
For nearly a century, one of America's premiere motorsports events has taken place in Indianapolis, Indiana. The Indianapolis 500, or Indy 500, has been an annual tradition since 1911, according to History, and since 1936, the winner has traditionally chugged (or, in some cases, hesitantly sipped) milk, of all things. Not champagne or even water (which would come in handy on a hot, late May day), but milk. It's one of those sporting traditions that we Americans embrace without looking twice at how weird it actually is, such as standing and singing a song between the top and bottom of the 7th inning (the 7th inning stretch), or inviting someone who can barely hold a baseball to ceremonially throw it to start the game.
The reason Indy 500 winners drink milk has to do with the intersection of two of the most important threads in the American cultural fabric: mothers, and marketing.
Louis Meyer Loved His Mama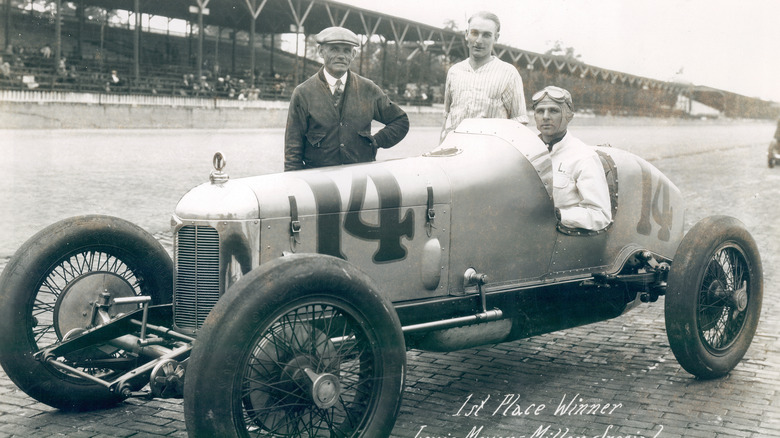 Sports Studio Photos/Getty Images
Back in 1936, according to the Indianapolis Star, Louis Meyer (pictured above), won the big race and then, while the camera lenses were snapping, took a swig of milk (not really, but more on that later). Why? Because his mother had told him to, that's why. Or more accurately, his mother suggested that a glass of milk would be refreshing on a hot day.
It would have gone down as a forgettable moment in American sports history had a businessman not seen it as an opportunity to make a buck. An unidentified dairy industry executive saw an opportunity for a marketing tie-in, and soon enough, contracts were signed. From then on — save for a few hiccups — Indy 500 winners have been drinking milk following their win.
Ironically, he wasn't drinking the mass-produced milk that the dairy industry has put into your refrigerator. He wasn't even drinking milk. He was drinking buttermilk, a dairy product adjacent to, but not the same as, regular milk — and it was fresh from his mom's farm, at that. Modern buttermilk is different from what Meyer drank, and has what can most charitably be described as an acquired taste. Indeed, when racers are asked what kind of milk they'd like should they win, they aren't even offered buttermilk.
Not All Indy 500 Winners Have Drank Milk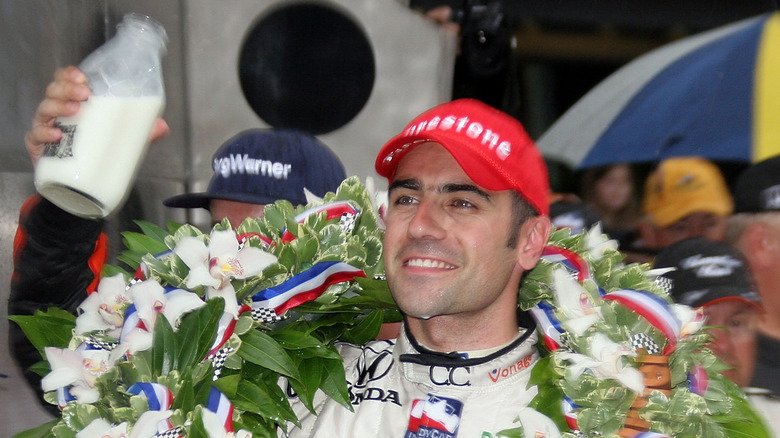 Chad Buchanan/Getty Images
So, say you're entered into the Indianapolis 500, and you're lactose intolerant or don't like milk? The dairy industry's attitude towards that, according to WKDQ, appears to be "too darned bad." You can request lactose-free milk if you want, but nevertheless, you'll be getting milk. There are other rules, too. The milk has to be white, so the cameras will see that you're drinking milk. That means that strawberry milk and chocolate milk are off the table, figuratively speaking.
Of course, not everyone has actually drank that milk. Some have hesitantly taken the smallest sip, others have poured it over the uniforms. One driver, Emerson Fittipaldi, decided that if he was going to shill an industry, it was going to be the Brazilian citrus industry, not the American dairy industry, and refused the customary glass of milk in favor of a glass of orange juice. That 1993 incident brought jeers from the crowd, according to Motorsport, and also got his boss, team owner Roger Penske, to "encourage" him to take a sip of milk, which he did.